Plywood offers a variety of useful applications for building and furniture making. After all, it offers a cost-friendly option but still maintains its weatherproof and high quality properties. Nonetheless, to make full use of it, it is good to learn about the different types of plywood. Knowing the different types of this wood allows you to choose the right option for your needs. So, here's our complete list of the different types of plywood.
What is Plywood?
Plywood refers to a thin wooden board made by binding, gluing, or pressing together two or more layers of wood. To get plywood, the layers are typically combined in an alternating grain direction. Plywood uses thin veneers of wood peeled from logs.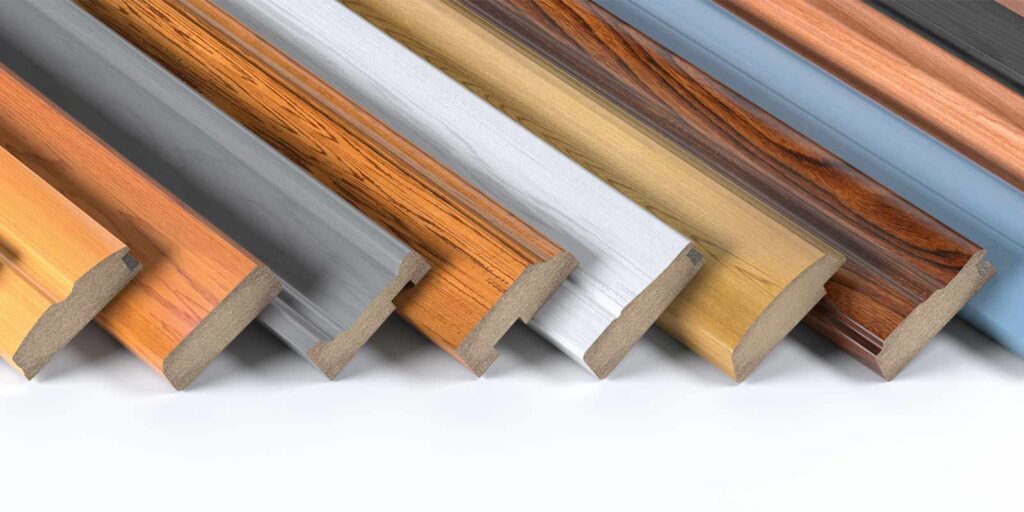 Grades of Plywood
Plywood comes in several grades. The grades depend on the characteristics of the4 plywood and how it is finished. This ranges from wood with blemishes and bumps to soft, plain, well-sanded wood. However, even with the highest grade, you may still notice some repairs and defects. The grades are given based on construction standards, in alphabets, ranging from A to D.
Grade A Plywood
The highest plywood grade, grade A category, refers to neatly made plywood with smooth, sanded, and paintable surfaces. Grade A plywood requires zero repairs and has zero knots. Thanks to its neat look, grade A plywood is ideal for furniture making and cabinet doors. You can very easily paint and stain this wood. However, its high quality and presentable finish make it a little more expensive than other grades.
Grade B Plywood
Grade B plywood still maintains a sanded and smooth surface. However, it may require some repairs, such as football-shaped patches or filling. Additionally, grade B plywood may miss some tight knots by up to an inch and require minor splits.
Grade C Plywood
Grade C plywood has knots of up to 1.5 inches and knotholes of up to 1 inch. You may also notice splits and discoloration. Grade C plywood is ideal for subflooring where it cannot be seen.
Grade D Plywood
Grade D plywood has bigger knots and knot holes of up to 2.5 inches. It may also have some splits. Grade D plywood is ideal for structural construction uses where aesthetics aren't a priority.
Plywood Sizes
Plywood comes in three common-size planks. These include:
[su_list icon="icon: arrow-circle-right" icon_color="#4f8901″]
4 feet x 8 feet
4 feet x 9 feet
4 feet by 4 feet
[/su_list]
The sizes typically vary by their thickness. The choice of thickness you go for depends on the intended applications. Generally, thick plywood is ideal for structural uses, while thin plywood works best for light work such as underlying between subfloors and tiles. When it comes to furniture making, the choice varies based on the intended furniture and design.
Types of Ply
Ply in plywood refers to the number of layers (sheets glued together) combined to create different thicknesses. Each sheet or layer is known as a wood veneer. Ply allows you to choose the right plywood thickness for use. Here are the common types of ply: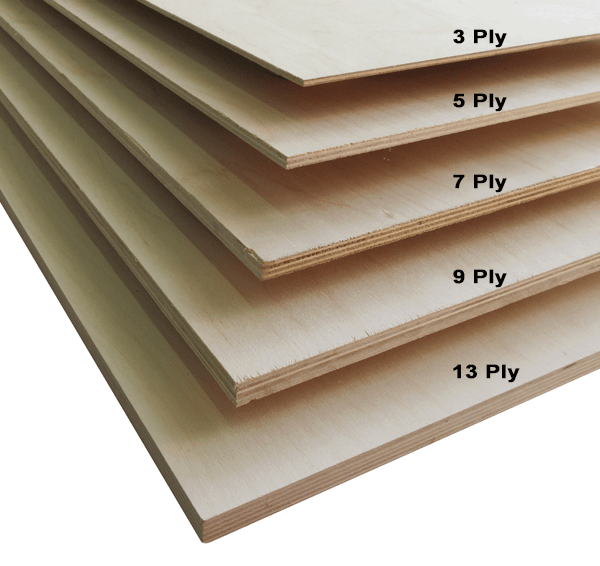 3-Ply
The most common type,  3-ply wood, features three veneer layers. This combination gives the wood adequate durability and strength. Yet, it remains thin enough to make it ideal for indoor decorative use.
5-Ply
5-ply features an extra two layers of veneer to make it five-layer plywood. It is more robust and more durable than 3-ply to make it ideal for exterior use.
Multi-ply
Multiply wood contains more than five layers of veneer. These include seven-ply, nine-ply, and thirteen-ply varieties. These types of ply tend to be extremely strong and durable. Thus, you can use them for structures and frames for homes as they can truly withstand damage and wind.
Types of Plywood
There are several types of plywood available on the market based on your needs. These include:
Softwood Plywood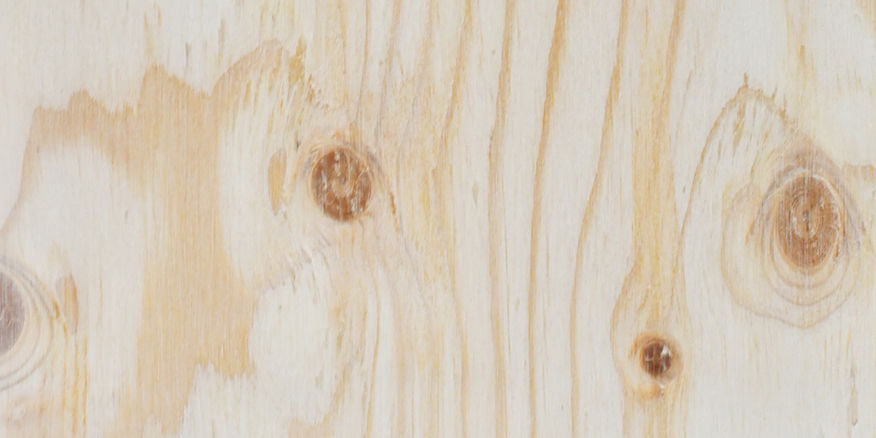 Typically used for construction, softwood plywood is generally made using cedar, Douglas fir, or spruce pine. However, you can also find some varieties made using redwood. While softwood plywood is strong and durable, it is not weather resistant. Thus, it is not recommended for outdoor use. You can use these types of plywood for subflooring, roof sheathing, exterior frames, sheds, and shelving.
Hardwood Plywood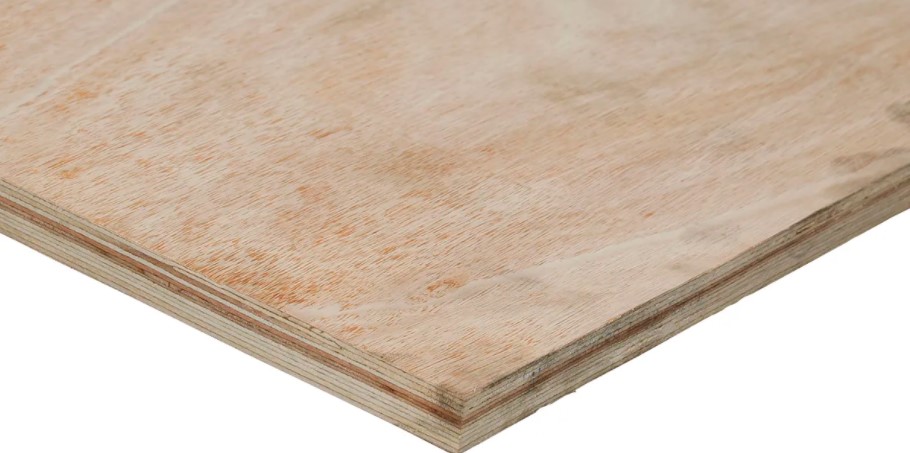 Hardwood plywood is made using veneers from any dicot tree. These include trees such as oak, beech, and mahogany. Hardwood plywood is typically ultra strong, stiff, and resistant to creep. Due to this profile, hardwood plywood is ideal for heavy duty flooring and wall structures.
Aircraft Plywood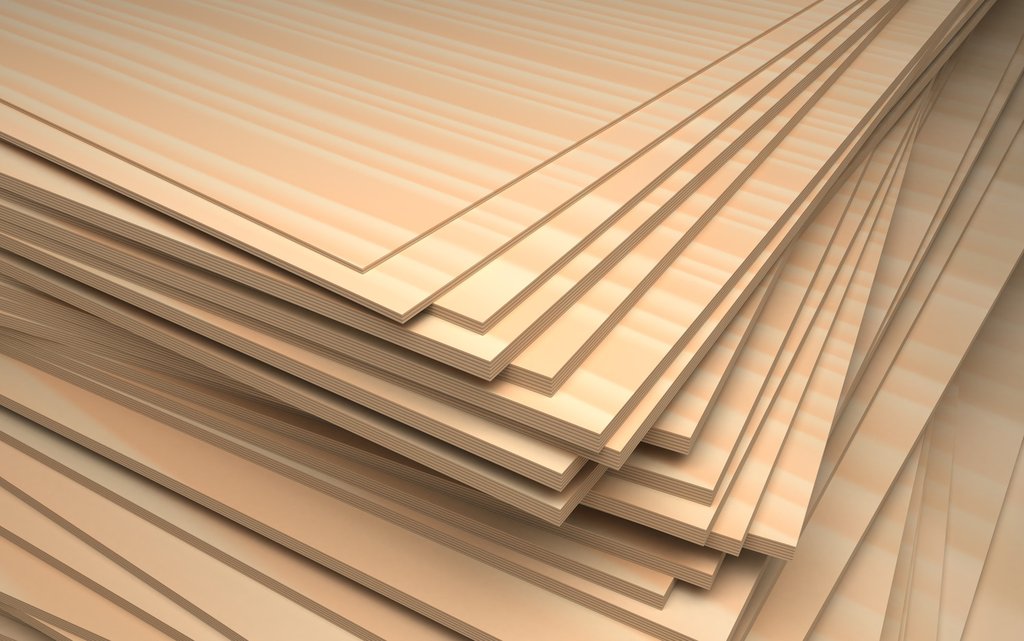 As its name suggests, aircraft plywood features an ultra high tensile finish. However, its veneers are still relatively thin, flexible, and light. This type of plywood is typically made from mahogany, spruce, and/or birch. Its veneers are put together using heat and humidity-resistant adhesives. Aircraft plywood is used for heavy duty applications such as making boats, airplanes, and furniture that supports heavy loads.
Exterior Plywood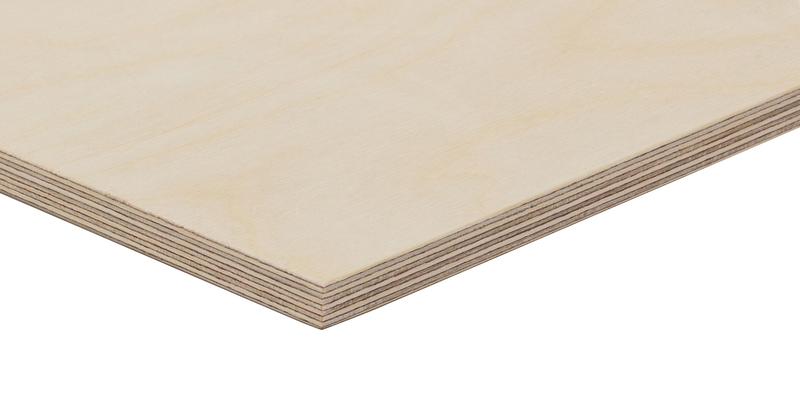 Exterior plywood is fabricated with a focus on outdoor usage. Thus, its veneers are typically bound using water and weather-resistant glue. These types of plywood can withstand rain, wind, and snow for years.
Lumber Core Plywood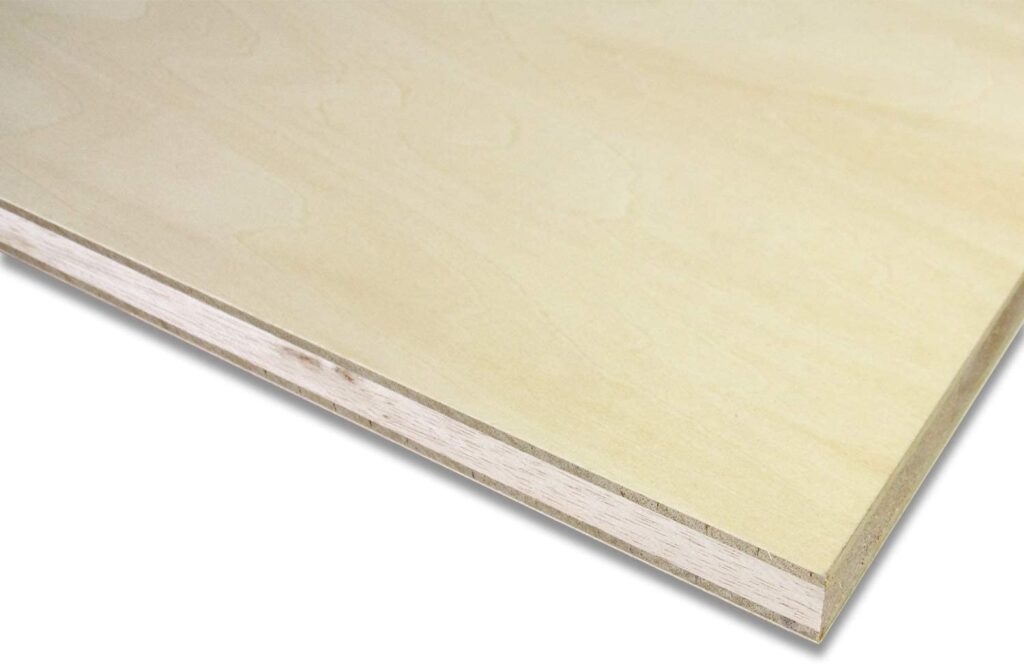 Lumber core plywood is designed using three different types of veneers. These include two thin veneers on either side, sandwiching a hard slab (made of several wood strips) as the interior thick core. These three veneers are then held together using glue.  Due to this design, lumber core can support screws, making them ideal for wide and long shelves in closets and cabinets.
Marine Plywood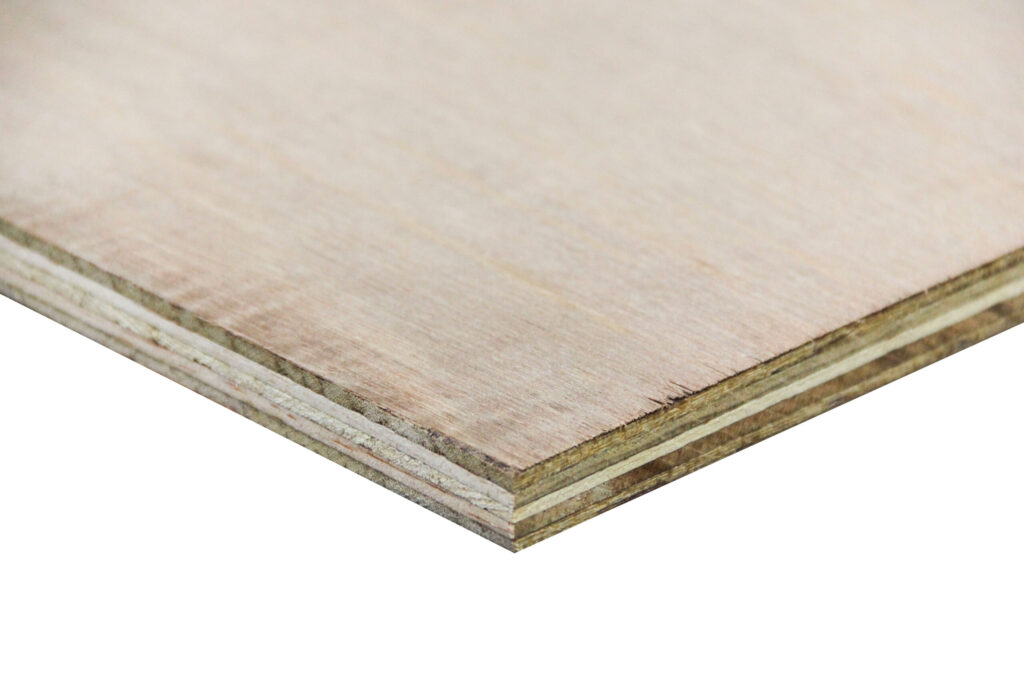 As the name suggests, marine plywood is built to withstand wet and humid conditions. It also resists fungal attacks and delaminating, prolonging its durability. Marine plywood is typically made from tropical hardwoods such as Douglas fir or western larch.
These types of wood have tiny core gaps, meaning they significantly reduce the chances of water being trapped in the interior. Furthermore, the veneers of marine plywood are put together using outdoor water-resistant glue to repel water further and withstand moisture build up.
Overlaid Plywood

Also known as decorative plywood, overlaid plywood is ideal for furniture and other ornamental uses. It comes in either medium or high density finish. Its face is usually finished with ornamental hardwood such as oak, birch, maple, mahogany, teak, or rosewood, to mention a few.
Structural Plywood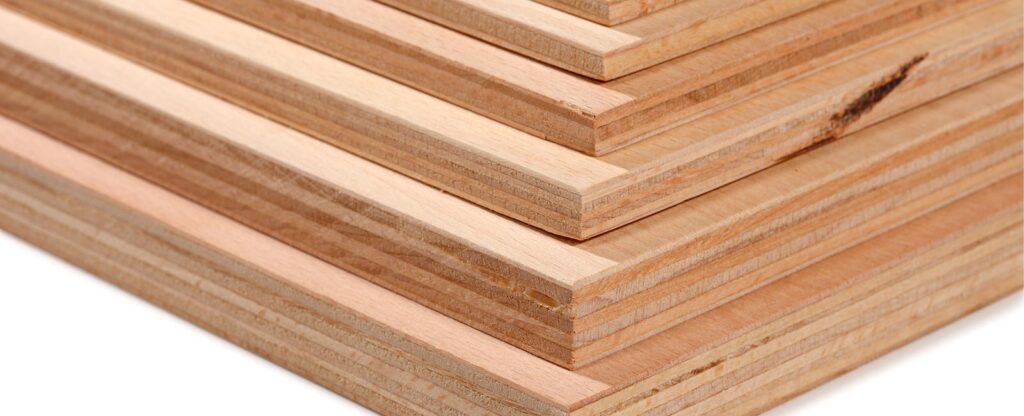 Structural plywood is treasured for its strength and durability but not necessarily its appearance. Thus, it makes an excellent structural wood for indoor or outdoor framing, flooring, and beams. Structural plywood is quite affordable, typically falling in the grades C or D.
Tropical Plywood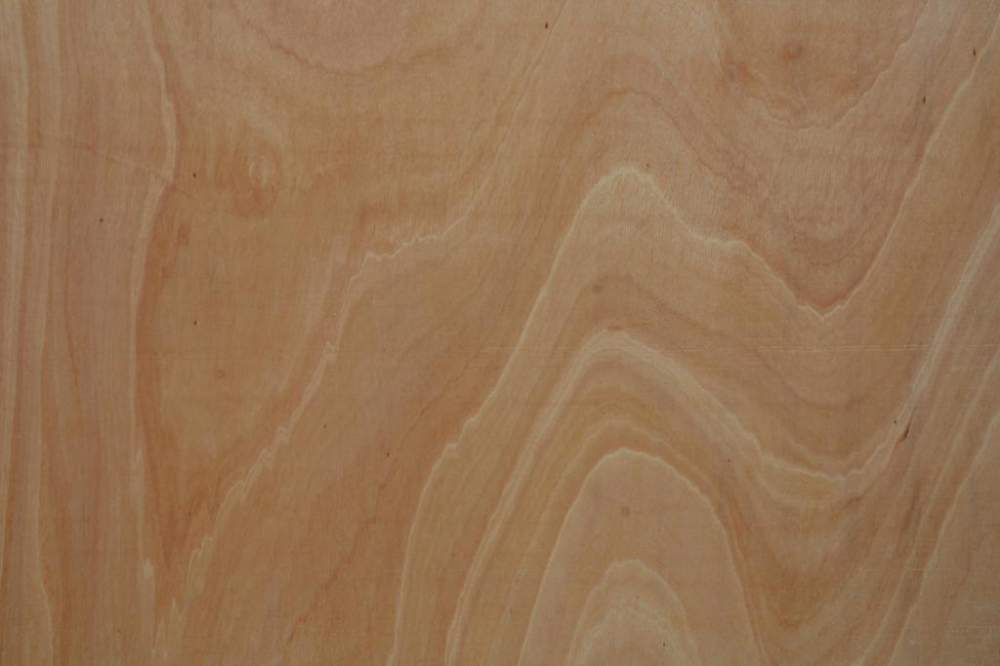 Tropical plywood uses wood veneers (typically mixed hardwood species of tropical timber) from Asia, Africa, and South America. Tropical plywood is quite affordable and used for construction purposes. However, this type of wood has been a cause of deforestation in some Asian countries.
Flexible Plywood

Due to its flexibility, flexible plywood is generally used for making curved parts for furniture.  This type of plywood consists of layers of wiggle or bendy board.
Construction Plywood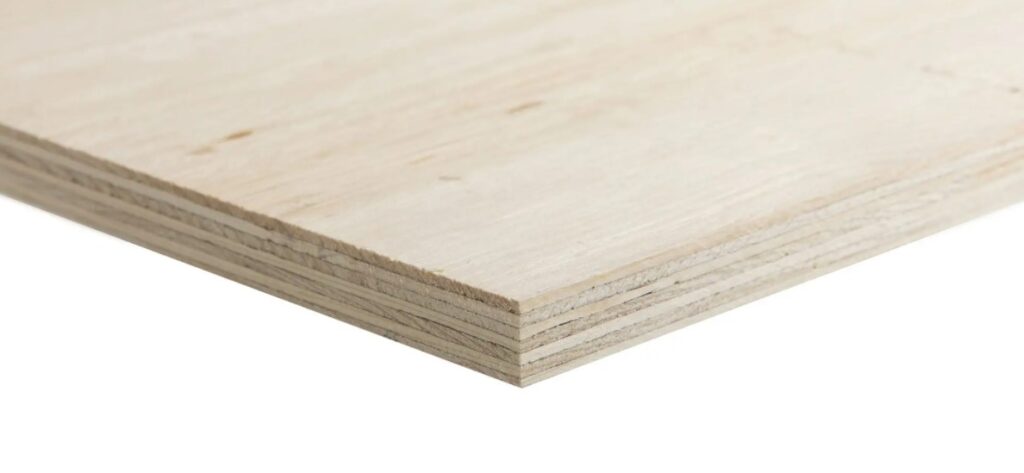 Construction plywood is divided between structural and non-structural panels. While non-structural varieties look soft, they are still quite strong to make them ideal for construction. Construction plywood includes particleboards, MDF core ply, and foam boards.
Veneer Core Plywood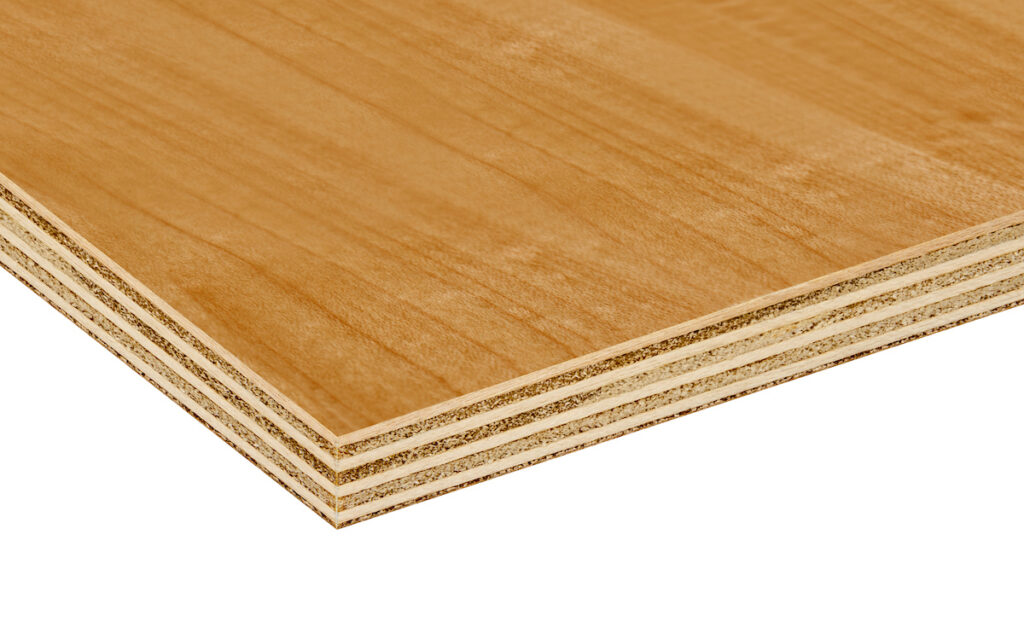 The veneer core is constructed with a center veneer and alternatively glued cross-grained veneers. Due to this design, veneer core plywood can hold high loads while still maintaining a great ability to hold nails and screws. You can also bend this type of plywood into curves.
MDF Core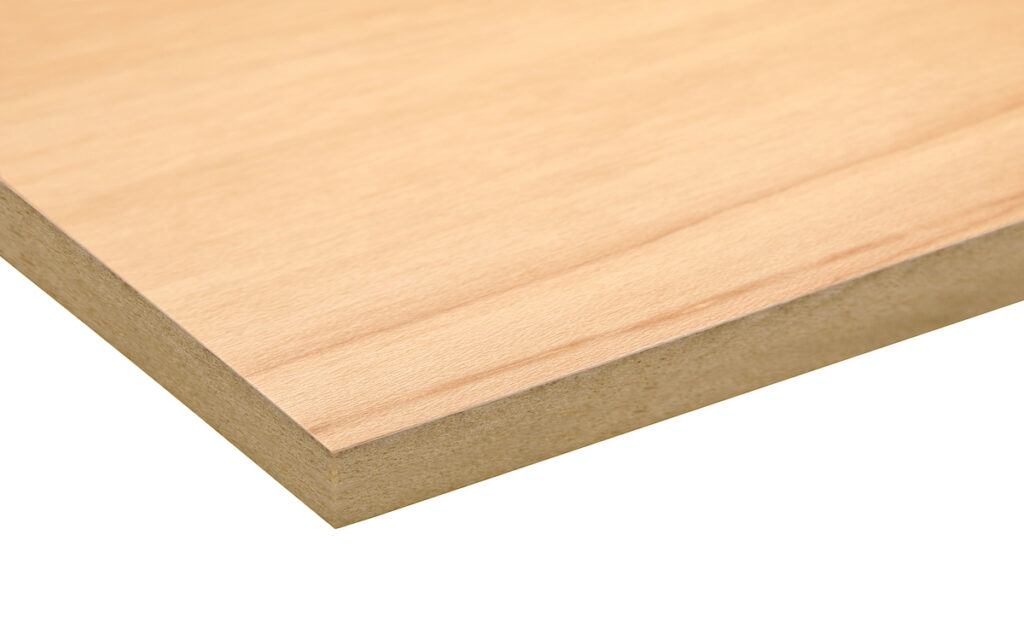 MDF core plywood resembles particleboard. However, MDF core wood is made using individual wood fibers. This plywood type is neat and doesn't produce any wood chips or sawdust even if you use power tools such as wood routers.  Due to its flat profile and paintable surface, it is ideal for furniture bases. But, the MDF core can be a little heavy.
ApplePly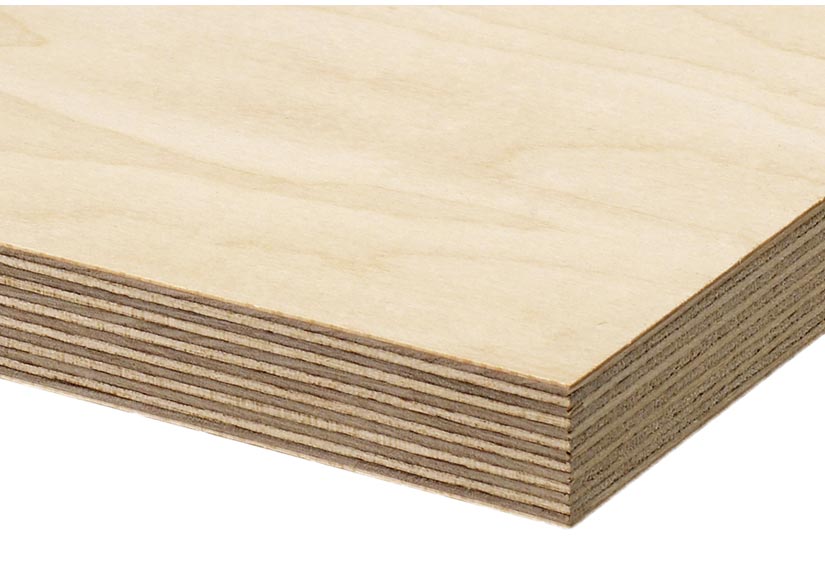 ApplePly is made using more layers than softwood or hardwood plywood.  It features birch and alder strips laminated together.  This type of plywood is ideal for making cabinets and other types of furniture. It is also quite easy to work with and doesn't tear even when used with power tools.
Exterior Sheathing Plywood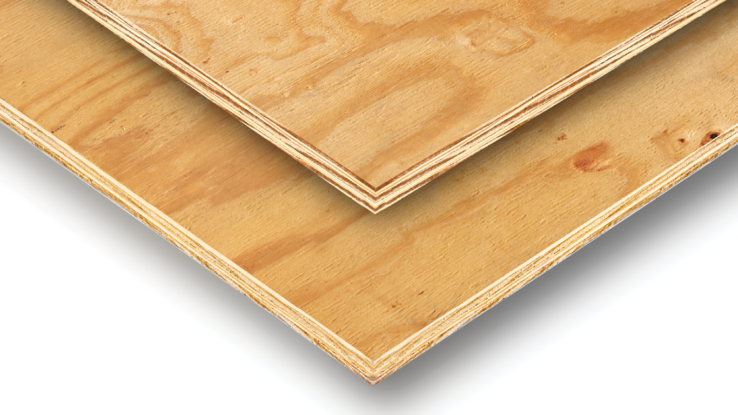 Exterior sheathing plywood includes options such as OSB and CDX. This type of plywood tends to be twice as strong compared to regular plywood. It is typically used for roofing, exterior sheathing, and roof decking. To prevent wear and damage, this type of plywood is glued together using waterproof adhesive.
Subfloor plywood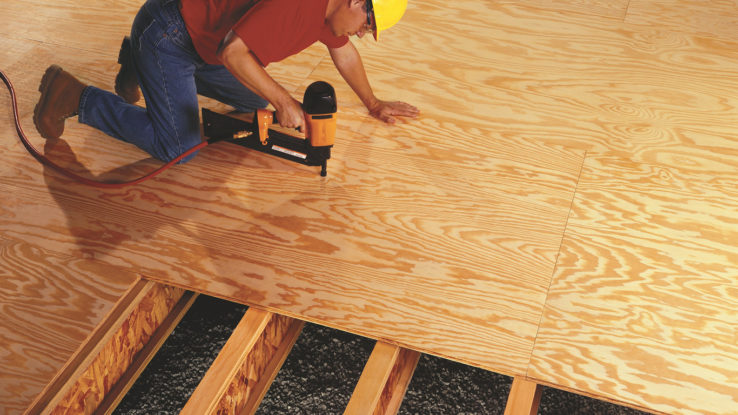 Subfloor plywood combines OSB and CDX wood to create strong subflooring wood. This type of wood is sturdy and cheap. However, it remains soft to make nailing easy.
Sundeala board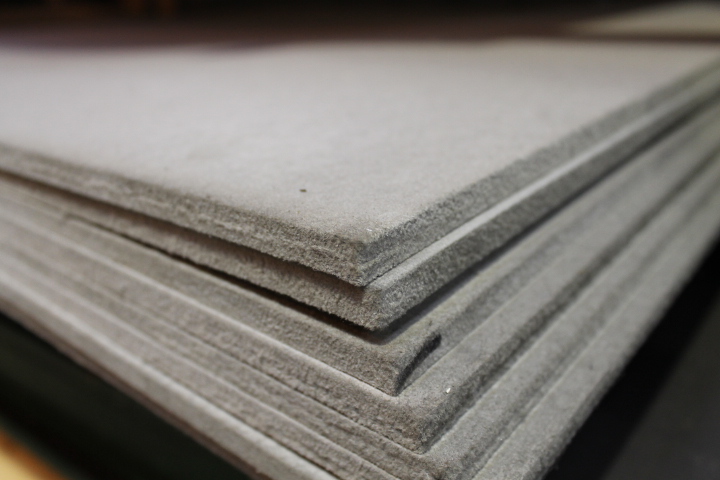 Unlike other types of plywood, Sundeala integrates recycled newspaper and wood to make it stronger, long lasting, and eco-friendly. Available in different color varieties, it is typically used for items such as cork bulletin boards.