Redwood is amongst the most popular versatile commercially available wood. Unlike many types of softwood, redwood integrates a special chemical in its pores to make weather, insect, and rot-resistant. In turn, this makes it an excellent outdoor and premium building wood. Nonetheless, not everyone knows much about this softwood. So, we've shared a brief guide on woodworking with redwood to help you know exactly what you are dealing with before your next DIY project.
Characteristics
Generally, redwood features a wavy, flat grain profile or a vertical, straight profile. The profile primarily depends on how you saw the lumber. The soft has a pretty light but stable and strong structure. However, if improperly handled, straight-grained redwood can easily split or splinter.
Due to this, you are better off making shallow cuts when handling the wood to prevent chipping and tear-outs. Similarly, special care should be observed when handling redwood with power tools. For example, you need a fine-toothed blade for cross-cutting to prevent splinters.
Additionally, a backing board is recommended to prevent tear-outs during cross-grain routing. When it comes to smaller tools like screws and glue, redwood handles them quite well. However, always drill a pilot hole for screws and blunt nails to prevent splitting.
Redwood offers its fair share of positive characteristics when it comes to actual woodworking. It has a soft and straight grain, allowing you to use tools such as wood routers for carving and trimming. However, make sure you perfect this technique to prevent possible splitting. On the other hand, using sharp hand and power tools can help mitigate the risks of splintering your wood.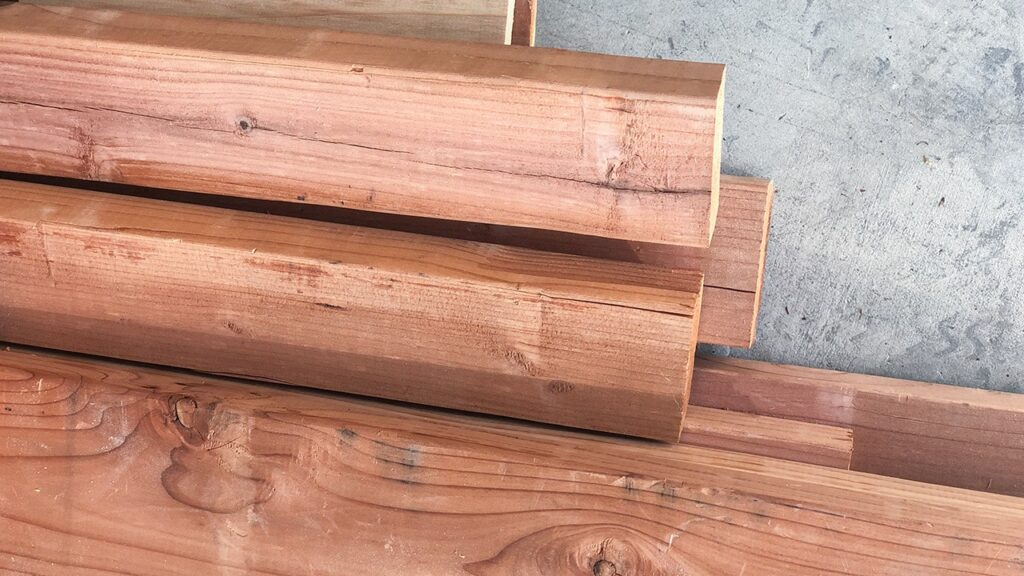 Benefits of Using Redwood
Redwood comes with multiple benefits. These include;
Unbeatable in nature – thanks to its resistance to the sun, wind, rain, and insects.
Resistant to warping and splitting (if handled right).
Highly durable.
Uses In Woodworking
Redwood is highly durable and weather-resistant, giving it the versatility for a wide range of indoor and outdoor activities. Some of its common uses include:
Outdoor Construction And Building
Redwood is considered a premium building wood due to its natural resistance to the elements. It contains natural chemicals in its heartwood, allowing it to withstand water, insects, and decay-causing fungi.
Therefore, you can use it for a wide range of outdoor items with ease, including boats, pergolas, and millwork (doors, etc.). Its durability allows you to use redwood for indoor furniture and cabinetry.
Water Tank Stock
Redwood doesn't produce odor or affect the taste in liquids. Therefore, it is also an excellent source of stock for water tanks and other water-related vessels.
Keep in mind that to achieve the best woodworking quality, you have to consider the redwood grade you use. For example, opt for heartwood redwood if you plan on construction near soils, in soil, or on the soil. If your item stays above ground, you can use sapwood.