Maple is popular not only as a source of maple syrup and for its distinctive fall leaves. This iconic hardwood offers excellent versatility and beauty to make it a popular choice for woodworking projects. Whether you want to make durable furniture or musical instruments, the wood allows you to do so. But, before embarking on any DIY project, it's a good idea to learn more about woodworking with maple wood. We've shared a brief guide to briefly equip you with the basics of maple wood.
Characteristics of Maple
With over 20 different species in North America alone, different maple varieties boast distinctive characteristics. Nonetheless, these species hold certain universal features.
Appearance
A hardwood, maple has a lighter brown (almost white) color with some reddish-brown hues. It packs a smoother grain pattern which also makes it stand out.
Durability
Maple is known to be quite durable and strong. In fact, maple wood is second in hardness after hickory. This durability helps enhance its versatility, allowing you to use it for a wide range of applications.

Types
Generally, you will find a choice of soft or hard maple amongst these different species.
Soft Maple
These species have a light color finish with more pronounced grain in different patterns. While these types of wood aren't as tough, they feature an anti-warping and twisting performance. Soft maple is ideal for projects that require multiple manipulations. These include cabinet frames, carving items, or household items like spoons.
Hard Maple
As the name suggests, hard maple wood is stronger, even when bent. Sometimes known as sugar maple, hard maple offers impressive wear resistance while comfortably accommodating power tools such as saws and routers. But, you will need to put in more effort and skill when working with hard maple wood.
In addition to its high tensile finish, hard maple wood offers an attractive appearance. Thus, it is an excellent option for strong and decorative wood pieces. These include items like butcher blocks and visible parts of furniture.
Pros and Cons
Pros
Quite affordable compared to hardwood like mahogany or cherry with similar characteristics.
Soft maple stains well.
Extremely durable for heavy-duty furniture.
Easy to work with grain patterns.
Wear and decay-resistant.
Soft maple doesn't warp or twist.
Holds nails and screws well.
Accommodates different hand and power tools.
Cons
Different varieties/species slightly differ based on characteristics.
It may not be the best option for people who prefer dark wood colors.
Hard maple is difficult to work with.
Woodworking With Maple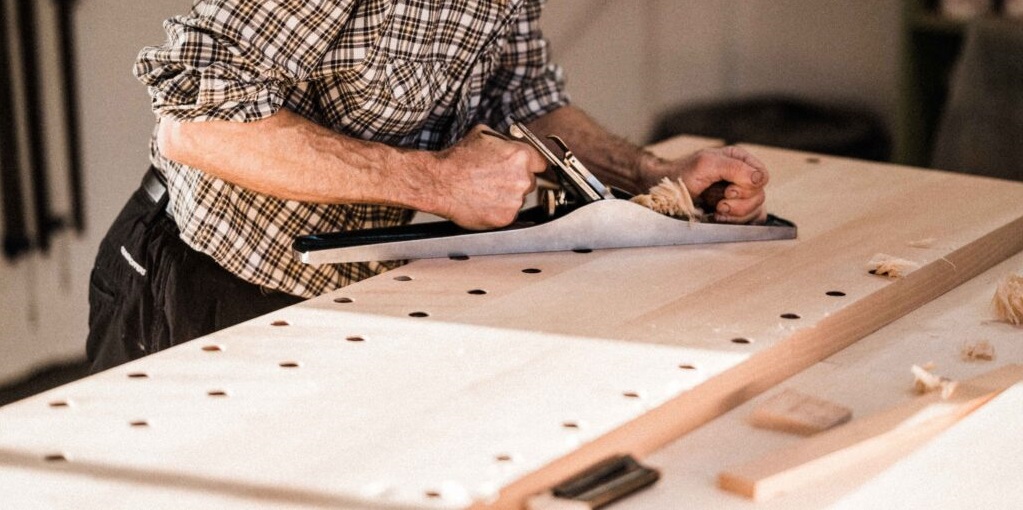 When preparing for woodworking with maple, your first step is to pick the suitable wood. Opt for acclimatized and seasoned wood during the selection process to avoid possible warping and shrinkage. When exposed to UV rays and oxygen, maple wood tends to quickly alter its color and weaken in terms of structural integrity. Before using the wood, store it in a more controlled and shaded area away from the elements. Pick the right tools when preparing to cut, carve, trim, or execute other processes that require power tools. Durable hardwood can easily damage your tools, blades, and bits.
So, when using maple, opt for the sharpest and strongest tools. The light-colored exterior of maple wood means you don't necessarily have to stain it. However, some people choose to do so for an even more appealing finish.
Like with other woods, start by sanding the wood. Sanding also removes imperfections that the stain would otherwise highlight. When sanding maple wood, make sure you don't overdo it and risk compromising the look and durability of the wood. So, opt for medium to coarse grit sandpaper to prevent burnishing the surface.
After sanding the wood, apply a pre-stain conditioner. Applying a pre-stain conditioner evens out the wood's surface and prevents unpleasant marks or patches after your stain dries.  Next, use an oil-based stain or oil such as linseed oil. Before applying the stain on the wood, try it on scrap wood or hidden part of the wood piece to confirm the color contrast and check for potential blotches.
Opting for oil-based stain or oils for wood allows your woodworking piece to produce a polished and pronounced look. So, after applying the stain, your wood piece should achieve an attractively polished and glossy finish. Remember, the light-colored maple wood is commonly used for kitchen and household items like spoons or cutting boards.
Therefore, make sure you invest in a food-grade oil-based stain. Once you are done with the staining, seal your wood piece with a coat of shellac or clear lacquer. Applying this seal helps prolong the durability of the finishing on the wood piece.