Rubberwood is a type of tropical hardwood that has a light color and is harvested from the Para rubber tree, also known as the Malaysian oak, that is usually grown in rubber plantations. This tree grows in Brazil in the Amazon forest but is mostly found on plantations now. 
Hardwood is an attractive kind of wood that is taken from the branches and trunks of trees found in both temperate and tropical climates. You can use hardwood for various things, but it is most commonly used for making doors, instruments, furniture, and framework for buildings. 
Hardwood gets its name because it is a dense wood that can put up with a lot more wear and tear than other wood types. This is due to the long fibers being densely packed together, making them take longer to grow than other wood. 
Like hardwood, rubberwood gets its name from one of its defining characteristics: its flexibility makes it an excellent choice for toys and smaller furniture items.
However, even though it has the word rubber in its name and is flexible, it is still very durable and has a measured strength of around 9500 psi (pounds per square inch). Even though it can be more flexible than other wood, it still has a stiffness of 1.3 million psi. 
Rubberwood Harvest And History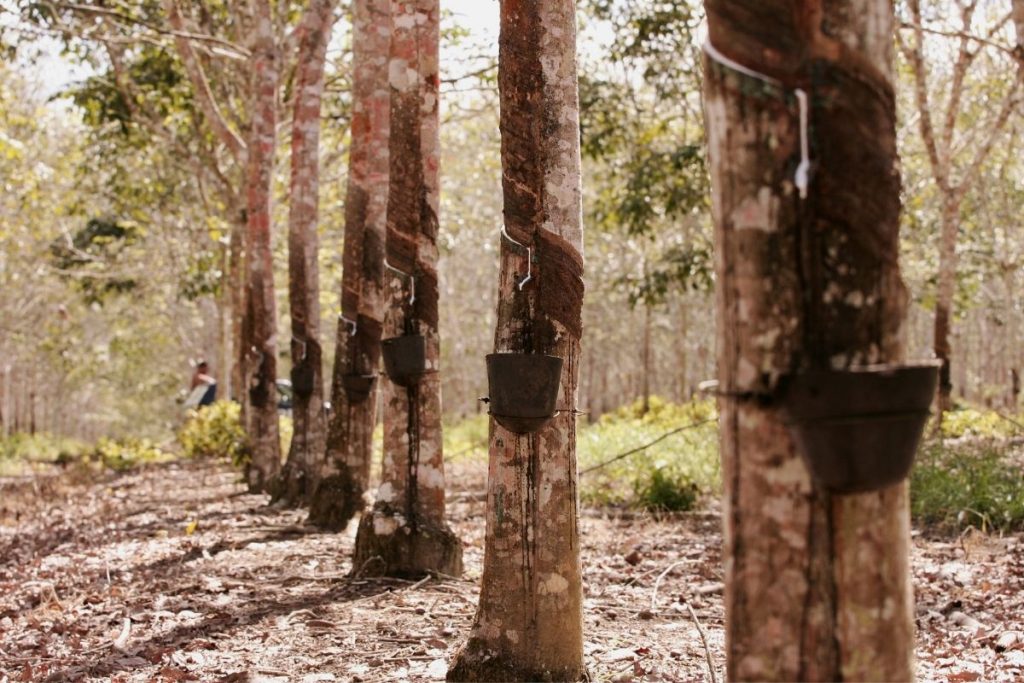 Rubberwood started to make a name for itself in the late 20th century when chemical treatments were being developed to prevent the wood from insects and fungus, which was, unfortunately, something that rubberwood was prone to if not treated.
This is still put into practice today and is done as soon as the wood has been sawed by following a method called 'pressurized immersion' in boron preservative and then dried in a kiln to control the content of moisture and diffuse the chemicals. 
When the rubberwood is dried in the kiln, it changes its color from light blonde to a darker color with brown steaks but can also show a hint of pink in these streaks. Rubberwood is one of the most attractive types of wood due to its vertical vessels, which make the grain look rough and unique.
The vessel is the term given to the small veins that carry minerals and water from the roots of the tree all the way up to its leaves. 
Once the chemical treatments became widely accessible, and rubberwood proved to be the cheaper option, it was soon advertised as an environmentally friendly resource.
This is because rubberwood comes from the same trees that produce latex which is a sap used to make rubber when the bark is removed and then felled before being turned into rubberwood – thus making them a renewable resource. 
Removing the latex starts when the tree reaches about nine years of age and continues until they reach 30 when the rubberwood cannot produce any more latex, making them uneconomical. 
Today there are many rubber plantations, especially in Southeast Asia. The mature trees on these plantations are primarily harvested for their wood after reaching the end of their latex-producing cycle at 30 years old. 
Rubberwood Advantages
The grain of rubberwood is dense and can be easily controlled by a kiln drying process; it has a light appearance and a straight grain, making it very easy to stain for woodworking purposes. 
Even though the large pores of the rubberwood may need to be sanded down more to be smooth, they give the ability to mimic other types of wood.
It is a very eco-friendly and sustainable wood due to its rubber plantations and has the priority of producing latex. It is only felled when it has completely finished its cycle.
Rubberwood is hardy, and if your furniture is made from it, it can have a lifespan of up to 25 years and is also more resistant to fire, but if it starts to burn, it won't release any toxic fumes. As well as this, you do not need to keep on top of maintaining it because it will keep its attractive, natural sheen for years to come. 
It is often thought of as a byproduct and cost-effective without sacrificing project quality or durability. It can be used as an alternative to particle board of MDF (medium-density fiberboard) which are both manufactured wood types. 
Rubberwood Disadvantages
Rubberwood is not for outdoor use because if it comes into contact with rain, it can remove the protective treatment from within the wood and expose it to insects and fungus. Lots of moisture also makes the rubberwood rot and warp, so it is not a good choice for bathrooms or kitchens as they usually are the dampest. 
Another characteristic that makes rubberwood not mix well with water is that it is prone to be slippery if it gets wet, and to prevent this, it is advised to wipe grease over it to make it less likely for people to slip on it. 
Rubberwood furniture cannot be left in places where it gets very hot and dry as it will damage the wood, and it is best to keep it out of prolonged direct sunlight because it will make the color fade. It must also not be in an environment that is too humid, as this can also make it warp. 
In comparison to other boards of timber, rubberwood is relatively small, which limits what you can do with it in construction.
Rubberwood has large pores, which make the surface rougher than some other woods, so it requires to be sanded down more to make it smooth.
Sometimes the latex within the wood can make it harder to work on with tools as it may clog saws up, but it also makes the wood better at holding onto nails and screws.