Wooden furniture has become very popular over the years. People love its natural look and feel. Unfortunately, the finish on wooden surfaces is prone to scratches and stains.
Windex is a household cleaner that comes in handy for cleaning windows, mirrors, glass doors, and other smooth surfaces, making it an appealing option for cleaning wooden furniture or floors, especially if the wood has a glossy finish.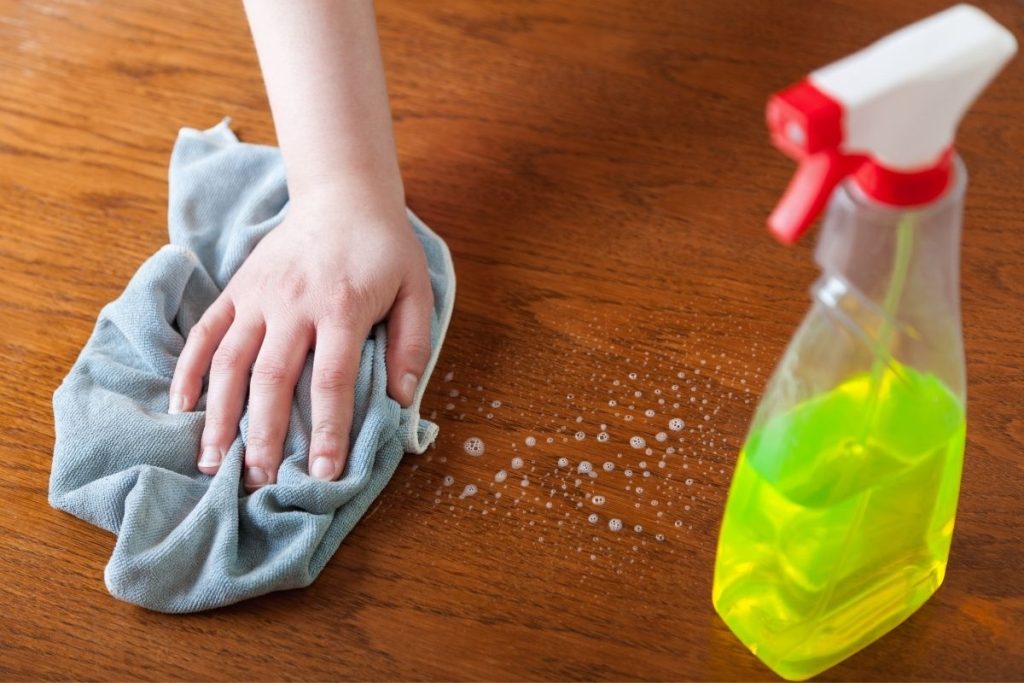 But is it actually a good idea? 
Read on to find out more about whether to use Windex on your wooden furniture and how you should be cleaning wood in your household. 
Why Would you use Windex on your Wooden Floor?
Windex is a common household item that can be used to clean many surfaces, including wood, tile, and glass. It is also a low-cost product that can be found in most households. 
Windex is a useful household cleaner because it contains ammonia, which is adept at stripping lipids, such as oil or wax.
So, when used on your lovely wooden floors, it can remove unwanted acrylic waxes. Hence, though it was formulated to be a cleaner for windows and glass, it is now also a common and popular floor cleaner too. 
This cleaner will cut through the filmy buildup on your floors in an inexpensive and useful solution.
So long as your wood (floor or furniture) has been sealed with a waterproof, astringent proof finishing, such as hard glaze clear varnish or polyurethane varnish, using Windex should be completely harmless. 
Just like Windex doesn't leave any residue on furniture, it shouldn't leave any residue on your wood furniture. 
Will Windex Cause any Furniture Damage? 
Windex will not harm your wooden floor, furniture, or other wooden items if you do not leave it on for an extended period of time. Because it isn't designed to be a heavy-duty cleaner, it shouldn't be too harsh.
What is the Best Method for Using Windex? 
One of the most typical ways to use Windex is to combine the cleaning solution with warm water in a bucket and use it as a regular floor cleaner.
Of course, you should avoid putting water on wood floors because excessive moisture can cause warping and staining.
Even if the mop is a little damp, you'll be hurrying to dry your floors with a dry towel. So, while you can utilize this method, it isn't optimal, and there are considerably better alternatives available.
Spraying Windex on a mop is a better method to use it. It's not a good idea to spray it directly on the floor. Instead, spray it on a mop or a towel, spread it out, and then wipe it away.
A soft cloth or paper towel should be used to clean. Water will make your floor moist, which could result in lasting water damage or stains.
You can even go to the effort of hand scrubbing your wooden floors with Windex, but this is far more time and energy-consuming, especially if you are cleaning a large surface.
Ammonia-based cleaners should be used on wooden floors only if there's a film or residue on the surface.
Otherwise, this kind of ammonia-based cleaner could damage your wooden floors by eating away at the varnish or finishing. Only use it when there is film or residue on your flooring. 
A few Tips and Tricks to Using Windex on your Flooring
You can use Windex as an effective cleaner for floors. It will remove stains, dirt, dust, and grime without leaving any sticky residue behind.
What's great about Windex is that it won't harm the surface of your wood floor.
However, you should wear safety gear while using Windex. Ammonia is toxic to humans, and if ingested, it could lead to severe stomach pain and vomiting.
Never ingest Windex, and wear gloves if you are hand scrubbing with it to protect skin (this is especially important if you have any open cuts or grazes – you don't want Windex in your scabs or your bloodstream!).
Always read all the instructions on the package and adhere to usage guidelines. 
You can also use Windex as a disinfectant cleaner on your floors. Though you shouldn't use it too frequently as the ammonium hydroxide may eat away at your wood finish, it can be used as a disinfectant.
So, if you use it to remove the film of grime from your flooring, you won't also have to reclean the floor with a disinfectant to remove the bacteria. The Windex does both jobs for you!
Mixing Windex with any other chemical cleaner may be dangerous – especially bleach. Never mix Windex with any other cleaners.
Together, bleach and ammonium hydroxide created a toxic mix. Read the label before using any cleaning product. Follow the manufacturer's directions for use. 
In addition to this, Windex can stain and splotch your wooden furniture if it is not finished with a glossy polyurethane varnish, Windex is an astringent so will strip away oils and waxes on your furniture.
If you're unsure about how to clean your wooden furniture, do an inconspicuous spot test, and bear in mind that it is usually best to air on the side of caution. 
Windex vs. Pine Sol
Pine sol is another popular choice for removing stains from hardwood floors. This is because it has a similar formula to that of Windex, which means it works well on most surfaces.
The main difference between these two products is that pine sol contains no ammonia. It is made of a mixture of alcohols, glycol ethers, and surfactants.
These chemicals are non-toxic, and they work together to break down grease and oil. They dissolve the greasy substances, allowing them to be washed away easily.
Pine sol doesn't contain any formaldehyde, but it does contain some VOCs, which are considered harmful to our health. Therefore, it is recommended that you keep it out of reach of children and pets.
The downside to pine sol is that it leaves a sticky residue after cleaning. To avoid this, you need to make sure you thoroughly rinse your floors after applying it.
Also, when you apply it, you need to let it sit for several hours before rinsing it off. This allows the oils and wood conditioners to penetrate deep into the pores of the wood.
However, there is one thing you need to consider: the longer you leave the solution on the surface, the more likely it is that the wood will swell up.
This is why it is recommended that you only use pine sol once every six months.
If you prefer Windex over pine sol, then you'll find that it works just as well. In fact, it's often preferred by professionals because it removes grease and oil much better than pine sol.
However, it does leave a sticky residue behind, which makes it harder to get rid of.
Final Thoughts 
In conclusion, you can use Windex on wooden floors in order to remove any oily film or residue left by furniture/wood waxes.
That being said, you shouldn't do it too frequently. Ammonia-based products might just damage your flooring by stripping away the finish.