Finishing Touches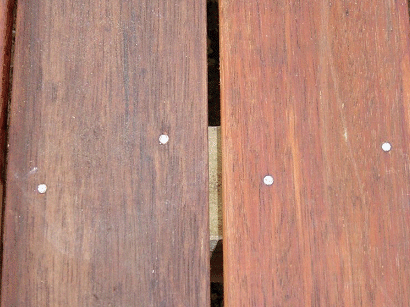 The nailing. The nails, 60mm (2 1/2″) galvanized were staggered along the joists.
Why? Sometimes straight nailing can cause a 'wedging' effect which can create a split along the joist over time, especially in straight grain timber.
The nails were hit in flush.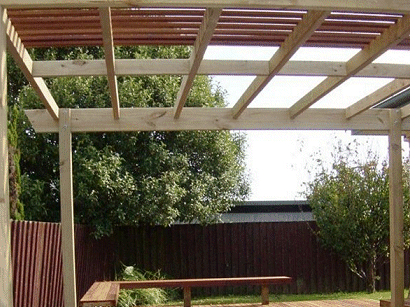 Finishing touches to the pergola. A partial sun shade was added to the top of the pergola.
This was made from hardwood deck boards ripped in half. They were the same length as the pergola beams and were spaced 50mm (2″) apart.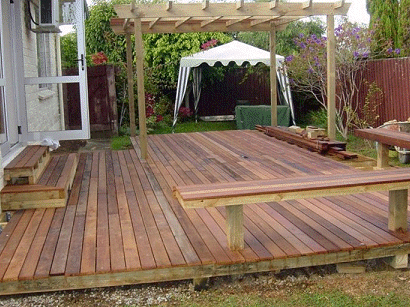 Preparing for the edging. Once the decking was laid, the ends had to be trimmed of flush with the end joists in preparation for the edging.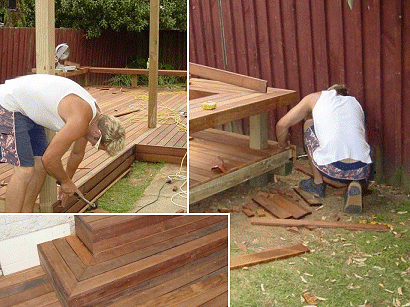 The edging. The edging consisted of two decking boards around the edge of the deck. The top board was flush with the top of the deck, and there was a nail thickness gap between the top edging board and the bottom edging board.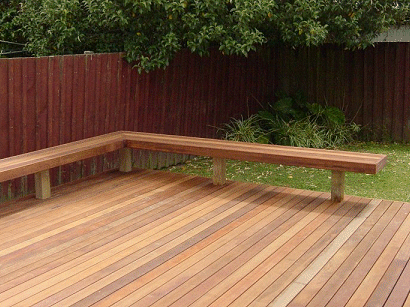 All finished. All finished, the site was cleaned up, and the builders jumped on their horses and rode off into the sunset singing 'Hi Yo silver and away' (well, sort of)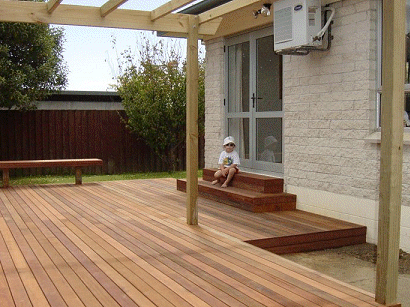 How long did it take?
It took a little over a week from start to finish, two days longer than estimated, but as Toffee (the apprentice) said, "I don't know why he doesn't just add on two days to every job he does, because every job always takes two days longer than he predicts".
Oh well.
What did the owners think?
The owners were very pleased with the job.
What did the builders think
An ideal job. Good access, good weather (mostly), easy digging and good clients.
What happened to the cat?
Nothing sinister here. Just a big scaredy cat. In fact the builders never even saw the cat. The cat went into hiding whenever the builders showed up. We have recently been informed that the cat loves the deck.