Follow Up
We returned to have a look at a hardwood deckA flat floored roofless area adjoining a house. Timber deck: An outside floor structure comprising of posts, bearers, joists and decking boards., seat and pergolaA structure with open wood-framed roofs, often latticed and supported by regularly spaced posts or columns, and covered by climbing plants such as vines or roses, shading a walk or passageway. Pergolas are distinguished from "arbors," which are less extensive in extent and structure. complex built seven months prior.
We wanted to see how much the kwila hardboard had weathered (changed colour) and if there were any shrinkages.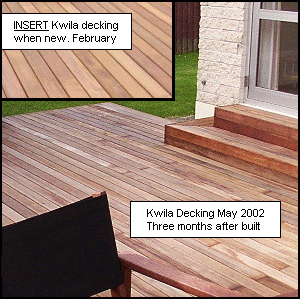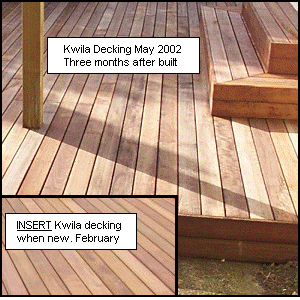 On our first visit, three months after the deck had been constructed, the deck's colour had changed very little and there were no noticeable lumberAny of the framing wood. shrinkages. If no noticeable shrinkages had occurred in that time, then there would most likely be none in the future.
We went back again to have another look seven months after the deck had been completed.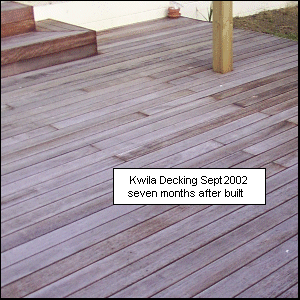 The deck is now well on it's way to becoming the silvery-grey colour kwila is renown for.
During this stage of the transformation the deck is slightly patchy. The areas that have been most exposed to the sun, have changed colour more than those areas that have been least exposed (ie shaded areas).