The Bearers and Joists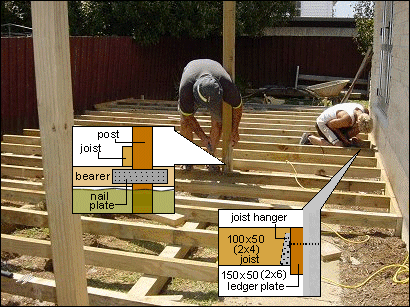 The bearers were placed on top of the posts, and fixed with 100mm (4″) galvanizedCovered with a protective coating of zinc. nails skewed/toe nailed through the bearers into the posts.
The bearers between the pergolaA structure with open wood-framed roofs, often latticed and supported by regularly spaced posts or columns, and covered by climbing plants such as vines or roses, shading a walk or passageway. Pergolas are distinguished from "arbors," which are less extensive in extent and structure. posts were butt jointed against the posts and fixed with galvanized nailA short nail with a large flat head used for securing roofing felt, plasterboard, sheet metal to wood etc. plates (see picture above).
The joists were placed on top of the bearers, and fixed to the ledger (the boardA piece of sawn, or dressed lumber of greater width than thickness. Usually 19mm (3/4") to 38mm (1 1/2") thick and 75mm (3") or more wide. bolted against the house) with joistOne of a series of parallel members used to support the floor. Part of the framing that provides the structure for a floor. hangers (see picture above) and fixed to the bearers with 100mm (4″) galvanized nails.
The joists were spaced @ 450crs (18″ O.C.On center; (See CENTERS)) and were left over length to be trimmed off later.