How to fit double gates
Fix the gates in place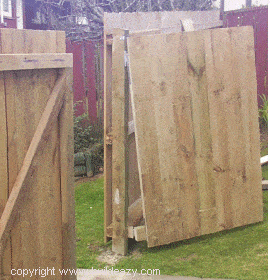 Place the gates in between the two gate posts and sit them on a level board packed up off the ground to the required height (see above picture). Place wedges or packers at the sides of the gates and the middle of the gates so that the gaps between the gates and posts are even, and the gates are 'jammed in place'.

The gates should be able to stay in position by themselves while the hinges are screwed in place.
Check that the gate opens.
Take out all wedges and packers and see how the gates open.
The gate with the offset hinge should lift above raised ground when opened.
Finishing touches to the gates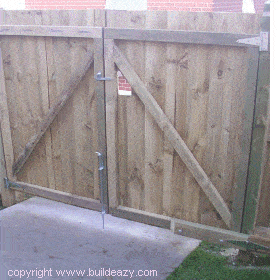 Close the gates and add the hardware.

Fit the bolt and gate latch. Note that usually the latch should be put half-way up the gate, but if the gate is to keep little kids in or out, then put the gate latch towards the top of the gate.

Finally, cut a hole in the gate handy to the latch and big enough to put a hand through. This is so the gate can be opened from inside or outside.

Note: There is also another benefit to the "offset hinge": the gate will always swing shut by itself, merely because of gravity.