Whether you are creating furniture, shelving, or flooring, old, aged wood can create a rustic charm to any room.
This is achieved through its unique color that can add a flair of depth that can't be recreated with new-looking wood, as well as appearance and texture.
However, in its natural state, old wood can be hard to come across and find within reclaimed wood retailers.
Likewise, if you do happen to find old wood, it can typically be expensive.
Luckily for you, there is another way to bypass these costs and efforts by making new wood look old.
Not only is this easy to achieve, produces excellent results, and requires minimal tools and materials, but it is also an ancient craft that has been used throughout history.
There are three different methods for aging wood:
Chemically aging wood,
painting wood,
or mechanically aging wood.
Whichever method you choose, below you will find a detailed account of how to make wood look old.
What You'll Need
Wood: The best wood type to use is inexpensive hemlock or pine. Softwoods respond better to stains through their open cellular structures than hardwoods.
Liquids: The most popular liquids for faux-age wood include stains, paints, and vinegar. Stains can be used to emphasize mechanically aged areas and darken the wood. Paints can be used to create a weathered look when sanded down, while vinegar can be used to generate a more gray-silvery look.
Distressing tools: To mechanically distress your wood, you can use easy-to-find appliances such as an old saw blade, sander, screws, chain, a hammer, and a nail set.
Other Items You May Need
A Spray bottle
Rags
Nitrile or latex gloves
Sandpaper
Steel wool
Chip brush (This is a paintbrush with wiry bristles)
How To Age Wood Mechanically
When naturally aged, old wood comes into physical contact with outside conditions.
Different objects can affect the look of wood by inflicting gouges, scratches, and dents on the wood.
Likewise, insects can bore themselves into the wood, and factors can splinter, break, and cut the wood.
Therefore, to create your ideal look and age for your wood, it's important to first practice and experiment with different distressing tools on a scrap piece of wood.
Below, you will find different methods to do so.
Using Blunt Objects
Using a chain, lightly hit the surface of the wood to create an array of small and low dents.
If you're looking for more control of your indents, you can use the side of a hammer to hit the wood gently.
However, make sure not to use the face on the hammer as this will create round indents in the wood.
To round off any edges or angular corners, use a sander to smooth these out, as old wood rarely has intact corners and edges.
Likewise, you can also slightly tilt the sander to sparingly create large, deep grooves on the surface area of the wood.
Using Sharp Objects
To replicate the look of insect activity on your wood, you can use sharp nails to create a tight grouping effect on the wood.
Likewise, a blunt nail set will also work. Place a few nails onto the wood surface to achieve this effect and gently tap with a hammer.
However, make sure not to hit the nails too hard, as this would create an exact indentation of the screw.
How To Age Wood With Liquids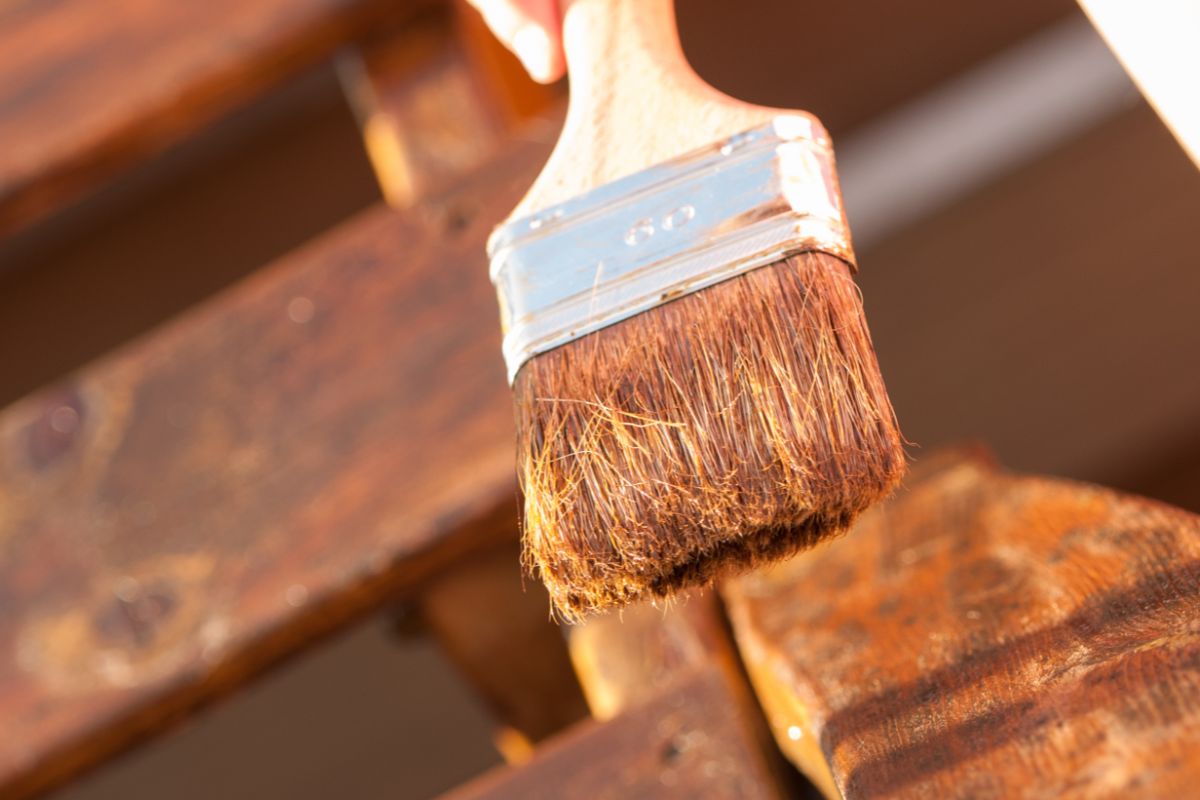 Over time, when exposed to elements such as UV rays, a wood's patina, and color will transform.
For example, dark wood turns to lighter wood when in direct sunlight.
While light wood turns to darker wood when subjected to moisture over time. Below, you will find out ways to replicate this.
Vinegar And Steel Wool
To create a silvery hue to your wood, all you need to do is fill white vinegar halfway in a spray bottle. Next, tear a ball of steel wool in half to fray the ends.
Then, put the wool into a spray bottle and, for a day, place it in direct sunlight. Once completed, spray this onto the wood.
When it has finished drying, it should create an attractive and realistic gray hue, similar to an old wooden pallet.
Water And Stain
Firstly, lightly mist the wood with water. This will allow the wood to absorb different rates of stains in different sections, creating a more realistic effect when the stain is applied.
Pre-Mixed Accelerators
Several different pre-mixed accelerators can be used to create a weathered wood effect.
Some include the water-based Varathane weathered wood accelerator that produces a silvery effect (similar to the vinegar treatment).
The main advantages include low odor, color consistency, and easy clean-up.
How To Age Wood Using Paint
Typically, a white bottom coat is used with a different colored top coat when painting wood. This could be red, blue, or any bold color, which is then sanded down to partially remove the top coat to create an attractive weathered look.
Step 1: Ensure you don't sand the wood before painting. Then, paint a first light top coat, creating a substantial and solid coat.
Step 2: Once the first coat is dried, paint another coat with your chip brush. This doesn't need to be neat.
Step 3: Ensure the paint is thoroughly dried before sanding your wood.
Step 4: By hand, gently sand the wood. When doing this, make sure to spot sand in the key areas, including corners and edges. When completed, the white base coat should seep through the top color.
Final Thoughts
Old wood can help to create a rustic feel in a room. However, old wood can sometimes be hard to come across and is expensive.
Therefore, we have created a guide on the different ways to age your wood manually.
Hopefully, this article has informed you on how to make your wood look old.