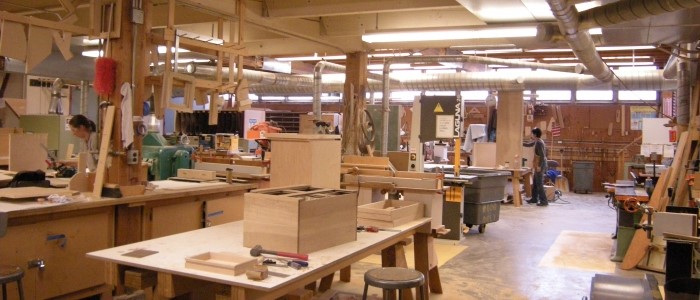 Do you want to set up a home workshop? This guide on how to set up a home workshop is what you need. With a properly organized workshop in your home, you can do anything – whether you want to fix up small items around your home or even set up a business.
But, setting up a home workshop is not only about fitting it with different tools. You need to have the right knowledge to set it up the right way. So, check out this guide on workshop setup ideas to walk you through the process.
How To Set Up A Home Workshop
There's a checklist of things to follow to ensure you successfully set up a home workshop. The key tips to follow include;
Prepare The Space
The first step is t choose and prepare the space you intend to use. Typically, you want a well-ventilated area with adequate space to move around and store your items. There are plenty of potential workspace areas in your home. For example, you can use the garage, a large room within the home, or even, set up a 20-foot container in your yard if you can afford it.
Alternatively, you can order a custom shed or have one made for you in your yard. If you lack garage or room space in your home, a shed is a more affordable option. After choosing the space, the next step is to set up a space where you will organize your tools.
You have to think of how to organize a home workshop with your tools! Tools such as table saws, planers, or even, standard wood routers take up space. So, you should decide how to safely store them without creating a hazardous environment.
You can set up tool shelves or buy a few tool chests to safely store them away. A tool chest is much bigger than a toolbox – thus, it allows you to stuff in more tools. You can even choose a particular set of colors to create an aesthetic in your workshop. Just because you are woodworking, it doesn't mean you can't add an element of style to your home!
Maintain The Right Environment
This cannot be stressed enough – the ventilation and temperature of your workshop are highly essential. After all, working in a poorly ventilated workshop can pose health risks. Furthermore, the temperature has to be right. If your workshop is attached to your house, in places such as a garage or indoor room, you will be fine.
But, if you set up in a shed or container, you may have problems, especially if you live in a cold climate with four seasons. Thus, you have to consider the seasonal changes when setting up your workshop. During hot seasons, a simple fan might do the trick – just make sure you are cool enough. During the winter season, dress appropriately and securely store away items such as your varnish and paint.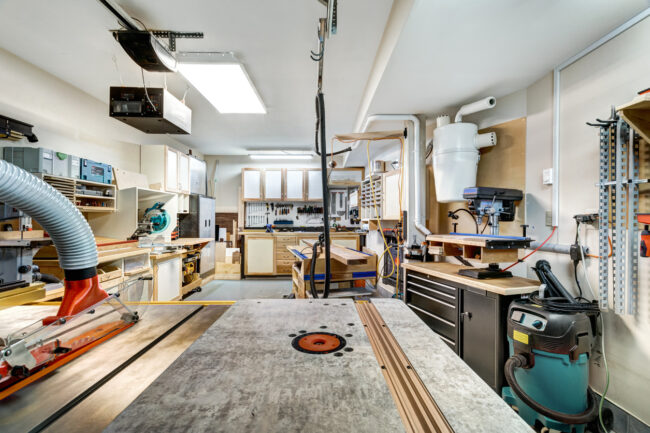 Invest In The Right Equipment
When setting up your home workshop, you have to think of the tools you need. First, go for the essentials such as table saws, drills, nails, and even, accessories such as wood glue. Then, depending on the type of woodworking you want to venture out in, invest in the necessary tools and equipment.
For example, if you plan on making furniture, you certainly need tools such as a wood router, circular saw, woodworking jigsaw,  and sander. As you start, look for multi-purpose equipment such as a versatile router– unless you have a more specialized tool in mind.
Improve The Mobility Of Your Tools
In a workshop, the mobility of tools is everything – especially the bigger immobile ones. You don't want to be hauling around 10 lb. equipment every time you want to use it. Thus, the best way is to make it mobile.
If you have a big space, you can invest in an additional tool chest or stand with wheels so you can easily move it around to work on your pieces. However, if you have a smaller workshop, you have to get creative. It's impractical to store a big table saw in the cabinet and lift it off every time you have to use it.
So, instead, you can opt for a hybrid one that is lightweight and fitted with wheels. Alternatively, you can find a smaller-sized one to store at your working platform's proximity. Alternatively, when setting up your workshop space, you can build more intuitive shelves and working platforms. For example, you can mount a table to the wall with brackets – allowing you to fold it away when not using it.
Conclusion
Learning how to set up a home workshop goes a long in ensuring your work is smooth and more convenient. Amongst other key components, you want to think of include adequate and convenient power supply and proper lighting.