Dismantling and adding the panes
Step 15. Bit of an undercoat
Give the playhouseA small house for children to play in. an undercoat of paint while it is together.
Step 16. Dismantle and more paint
When the paint had dried, then dismantle the playhouse.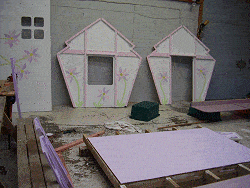 Take it down the same way it was put up. Make sure you keep all the bolts, washers, nuts, and anything else safely tucked away in a boxRough grade timber. to save buying them again.


Spread all the playhouse segments around the place and do some more painting – only limited by your imagination.
Step 17. Fitting the window

pane

Glass or clear sheet acrylic cut in rectangular shapes for the windows.
Cut or acquire 5 pieces of 4mm (3/16″) thick acrylic sheetAny broad, thin surface. (clear plastic glass) to cover the window holes.
3 pieces @ 19 1/2″ x 19 1/2″ (490mm x 490mm) and 2 pieces @ 9 3/4″ x 19 1/2″ (245mm x 490mm).


The acrylic sheets (panes) are slightly bigger than the window area they cover.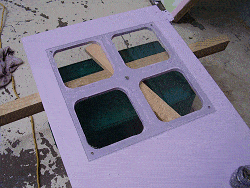 Carefully drill some 1/4″ (6mm) screw holes in from each corner and also one in the middle.


Then place the acrylic sheets (panes) in place over the window holes and lightly pencil mark around the perimeterboundary..


Take the panes off and apply a clear adhesive sealantA pliable substance used to seal a surface to prevent passage of a liquid. to the plywoodA piece of wood made of three or more layers of wood veneer laminated together with glue. inside the penciled area.
Position the panes back in place.
Screw the corners and the middle.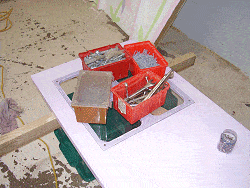 If need be, place some weights on top of the acrylic sheets (panes) to keep a bit of pressure on the panes until the adhesive sealant dries.