Making the Floor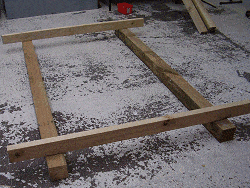 It's a good idea to skim through all the pages before you start to see what is involved and to get a feel for the project.
Refer to the plans and cutting detail plans (Plan 2) when necessary and use the menu at the top to jump back and forth as need be.
Step 1. The skids (bearers)
Cut two 4″ x 4″ (100mm x 100mm) skids at 86″ (2150mm) long.

Lay them parallel on a flat surface so that they are 48″ (1200mm) apart overall.
Step 2. The floor joists
Cut five 1 1/2″ x 3 1/2″ (90mm x 45mm) joists 64″ (1600mm) long.

Fix the two end joists (one each end) to the skids, 4″ (100mm) in from each end.

Attach a string-line to one side, giving a straight line to set the intermediate joists to.

Cut six blocks of wood out of 1 1/2″ x 3 1/2″ (90mm x 45mm) at 17 1/4″ (430mm) long.
Fix the first two against an end joist so both of them are parallel and flush with the outside edges of the skids.
Then place an intermediate joist against the blocks and the string-line and nail in place.
Repeat the procedure until the final intermediate joist is fixed in place.
Measure, cut, and fix the last two blocks into position.

Check that the floor frame is square by measuring diagonally from corner to corner.
Make any necessary adjustments.
When the diagonal measurements are equal, then the frame is square.
Step 3. The floor
Cut a sheet of plywood 76 3/4″ (1920mm) long by 48″ (1200mm) wide and sit it on top of the floor joists.
The sides of the plywood should be flush with the outside edges of the blocking, and the two ends should be set back approximately 1/2″ (12mm) from each end joist, thus allowing a ledge for the front and end walls to sit on.

Once positioned, nail the plywood floor in place.