Making the Walls and Roof
Step 4. Cut the

plywood

A piece of wood made of three or more layers of wood veneer laminated together with glue.

pieces
You can now use the floor as a work platform.


Measure, mark and cut all the plywood pieces. Refer to the "cutting detail plans"(Plan 2) and the "Cutting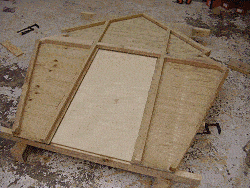 ideas from full sheets" (Page 4) page for dimensionsAny of the three linear measurements, length, breadth and depth. and cutting detail.
Step 5. Assemble the front and rear walls
Lay the pieces that make up the front and rear walls together.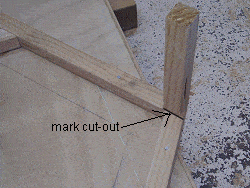 Cut 1 1/2″ x 1 1/2″ (45mm x 45mm) battensNarrow board used to cover claddingThe exterior surface of a building. joins or used for decorative purposes. to go around the perimeterboundary. of the front and rear walls and other intermediate pieces, as show in the drawings below.
Glue the battens in place and hold with the occasional nailA short nail with a large flat head used for securing roofing felt, plasterboard, sheet metal to wood etc. until the glue dries. Then turn the walls over and screw the plywood to the battens from the other side.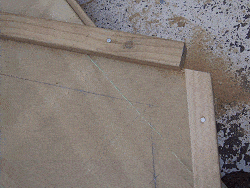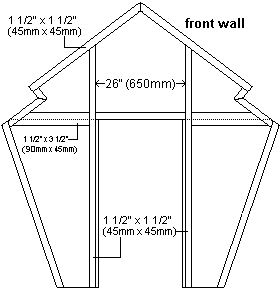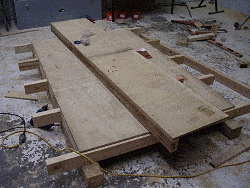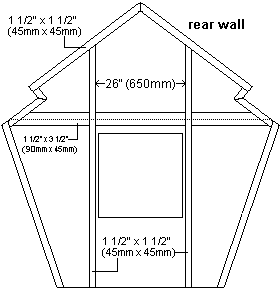 Step 6. Cut a

notch

A U-shaped cutout in a member to house another member. A notch has two sides and can be anywhere along the member except the ends (unlike a rebate that is an L-shaped cut-out with one side and is always at an end or side of a member).

in the apex
Cut a notch in the apex of both the front and rear walls. Use an off-cut of
batten
Narrow board used to cover cladding joins.
for a pattern (see third picture down on the right-hand-side).
Note that the roof apex is not 90°, so make the cut square with one
rake
Angle of roof.
(see drawing below) and be sure that the front wall notch is consistent with the back wall notch.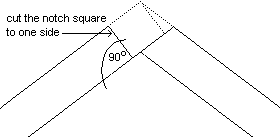 Step 7. Make up the roof pieces
Glue and screw a an 8ft (2400mm) length of 1 1/2″ x 3 1/2″ (90mm x 45mm)
wood
Timber, lumber. The hard fibrous lignified substance under the bark of trees
along one edge of both lower roof panels (see picture to the right, fifth down).
Then glue and screw a an 8ft (2400mm) length of 1 1/2″ x 1 1/2″ (45mm x 45mm) wood along one edge of one upper roof
panel
A sheet that forms a distinct flat and rectangular section or component. A transparent panel used to fill a framed section of a window.
(see sixth picture down on the right-hand-side). Only one upper roof panel needs doing.