Attaching the Roof
Step 9. Fixing the lower roof
Lift the two lower roof pieces in position and hold them in place with a couple of clamps each side.


Drill and boltA metal rod that has a head on one end and threads on the other and is used to fasten together lumber. The most common bolts used or referred to in projects within this website are coach/carriage bolts and hex bolts. through the 1 1/2″ x 3 1/2″ (90mm x 45mm) woodTimber, lumber. The hard fibrous lignified substance under the bark of trees, and the battenNarrow board used to cover cladding joins. it rests against.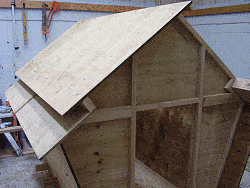 There will be a bolt each end of both lower roof pieces, four altogether.


Use 4″ (100mm) long bolts.
Step 10. Fixing the upper roof
Lift the roof piece with the attached batten in place.


The batten should sit neatly into the apex notchA U-shaped cutout in a member to house another member. A notch has two sides and can be anywhere along the member except the ends (unlike a rebate that is an L-shaped cut-out with one side and is always at an end or side of a member)..


Bolt the upper roof to the lower roof, through the 1 1/2″ x 3 1/2″ (90mm x 45mm) wood that runs the length of the lower roof.


Use six galvanizedCovered with a protective coating of zinc. bolts 5 1/2″ (135mm) long spread out evenly along the length of the roof.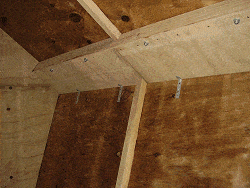 Next put the other side upper roof on. You will need someone to help hold it in place until you get a couple of clamps on.


FixTo secure with nails or screws. it in place with six bolts to the lower roof (the same as was done on the other side) and six bolts along the apex.


Use 5 1/2″ (135mm) long bolts at the lower roof and 3″ (75mm) bolts at the apex.
Step 11. Inside fastening and strengthening
Add 12 angle screw ties (six each side) on the inside of the playhouseA small house for children to play in. where the side walls meet the roof.


Then measure and cut 1 1/2″ x 1 1/2″ (45mm x 45mm) wood to go all around (walls and roof) the middle of the inside of the playhouse.


This is to add a bit of strength to the plywoodA piece of wood made of three or more layers of wood veneer laminated together with glue. walls and roof.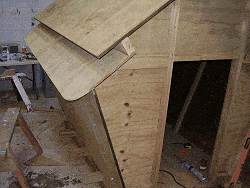 Fix the strengtheners with glue and screws BUT DO NOT screw or glue the ends of any of the strengthener pieces, as doing so would prevent the playhouse from being easily dismantled.
Step 12. Round the lower roof corners
Round the lower roof corners with a jig-saw.


This is to take the s