When compared to plywood and MDF, OSB boards offer a high tensile and stable profile. Thanks to this versatile structural design, OSB boards offer numerous benefits, including their load-bearing properties. Nonetheless, to truly make the most of these boards, you must learn about the different types of OSB boards. Our guide shares a detailed guide into what OSB boards are and the different varieties available on the market.
What Is Oriented Strand Board (OSB)?
Oriented strand board refers to engineered wood made using waterproof heat-cured adhesives and rectangular-shaped wood strands arranged in a cross-oriented layer form.  When it comes to strength and performance, OSB resembles plywood. However, OSB tends to be stronger and thicker (about twice as much) than plywood. But, OSB is still much more affordable than plywood.

How Is OSB Made?
OSB is made using particle board, combining wood flakes and plywood. To produce OSB, bark from a log (pine or poplar) is put into a wood chipper to create wood flakes. Impurities are then removed from the flakes through a washing and drying process.
Next, the flakes are treated with urea-formaldehyde and arranged in a specific manner inside metal plates. Inside the metal plates, the flakes are heated at high pressure to form the boards. These flakes are typically arranged perpendicular to one another to create the stiff, strong, and stable profile of OSB.
Types of OSB Boards

OSB boards are categorized based on their qualities and what they are suitable for. The categorization of oriented strand boards pays attention to their mechanical performance and resistance to moisture. The different types of OSB are categorized using number scales.
OSB1
OSB1 type wood is ideal for general purposes, typically used for interior applications and furniture making. OSB 1 wood is designed to be used in dry conditions.
OSB2
OSB2 type wood is used for load-bearing structures. However, its use is limited in dry conditions.
OSB3
The most popular type of OSB, OSB3, is ideal for load-bearing structures. This type of OSB can be used in humid environments, making it suitable for covering walls and furniture.
OSB4
OSB offers the same functions as OSB3. However, this type of OSB tends to be stronger and can support a higher load capacity.
Uses of OSB Board on Woodworking
OSB can be used for a variety of applications. Primarily, its impressive load-bearing profile allows you to use it for furniture designed to support heavy items, such as shelves for washers. But, this is not all OSB boards do in woodworking.
OSB boards are an excellent option for woodworking in construction. This type of wood can be used for wall sheathing, floor underlayment, roof cover, and I-joist in commercial and residential buildings. You can even design n decorative furniture pieces with OSB using power tools such as routers, particularly those fitted with carbide bits.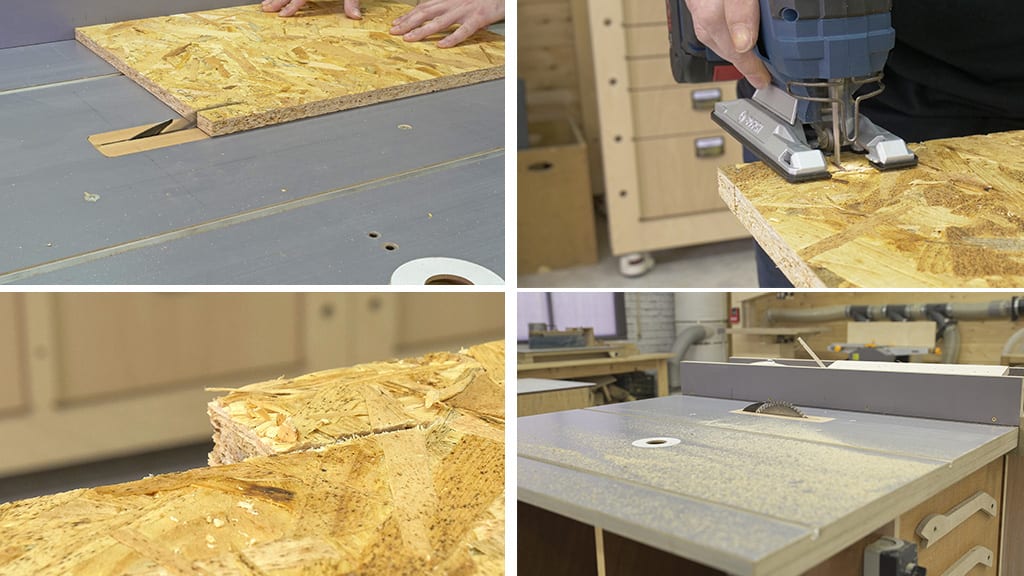 Processing OSB Board
When working with OSB boards, it is essential to understand their characteristics to process the wood better. For one, due to the strong and stiff profile, OSB boards can easily damage power tool accessories. This is particularly true for discs and router bits, so you have to ensure you always find the best quality.
When used with poor quality accessories over time, OSB boards cause premature wear due to their high sand and impurity content. Nonetheless, oriented strand boards are still relatively easy to work with in general.
Unlike MDF boards, OSB board faces don't have completely smooth faces. This is because these types of engineered wood feature non-uniform flakes. Thus, they don't have the same decorative advantages offered by MDF. Additionally, due to this design, cutting through OSB boards can be a little difficult.
The non-uniform flakes mean OSB boards aren't very neat when being used with power tools. When you cut or mill OSB boards, you should expect a lot of dust and large flake pieces to fly. So, before working with an OSB board, make sure you invest in protective gear such as dust masks and safety goggles.
OSB boards feature an ultra-strong and solid construction. However, you still have to take extra care when working on the boards with power tools such as a jigsaw or a wood router.  Using a jigsaw on OSB boards has a higher risk of producing large amounts of dust and flakes. In this case, you want to replace this tool with another one, ideally a saw blade. This is because you can use a saw blade with finer teeth, helping to minimize the mess created significantly.
A saw blade with fin teeth also makes your woodworking job a lot neater. OSB boards are strong and stiff, but they comfortably accommodate screws, unlike MDF boards. Their surface also absorbs satin and matte varnish quite easily. However, avoid using bright finishing or opaque lacquer due to the deeply textured and uneven OSB board surfaces.