Nobody wants dull furniture, but once the colorful, vibrant furniture you bought has faded, you may be wondering how to give your furniture some new life.
Whether you want to paint a chair, table, nightstand, or another specialty piece, you can give your furniture a new life or a unique look with only a few hours of work and basic supplies.
You have many options for painting your furniture, but which one is right for you?
The type of paint should be your first thought and can be the biggest consideration you will have to make.
The main types of paint for furniture are oil, latex, and acrylic.
You can paint with a brush or a roller, each of these paints carries a unique advantage, with some better suited for one type of furniture than others.
Latex Paint
Latex paint is a popular option for furniture painting because it is so easily accessible.
You can easily get a tub from your local hardware store and choose from various brands.
A downside to latex paint is that while it dries fast, it can take too long to cure and retains a relatively soft finish that is prone to chipping and scratching.
This is not ideal for furniture that will be used frequently, making it more susceptible to damage.
So instead of soaking into the surface layer like an oil-based paint will, latex paint bonds to the layer of the furniture.
So this layer of paint can be damaged easily; for best results, pre-prepare the surface with sanding and a primer.
One of the advantages of latex paint for furniture is the wide range of colors available.
You can choose from the color chips readily available or have the perfect color mixed for you so you can find the perfect one to suit your furniture.
The level of choice makes it easy to find the paint shade that best matches your vision for your ideal piece of furniture; latex paint comes in multiple finishes such as flat, satin, semi-gloss, or gloss for your project.
Latex paints are best:
– For any pieces of furniture that will not see a lot of action
– If you're not on a budget.
Acrylic Paint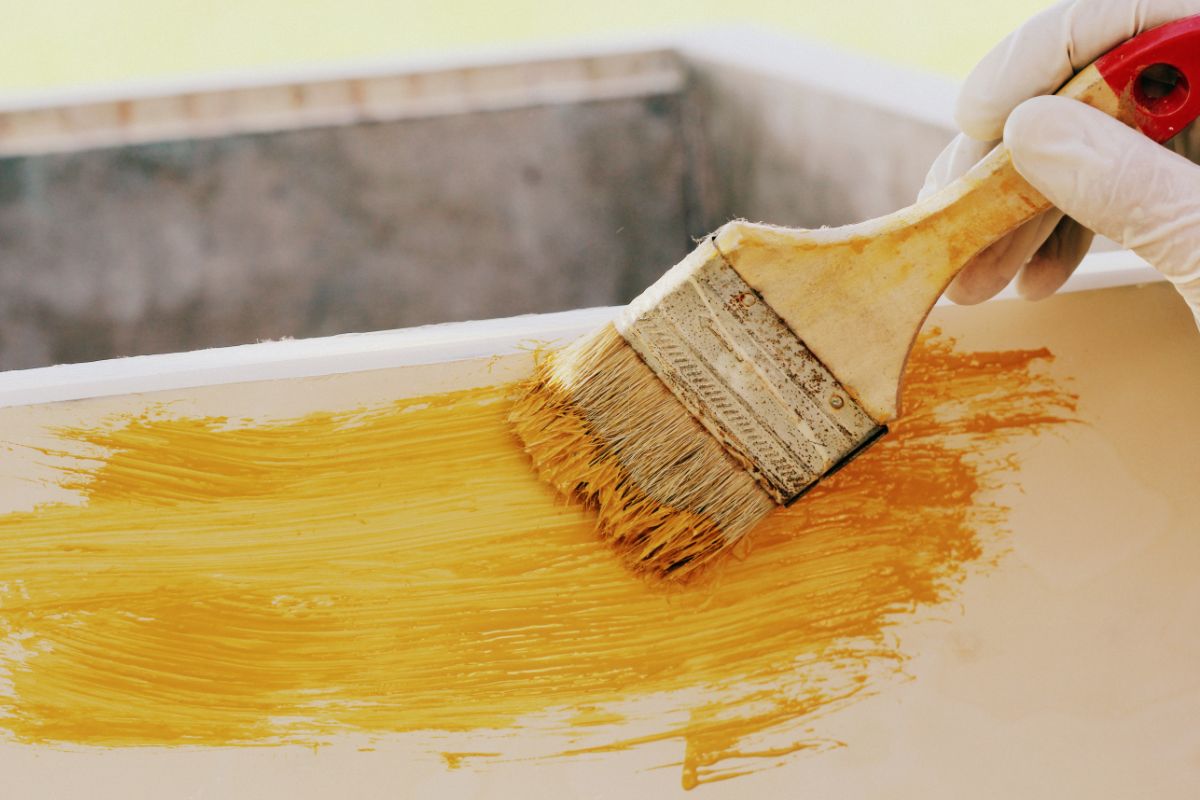 Next up, we have acrylic paint. Color particles are suspended in acrylic polymer and have a rich pigment with a smoother finish.
It can be applied to various surfaces and is one of the most versatile types of paint for furniture.
However, it is most commonly sold in smaller quantities making it the perfect choice for smaller-scale furniture.
Acrylic paint goes on evenly and is self-leveling, making it easy to work with.
A primer is a good idea if you want the paint to apply better to the surface.
The drying times are short, meaning you can easily apply several coats in a short amount of time.
You will need to give it plenty of time to be cured once you are finished applying layers. The clean-up is done easily with soapy water.
Acrylic paint is more elastic to avoid chipping or cracking than other water-based paints.
It is best applied to small furniture or accent pieces that need a quick, affordable coat of paint.
But it is more suited.
Acrylic Paints ARe Best:
– For small furniture pieces, with moderate use
– If you are on a budget
Oil Paint
Oil-based paints are also sometimes known as alkyd paint and are one of the most durable paints to use on furniture.
However, the durability of the paint comes at a cost: oil-based paints are expensive, take a long time to dry, and have high levels of volatile organic compounds that require proper ventilation.
As well as being expensive oil-based paints are hard to come by and, in some areas, are even banned due to the components found in the paint.
That being said, painting furniture with oil-based paint is something that you should consider if you want a resilient finish that will not chip or even scratch easily.
You will need a natural bristle brush and mineral spirits or turpentine on hand as paint thinner and for cleaning up.
Another advantage is that oil-painted furniture can be applied over most surfaces and adheres well.
It saturates any porous surface and self-levels for an even easier application.
The drying time can be up to 24 hours, which is a long time, but the paint will cure quicker than any water-based paint.
Suppose you do not currently know what finish is currently applied to your piece of furniture. In that case, you should be looking to use an oil-based paint due to the quick time for the paint to adhere as opposed to water-based paints that will have a tough time adhering to a surface previously painted with oil-based paint.
However, oil-based paints can be applied successfully over either water or oil-based paints.
Oil-Based Paints Are Best
– Heavily used furniture needing a durable finish.
Final Thoughts
So there we have it, the three main types of paint used when painting furniture.
All three are useful and do the job but have their advantages and disadvantages, so the choice is yours. If you like a thorough job that will last, go with oil-based paint.
If you want a faster drying paint, go for latex or acrylic.