Making the gate
I cut two rails to a length 20mm (3/4″) less than the gap between the two gate posts.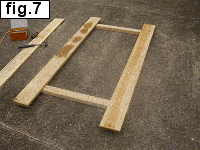 For example:
The distance between the two gate posts was 920mm (36 3/4″) so I cut the rails 900mm (36″) long.

I then placed the two rails on the ground – spaced apart as shown in fig.7 – and lay two gate boards on top of them, one each side.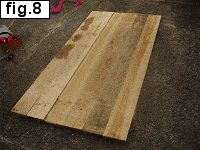 Next I positioned the rails so that the top rail was 150mm (6″) down from the top of the gate boards and the bottom rail was 225mm (9″) up from the bottom of the two gate boards.

I ensured that everything was square and then I nailed the two gate boards to the rails.

I used two 60mm (2 1/2″) flat-head galvanized nails at each meeting.

Next the intermediate boards were put in place and nailed home.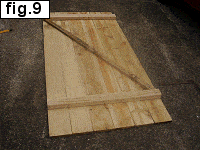 The final (middle) board had to be ripped down a little to make it fit.

The gate was then turned over and the brace was marked, cut and fixed in place.

While the gate was on the ground I also screwed the hinges to the rails.


I used 75mm x 50mm (2×3) stock for the rails and 50mm x 25mm (1×2) for the brace simply because that was spare wood I happened to have lying around.
However, you could use other size stock such as 100mm x 50mm (2×4) or even 100mm x 25mm (1×4) for the rails and brace.