Fitting the gate
When the gate was made I positioned it in place between the two gate posts.

I packed blocks of wood underneath the gate to hold it at the correct height, then I packed each side of the gate with wedges so that the gaps each side of the gate were even.

The gate was in effect jammed in position and wouldn't move while I screwed the hinges to the post and fixed the gate latch.


I then took out the packers and wedges and opened the gate. It worked…of course!
The gate stop
Finally, I nailed a 1800mm (6ft) long gate stop vertically to the post in such a position that the gate could shut but go no further.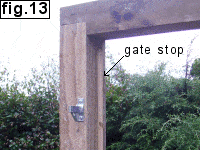 The gate stop is a strip of 25mm x 25mm (1×1) wood nailed vertically to the post to stop the gate from going further than intended. It will also help to avoid any damage to the latch or hinges should the gate be blown or slammed shut with excessive force for any reason.

The gate stop also helps to prevent the gate from warping.

Done!   Eazy with a "Z"