So… You already have a solid 1800mm (6ft) high fence around your pool area but the towering houses surrounding your property still look down into the yard.
A 2500mm (8′-4″) high fence would probably do the trick but that would make the house look like a fortress (if not downright ugly!) and anyway, you would need council approval to construct a boundary fence higher than 2000mm (6′-8″), as well as the neighbors' permission.
Oh dear, what can be done? Can anything be done that still gives privacy and looks nice? YES! This trellis (lattice) high walkthrough screen not only looks nice, but can also be the feature of the yard.
The Objective:
To make a trellis (lattice) screen of types protruding at least 700mm (2′-4″) higher than the existing 1800mm (6ft) fence, without taking any area away from the existing pool area or courtyard, while at the same time giving a higher degree of privacy and also creating a feature for the yard.
The Concept:
A trellis (lattice) screen reaching a height of 2500mm (8′-4″) to be placed 1 metre (39″) inside the boundary fence. The top portion of the screen to be continuous and supported by framed trellis (lattice) panels 500mm (20″) wide, spaced every 2100mm (7ft) or so apart and high enough to walk under. Thus enabling walking between the panels and between the screen and boundary fence, while taking virtually no area away from the yard.
Add a planter-box around a couple of panels at one end, a small raised deck at the other end, and presto… you have a privacy screen that takes up very little area and is an attractive feature!
The Plans
The plan view (birds-eye view looking down) is of the trellis (lattice) screen, planter-box and deck layout, as well as a cross-section plan of the planter-box and a section plan of the trellis (lattice) panel.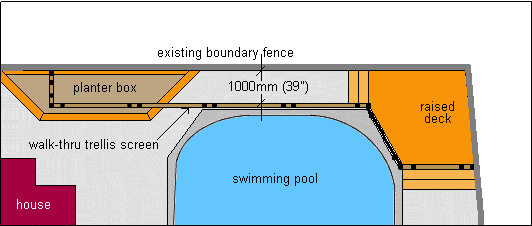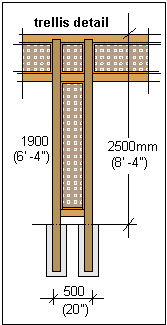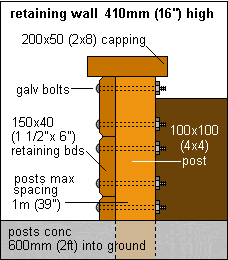 The Specifications
TRELLIS (LATTICE)

Framework – 100×100 (4×4) dressed pressure treated timber or similar, suited for in-ground applications. Posts concreted 600mm (2ft) into ground;
Trellis (lattice) – constructed of 30mm x 10mm (3/8″ x 1 1/4″) pressure treated battens or similar, suited for exterior use, with 25mm (1″) gaps;
Beading (to hold trellis in frames) – 25×25 (1×1) pressure treated timber or similar, suited for exterior use.
Reader Interactions