It's time to start with some woodworking projects! If you have no experience what so ever, don't worry as there are plenty of simple creations you can make without needing heavy artillery and some advanced techniques. Sometimes all you need is a bit of glue and a few nails!
To help you out we have compiled a list of 15 best and easiest woodworking projects you can start when you are a beginner. All of these projects combine two important aspects: simplicity and creativity. The best things in life are the simplest and these projects prove that point to be true. So, grab your hammer and let's get to work!
1. Make Your Own Wooden Clock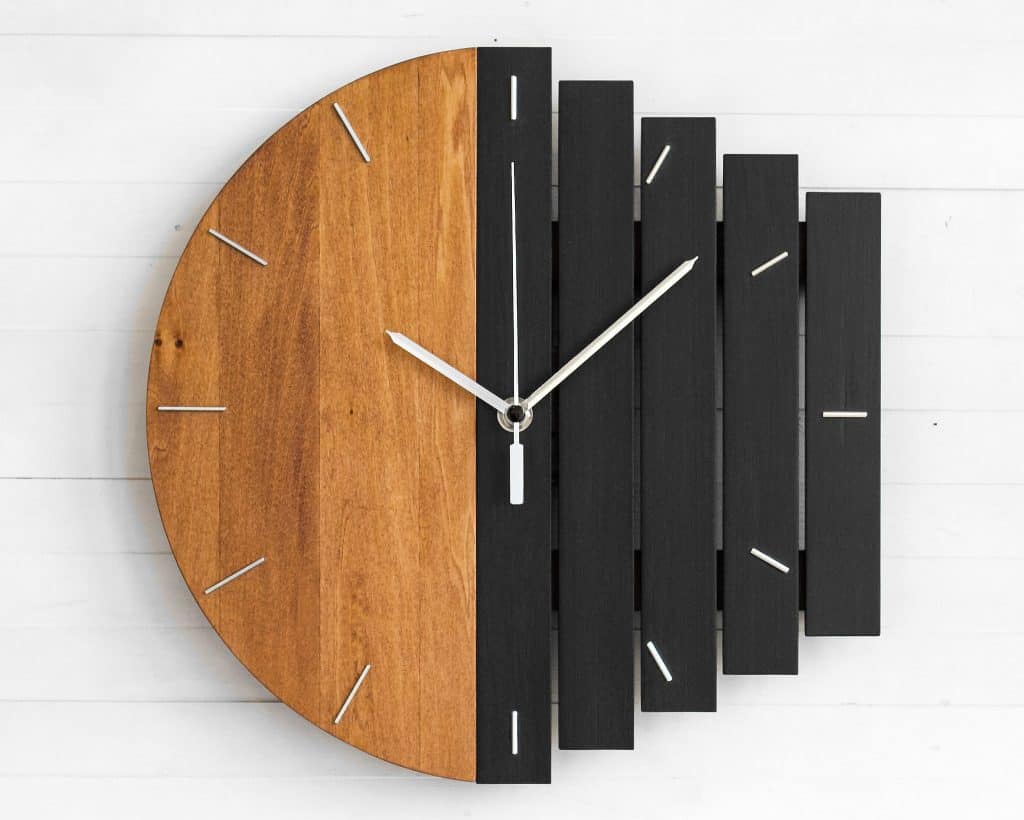 If you have checked our list for the 15 most amazing woodworking projects, you might remember the over-the-top detailed clock. This simple clock gives even complex designs a nice competition as its' so minimalistic and rustic it looks simply awesome. The highlight of the clock is the well-chosen darker wood which compliments white clock hands marvelously.
The beauty of making this clock lies in having to use only 11 pieces of wood, 2 of which are meant for support. All you need to do is cut and polish the pieces so they fit together nicely. It's easily a project you can finish within 1 day – all you need is a bit of wood, glue and ready-made clockwork.
2. Magic? No, It's  Woodworking!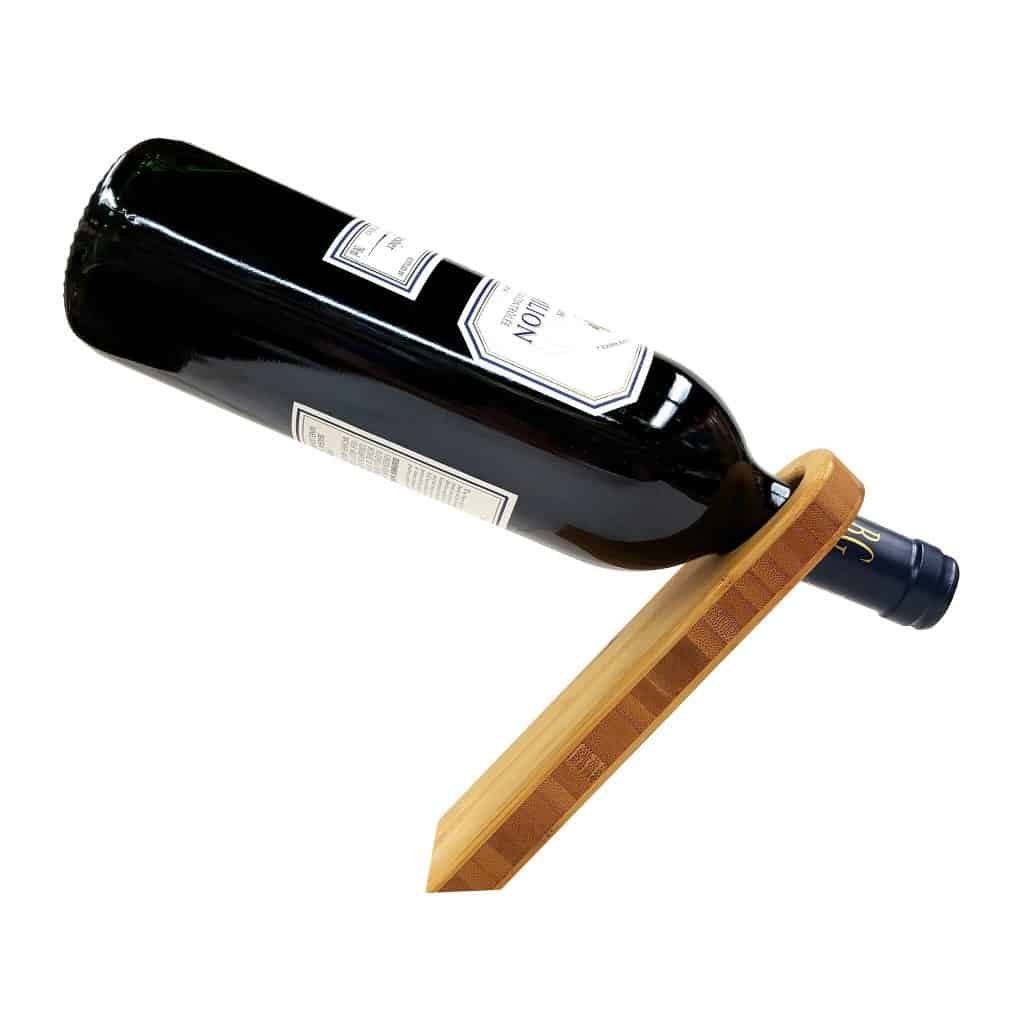 No, you're not seeing hallucinations! Yes, it's one single piece of wood holding a wine bottle sturdily! Magic? Nope, it's pure gravity and fine woodworking. This project has caused some serious fuzz all over the world as it looks simply too cool to be true. The best part is that anyone can make this at home pretty easily and stun their guests with this wine display.
The secret lies in the angle of the bottom – if cut in a specific angle the weight of the wine bottle will distribute evenly and the two will balance each other without neither of them falling over. Well, Newton would be impressed by this wooden wine rack!
3. Breakfast Is Served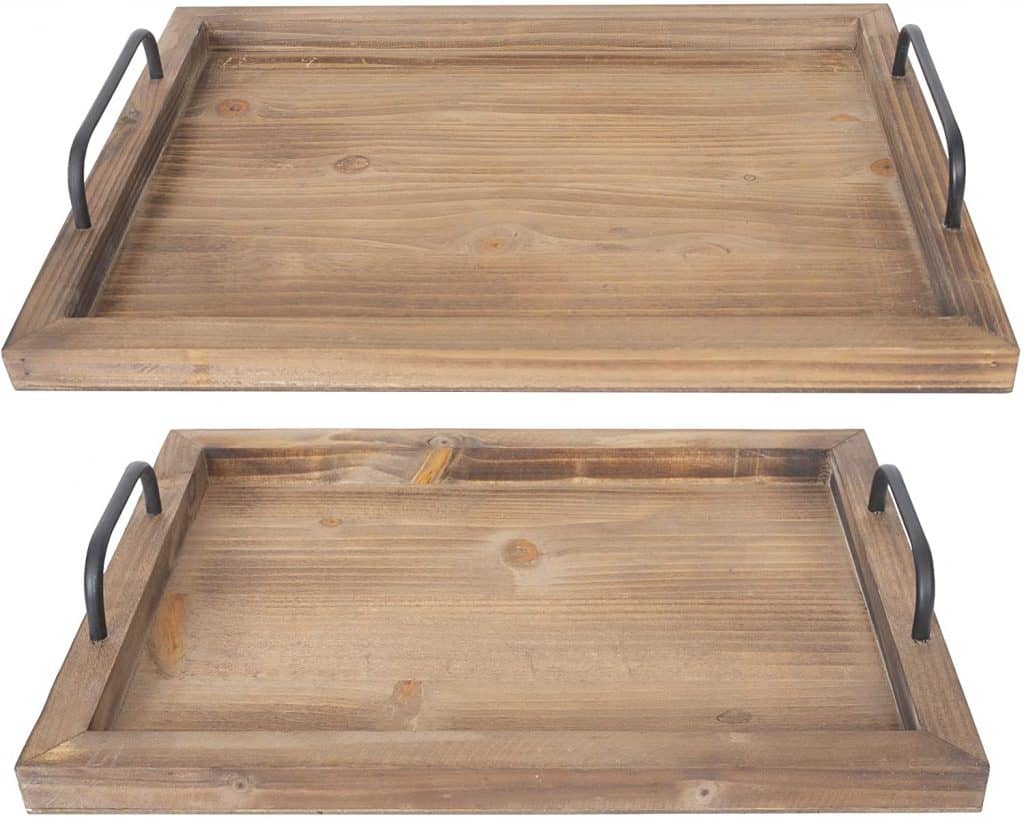 Surprise your sweetheart by serving breakfast in bed with a wooden serving tray made by you. Not only does it look lovely, it's very simple to make as it doesn't require any carving – just a bit of cutting and polishing. Even better, making your own tray is far cheaper than buying one – so if you are living on a budget, this is a nice idea to go for!
There are endless ways of creating a wooden tray but the simplest is to add a couple of wooden pieces to the sides where you can attach the handles. The handles can be found from any supply store and shouldn't cost more than a couple of bucks. Just attach the handles with wood screws to the bottom and that's it!
4. Easiest Wooden Sofa Sleeve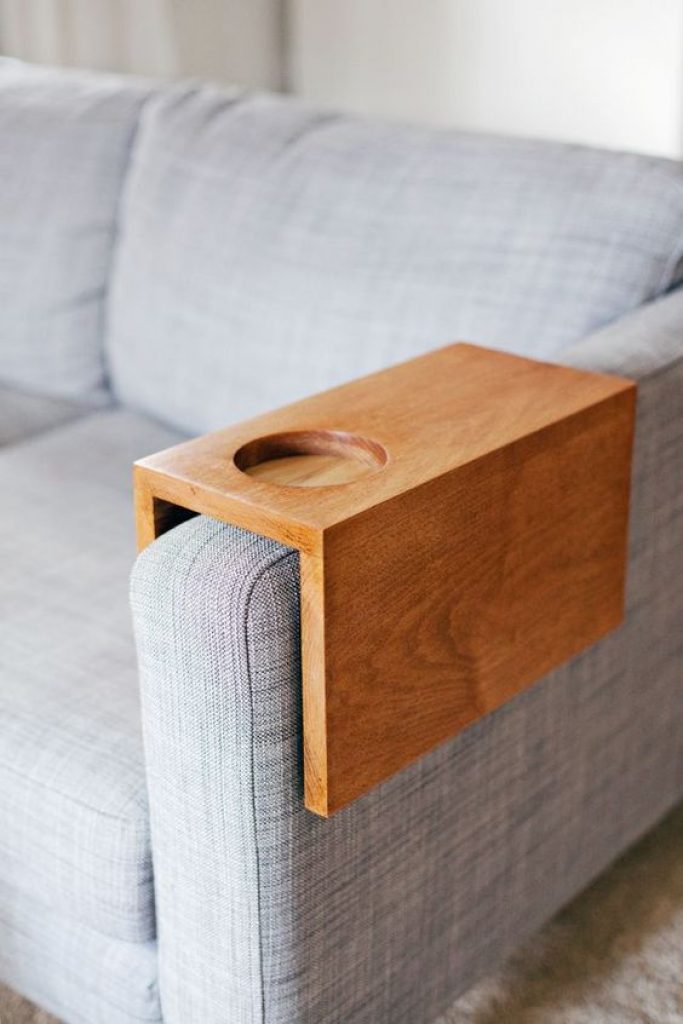 Tired of spilling your coffee as you have no place to rest the mug on? You don't have to buy a new sofa with built-in cup holders as the answer is right here – make your own wooden sofa sleeve! This is such a brilliant idea you'll wonder why you didn't think of making this earlier.
All you need to make this sofa sleeve are a couple of wooden details measured according to your sofa. If you want to take this a bit further, you can carve a round hollow part to the top detail so you could put your mug there. Whatever suits you best!
5. Your Cat Would Love This Box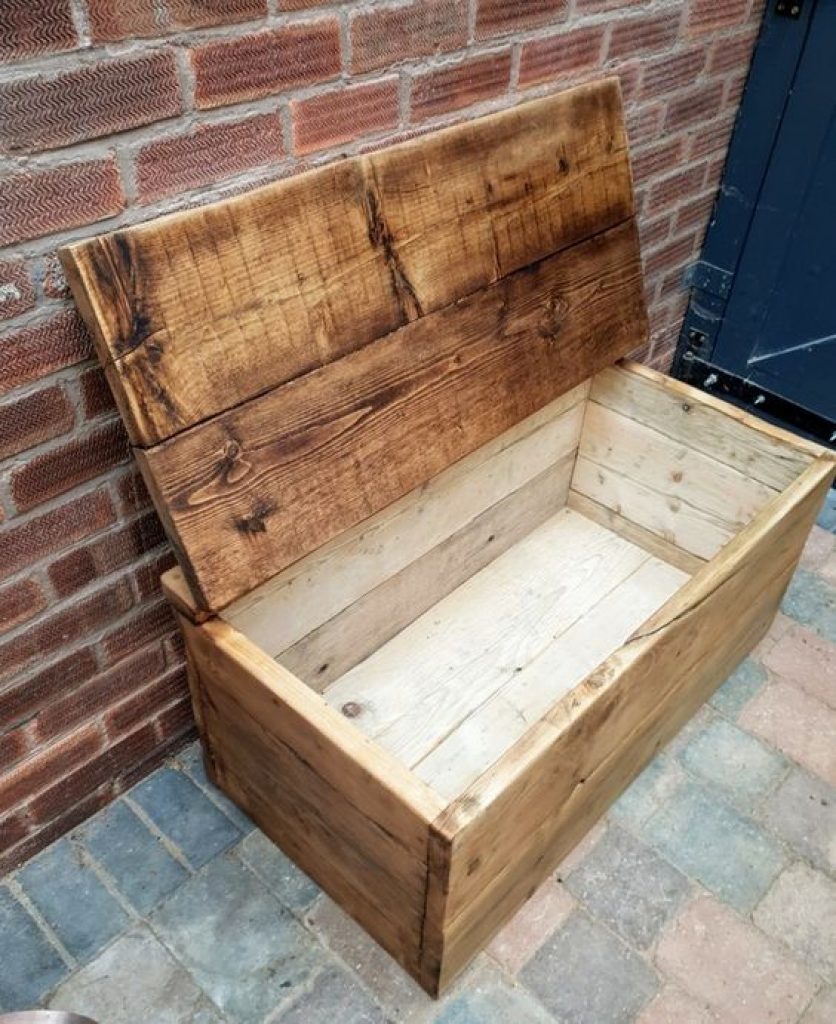 You cannot call yourself a woodworker if you haven't made at least a couple of storage boxes. Therefore, a decent box is one of the first projects you should get your hands to! There are literally thousands of versions you can make –  some more simple, some a bit more complex. No matter the particular project, creating such box will give you tons of experience for any future projects.
If you'd like to make something a bit more fancy then take example of this box right here – it has plenty of details and the hinged cover will be a pretty hard task if you don't have loads of experience under your belt already. Give it a try and make a wooden box for your tools for example!
6. Simple Yet Elegant Dining Table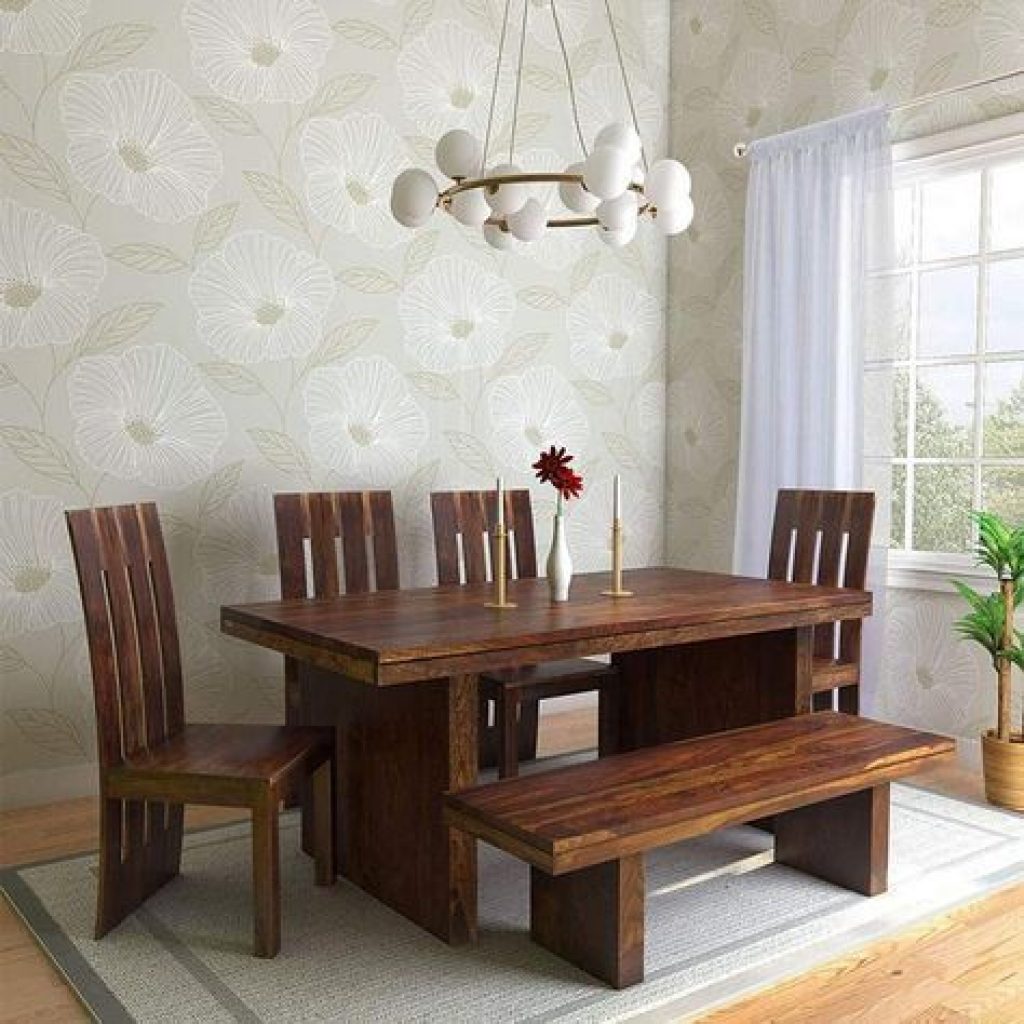 This table looks like straight from Home Depot. It's elegant, practical and simple enough even if you are just a beginner. The table has a nice rectangular structure – the main worry is just making the parts in the perfect size and shape so it would be easy to assemble it. The result however looks like the table cost a thousand bucks.
If you want to get by even easier then get decent 4×4 timber for the legs and add only the top face. If polished and finished, it will still look great but without much trouble. As a beginner you can be sure sooner or later one of such table projects will tempt you! Why not start from making a nice work table for yourself.
7. Tiny Birdhouses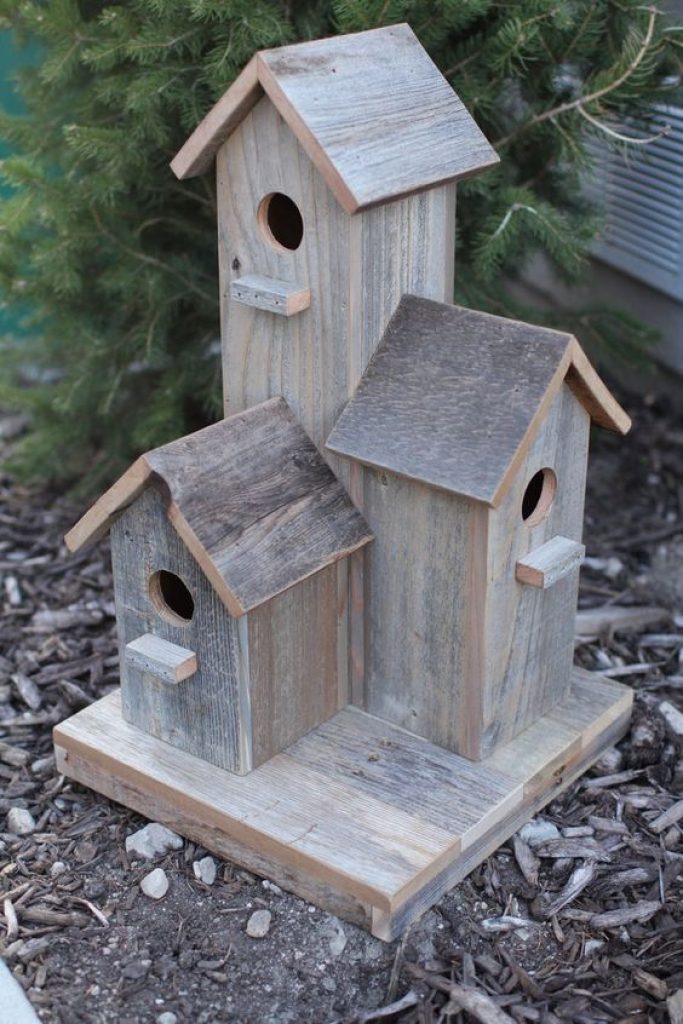 We all remember those woodworking classes back when we were still in middle school, right? Raise your hand if you haven't made a birdhouse in your life! Well, those who raised their hands, here is a bit of inspiration for you. A birdhouse is generally the simplest woodworking project and if you have never even used a hammer, then this is the place to start! What makes birdhouses such a good starting point is the easy construction – sometimes you really need just a couple of wooden planks and that's it!
If you want to get crafty, you can easily practice by carving a heart shape for the door or add some tiny details to make it look even cooler. Tiny birdies will appreciate your work immensely!
8. Artsy And Practical Shelves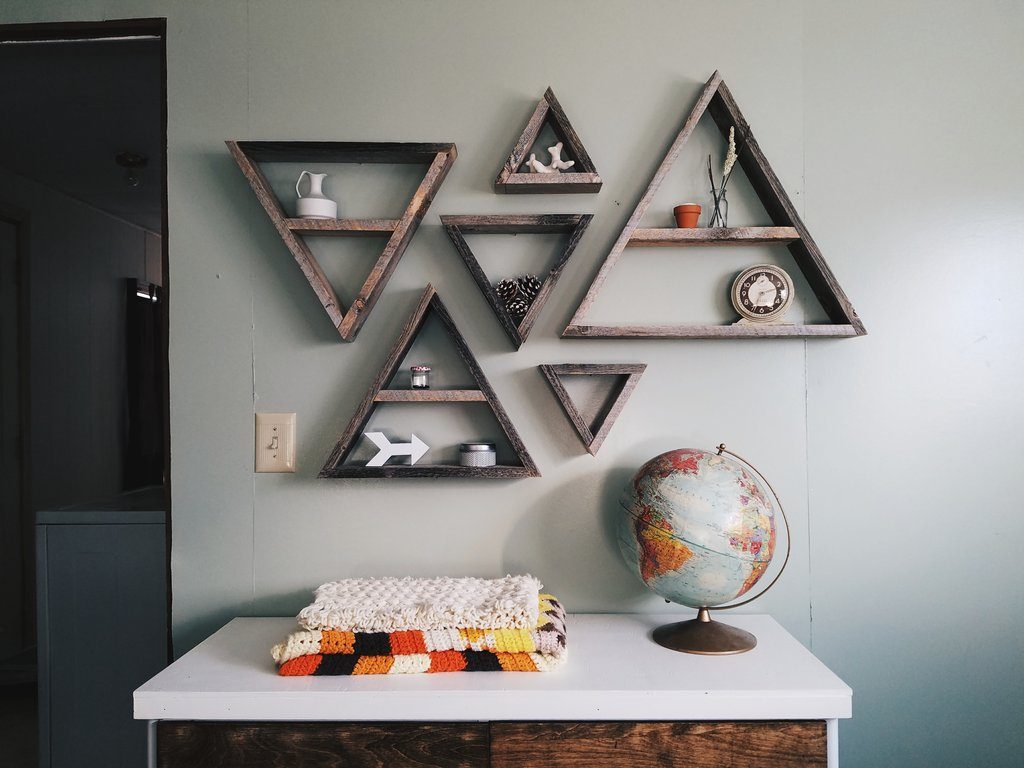 Would you have ever thought a shelf could have another shape than rectangular? Check out these triangular shelves that look minimalistic, modern and fancy. You can easily store your plants or magazines on these – they don't just look cool but are completely functional as well.
For making these edgy shelves the main thing to keep in mind is the cutting angle – all 3 wooden planks must fit together perfectly so you have to measure the angles carefully. Other than that, creating such triangular wooden shelves is a piece of cake! Give it a bit of color with a wood finish and your shelves are ready to decorate your walls.
9. The Easiest Woodworking Project In The World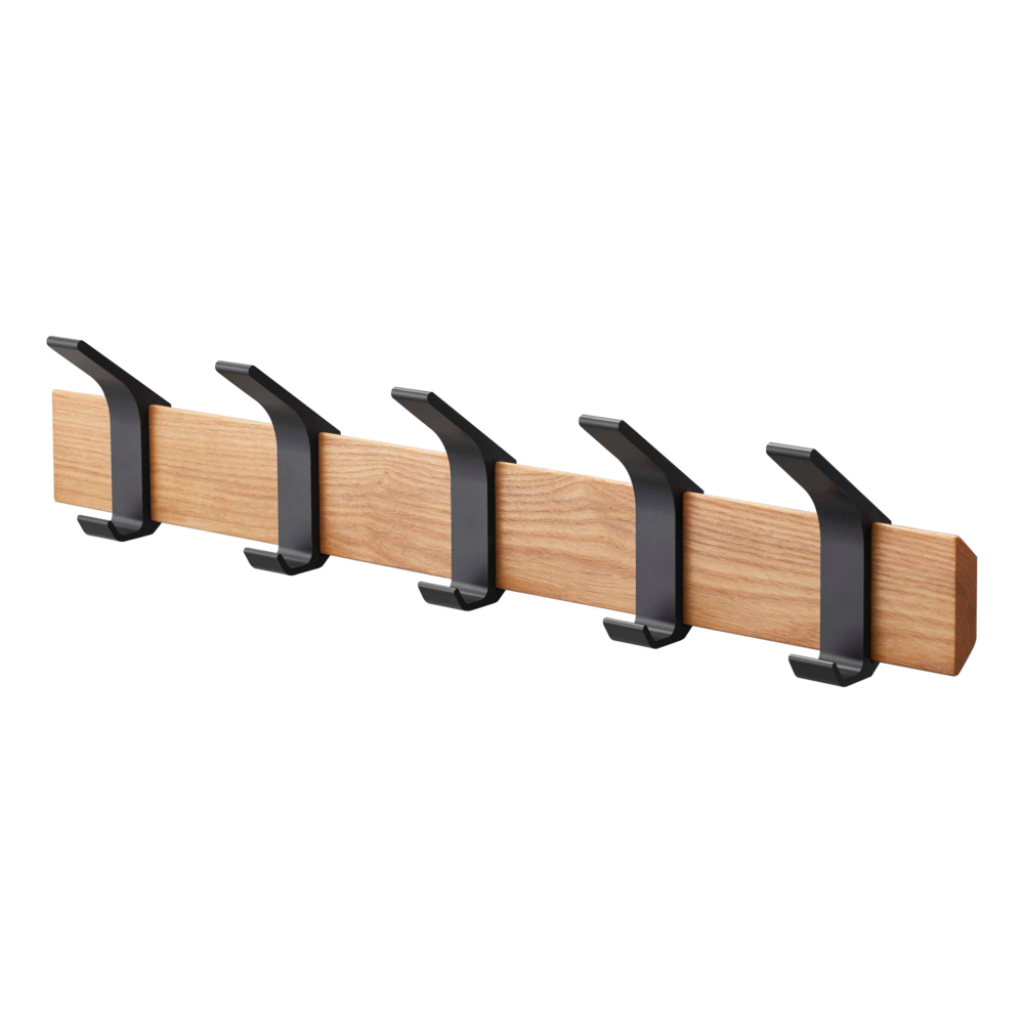 This is literally such an easy project you will think it's nonsense to have it in this list. Yes, very often all you need for a nice wooden clothes hanger is one wooden plank. However, if you have never done woodwork and have no experience with woodworking tools, it's a good starting point! Rome wasn't built in a day and neither should you jump to heavy-duty tasks right away. Start off by creating this nice little hanger for your hallway.
There are tens of different ways you can create a wooden hanger, the easiest of them being this one: measure and cut a suitable plank and attach some hanger hooks. If you want to get fancier, you can add some extra wooden details to the sides or even build a top shelf. However, the easiest way to go is with this one!

10. Versatile Wooden Spoons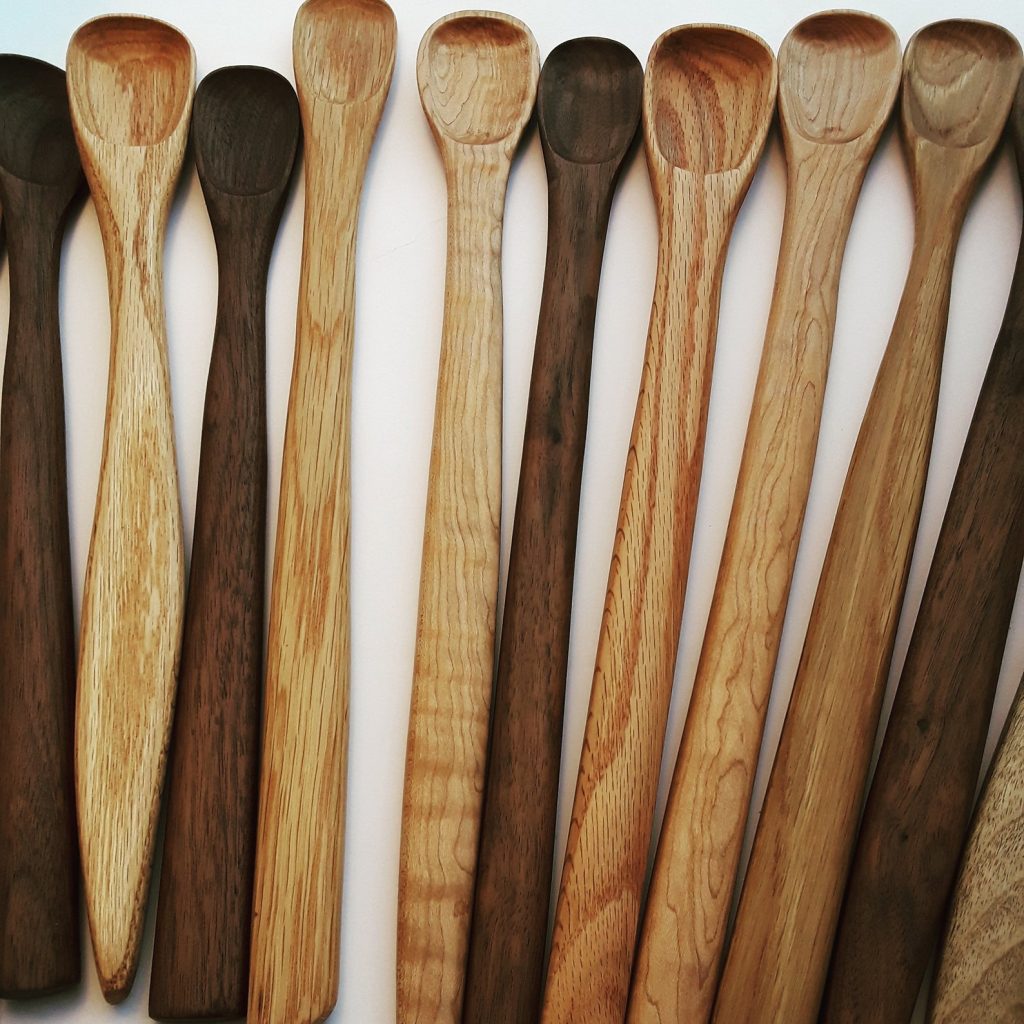 If our ancestors could make spoons, so can you, right? Wooden spoons are the easiest items for practising carving tehniques. It's hard to get wrong with these as you can create smaller and bigger ones, hollower and flatter … It's actually rather addictive and you will definitely enjoy making these cute little spoons.
Start off by making spatulas – you can just cut a specific shape and polish it to perfection. Spoons are the next step from there – try carving some wider hollow areas and make some with flatter curves. For extra details you can even add some details on the handle. Let your creativity flow!
11. Tiny Stool For Your Laptop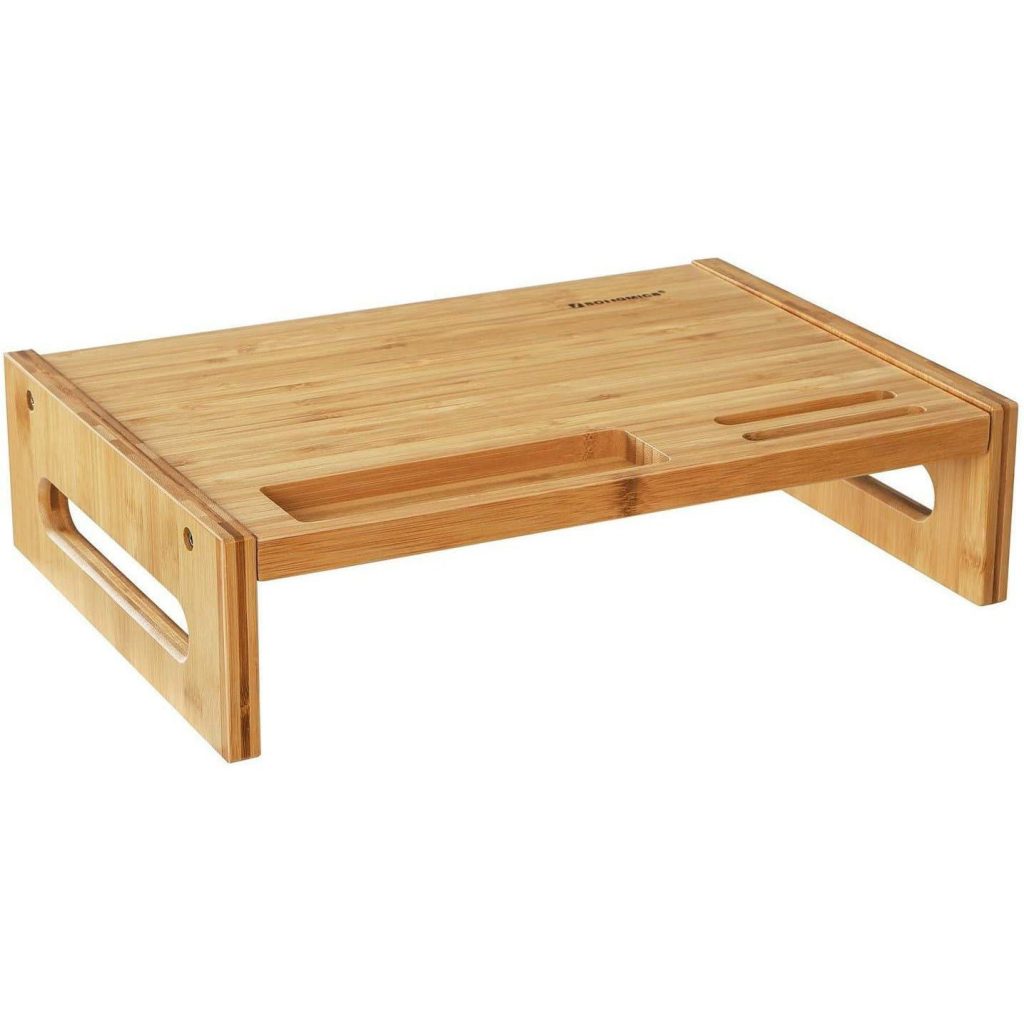 Stool is another great example of a practical wooden gadget that makes your life so much comfier. Besides being a fine laptop stand, it's good for just sitting on it. Best part: it's so easy to make! Just cut out different wooden details, give them the right angle and assemble – you are now a proud stool owner!
The same tehnique can be used to make even bigger stools, benches and tables as the general idea is the same. If you are thinking of making a garden bench for example, start from creating this tiny stool which will give you enough experience to work on bigger objects as well.
12. Rustic, Simple, Practical – Wooden Vase Holder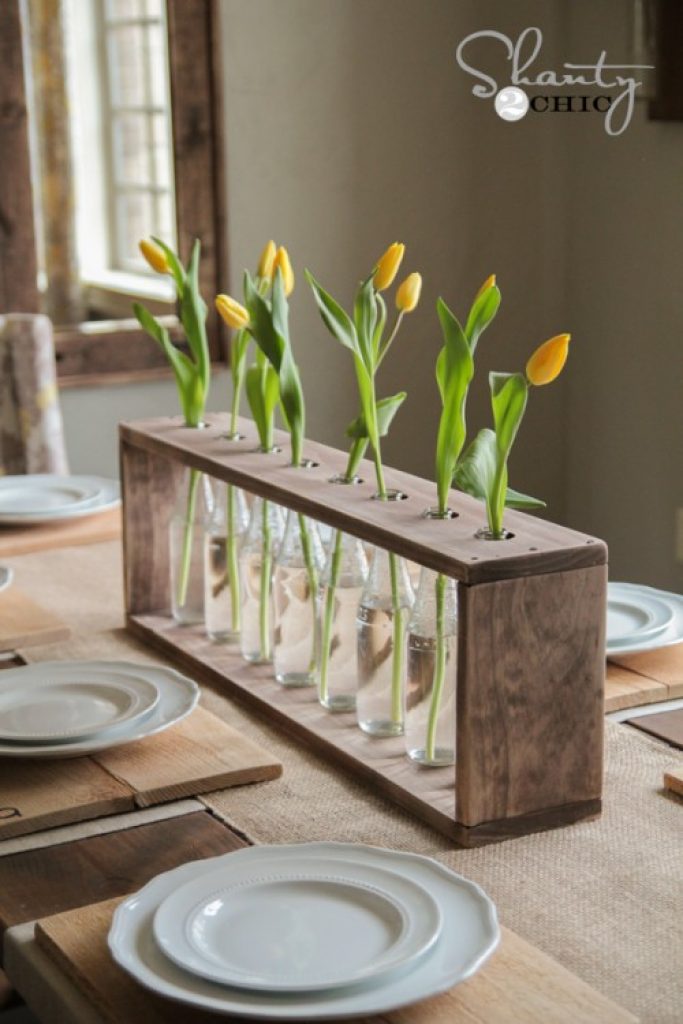 Creative? Yes. Simple? Definitely. Useful? Undoubtedly. Cool? For sure! This vase holder is not only practical, it makes for a fine decoration and even a table centerpiece as you can showcase flowers creatively. You can bet your guests have not seen anything like this before so you can shine with your fine woodworking skills.
The vase holder is cleverly assembled as you can take off the top part, change the bottles and water, then arrange them again and put the cover back. Generally speaking it's pretty much a simple box but the creative functionality is what counts here – you can display even 10 flower vases in a stylish way.

13. Multi-Functional Cupboard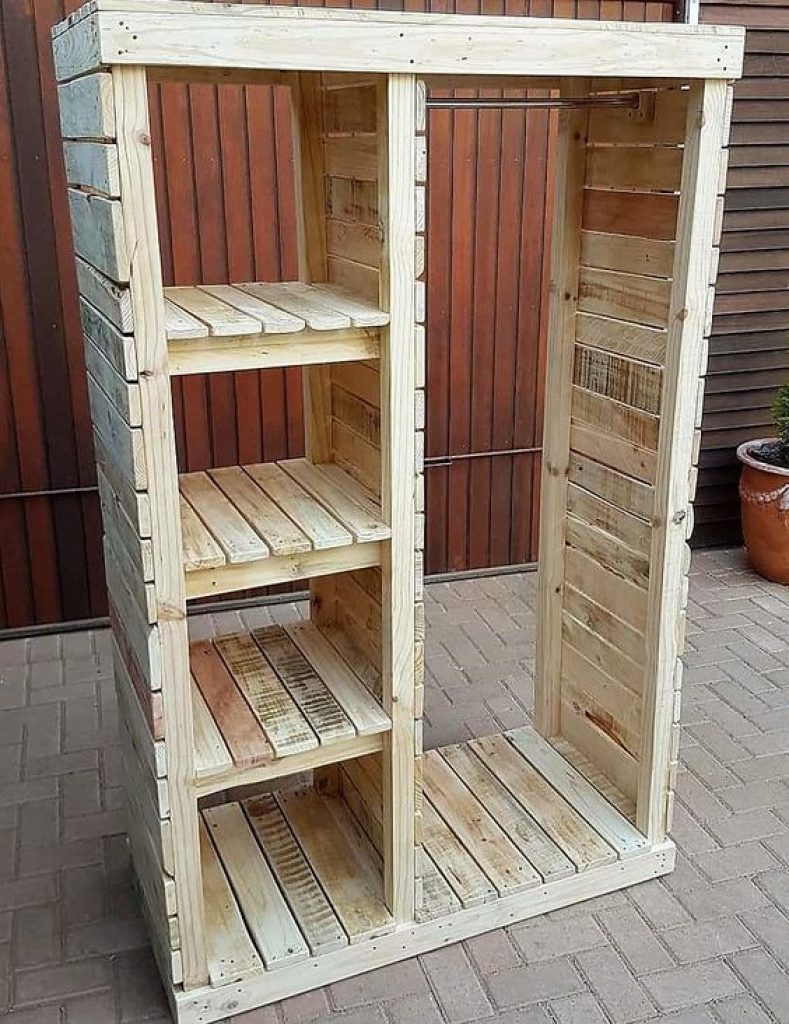 You almost thought we had forgotten about cupboards, right? Here it is in its' full glory – a wonderful storage space for your living room. This shelf-meets-table sort of a storage compartment is not only brilliant and functional, it looks stylish and fits with any rustic decor. All you need is some basic woodworking skills!
The easiest way to approach this project is to think of a huge table with levels under the main face – that's exactly what this cupboard looks like. Start off by sketching a project and choosing your materials, also don't forget about the finishes as a nice polishing wax and wood finish will make it look beautiful!
14. Step Up Your Cooking Game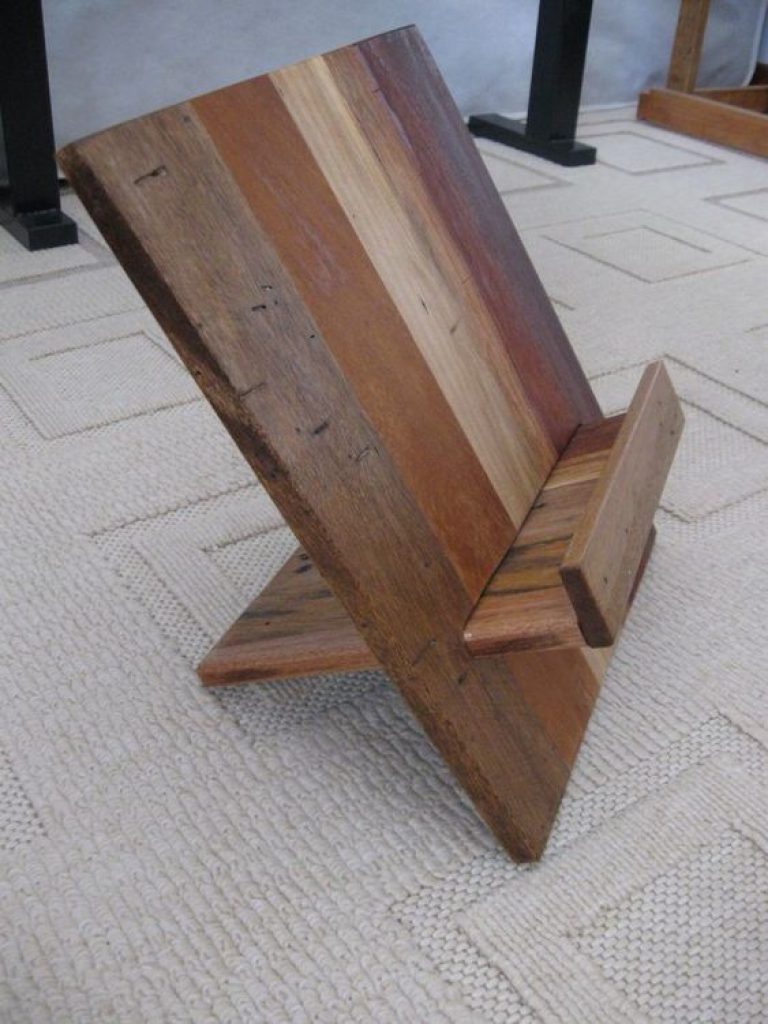 Your cookbooks are finally safe! Store-bought cookbook stands can be extremely expensive so why not make one yourself?! It's yet another extremely simple creation as it doesn't take more than a few wooden details, but the functionality it has is beyond thankful!
When making this stand, be sure to make the gap between the back and front wide enough for your cookbooks to fit. As it's rather simple to make, you can always make different sizes and variations to suit both smaller and bigger books but the easiest way is to make one universal stand. Add a bit of finishing touches and there you go – your cookbook can be used conveniently.