This section explains how to build a simple lumber deck, 2000mm (80″) wide x 5000mm (16′ 8″) long and less than one 1000mm (40″) above ground level.
Also see Anatomy of a Deck
Construction Details
Note: These plans and/or instructions are to be used expressly as a guide only. If contemplating doing any building work inquire at your local building department to find out what specific needs are bound by local building code and what permits and/or consents may be required.
Note: All lumber should be suitable for exterior use and any lumber either touching the ground or going into the ground should be suitable for inground applications.
Lumber requirements.
Scroll down for step-by-step construction details.
Item
Size
Quantity

Stringers

150×50 (2×6)

1 @ 5.1m (17ft)

Posts

100×100 (4×4)

5 @ 1.0m (40″)
(confirm height)

Bearers

100×100 (4×4)

2 @ 2.7m (9ft)

Joists

150×50 (2×6)

12 @ 2.1m (7ft)

Boundary joists

200×50 (2×8)

2 @ 2.1m (7ft)
1 @ 5.4m (18ft)

Decking

100×40 (1 1/4x 3 1/2)

120m (400ft)

You will also need nails, bolts, connectors and concrete.
Step 1. Fixing the stringer
The stringer (also called ledger) is the beam that the joists sit on or are attached to and is bolted to the building. See Anatomy of a Deck for detail.
Cut the stringer to length and fix level to the building at the required height using m12 (1/2″) bolts every 1200mm (48″) apart. Pack the stringer out from the wall approximately 6mm (1/4″) at every bolt fixing to prevent moisture being trapped between it and the building.
The finished height of the deck should be at least 60mm (2 1/2″) below the building floor, so the stringer height depends on the thickness of the decking and the method of fixing the joists to the stringer. See the two options below. Insure the stringer is level by using a level or water level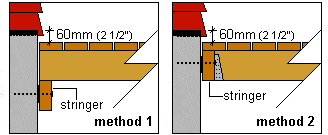 Step 2. The footing holes
Dig five footing holes 300x300x450 deep (12″x 12″x 18″ deep) to the dimensions as shown in the drawing below. If the ground is less than firm, then the holes may need to be larger and deeper.
Make a mix of concrete c and pour at least a 100mm (4″) pad in the bottom of each hole. Place the posts on top of the concrete pads and pour more concrete around the posts to hold in place. Ensure the posts are plumb (vertical), parallel, and longer than required. (The tops will be trimmed off later).
Let the concrete cure.