Building the Steps:
Step 1: Make a simple template in order too mark out on the stringers, The tread positions.
This is a relatively simple task, take a piece of cardboard 300mm (12″) square or larger (alternatively you can use hardboard, thin plywoodA piece of wood made of three or more layers of wood veneer laminated together with glue. or anything similar). From the cardboard cut out a triangular piece as shown in the following diagram. fig. 3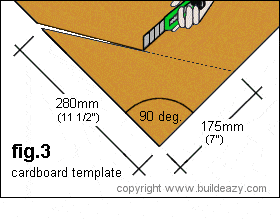 Step 2: Lay out the two stringers 250×50 (2×10) flat on a couple of saw stools, on even ground or on the floor.
Hold the cardboard template, with its longest edge flushBeing even with. to one edge of the stringer, approx 300mm (12″) in from one end, and pencil mark around the template. Repeat this action five times on each stringer, as shown in the diagram below. fig. 4

Stringer 1 must be marked mirroring stringer 2.
Step 3: To continue marking out for the treads, use a piece of lumberAny of the framing wood. about 600mm (24″) long, and the same thickness as the treads which is approximately 46mm (1 1/2″) This piece of timber is to be used only for marking and can then be discarded.
Hold this piece of lumber flush on one of the tread pencil lines marked on the stringer.
Mark each side of the 46mm (1 1/2″) thick lumber across full width of the stringers, as on fig.5 below.
Repeat this action to all tread lines, on both stringers to get an effect as in the diagram below. fig.5