Introduction, what you will need
Introduction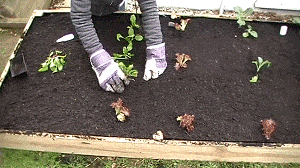 This is a relatively simple project that most people should be able to cope with. It is a good project for the novice woodworker and novice gardener.
This particular veggie boxRough grade timber. or station is a 3ft x 6ft (900mm x 1800mm) rectangleFour-sided figure with four right angles. that is 6″ (150mm) high, but you can make it any size you want by adhering to the same principles used to make this particular sized box.
Measurements
The measurements in this documentation are given in both ImperialStandard. Feet and inch measurements. (inches) and MetricMillimeter measurements. (mmAbbreviation for millimeter which is a metric unit of length equal to one thousandth of a meter. 25.4 mm equals one inch.).
The Imperial measurements are given first followed by the Metric measurements in brackets ( ).
For example: 1″ x 6″ (25mm x 150mm).
What you will need
The sides and ends (treatedPressure treated. Refers to lumber that is treated in such a way that the sealer is forced into the pores of the wood. Refers to lumber pressure sprayed with chemicals to lengthen its life expectancy for outside use or inground applications. or rot resistant woodTimber, lumber. The hard fibrous lignified substance under the bark of trees)
2 pieces of 1″ x 6″ (25mm x 150mm) that is 6ft (1800mm) long.
2 pieces of 1″ x 6″ (25mm x 150mm) that is 3ft (900mm) long.
Stakes (treated or rot resistant wood)
6 stakes 2″ x 2″ (50mm x 50mm) about 16″ (400mm) long.
Note: Stakes are pointed pieces of wood used to hammer into the ground.
You can make your own from 2″ x 2″ (50mm x 50mm) stock. Alternatively, some garden centersCrs; O.C; Term used for spacing; The measurement of spacing for studs, rafters, and joists in a building from the center of one member to the center of the next. sell stakes.
Plastic or polythene
About 1ft (300mm) by 20ft (6m) to go around the inside edge of the box to keep any poisons from the treated wood (if applicable) getting into the soil.
Cut-up plastic rubbish bags is an ideal source for the plastic, maybe even the bags that the soil came in.
Potting mix, garden soil or similar
9 cubic ft (240 litres)
The soil can generally be purchased in handy plastic bags of varying sizes.
Nails
Around thirty-two 2″ (50mm) galvanizedCovered with a protective coating of zinc. nails.
Reader Interactions