Building the Steps Cont…
Step 5: Now that we have the tread lines marked out on the stringers, we need to notchA U-shaped cutout in a member to house another member. A notch has two sides and can be anywhere along the member except the ends (unlike a rebate that is an L-shaped cut-out with one side and is always at an end or side of a member). (check out, rebateAn L-shaped cutout with one side, that is always at an end or side of a member, unlike a notch that is a U-shaped cutout.) them. This can be achieved by setting the blade depth on our circular saw approximately 12mm (1/2″) and making repeated cuts along and between the tread markings on the stringers. See diagram below. fig.6

Repeat this action to all tread markings on both stringers.
Finish by chiseling out the grooves with a sharp chisel. The more saw cuts, the easier the chiseling.
Step 6: Cut all tread lumberAny of the framing wood., 150×50 (2×6), to the required length, in this case 832mm (34″), 10 in all, 2 per tread.
Step 7: Lay one of the stringers on even ground or the floor and insert the treads into the rebated grooves. fig.7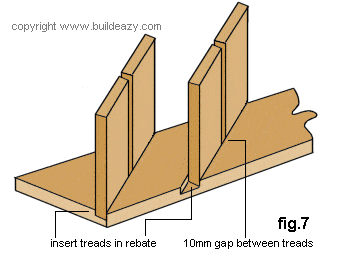 Step 8: Place the other stringer on top of the treads mirroring the bottom stringer.
NailA short nail with a large flat head used for securing roofing felt, plasterboard, sheet metal to wood etc. through the stringer into the treads using 100mm (4″) or 90mm (3 1/2″) galvanizedCovered with a protective coating of zinc. nails. 3 nails per side per piece of tread timber. see fig.8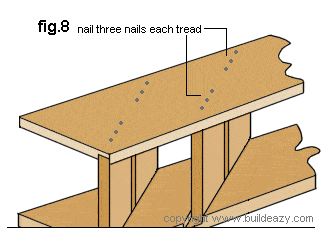 Step 9: Cut riser boards and nail against back of treads. see fig.9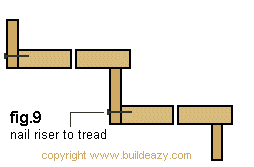 Step 10: FixTo secure with nails or screws. the steps in place. Nail the top of the stringers to the deckA flat floored roofless area adjoining a house. Timber deck: An outside floor structure comprising of posts, bearers, joists and decking boards. structure.
Temporarily pack with blocks of woodTimber, lumber. The hard fibrous lignified substance under the bark of trees under the bottom tread until treads are level.
Dig a hole 250x250x250 (10″x10″x10″) under each stringer and fill with concreteA mixture of sand, gravel, water and cement which hardens to a stone like condition when dry.. Place a galvanized wire or bracket into the wet concrete against the two stringers.
When the concrete has cured place a piece of damp course membrane, melthoid or similar under the stringer and on top of the concrete pad. This prevents moisture from the concrete pad going to the lumber. See fig.10