Cats are independent creatures; they don't generally rely on their owners as much as dogs.
Due to their nature, cats usually love having a designated space they can call their own—a place where they feel safe, protected, and comfortable.
So what better way to treat your furry friend than to build them their own cat house out of wood?
Luckily for you, cat houses are typically easy to make. You can make them as obscurely or as simply as you like.
Moreover, you can easily adjust the measurements to accommodate your cat and space comfortably.
Below, you will find the simplest way to build a cat house out of wood.
What You'll Need
Pencil
Plywood (or whatever wood you like)
Paint (optional)
Foam Square
Fabric
Screws/ Nails
Measurements
Base: 40cm X 40cm
Back Panel: 44cm X 44cm
Side Panels: 40cm X 43.5cm
Front Panel: 44cm X 46cm (with a singular 45 degree cut edge)
Top Panel: 44cm X 43.5cm (with a singular 45 degree cut edge)
Step 1: Entrance Hole
Using the front panel, draw a 20cm circle within the center of the panel.
Drill a hole into the center of the drawn circle, then insert your jigsaw blade into this hole.
Turn the jigsaw blade on, then start cutting towards the outer circle edge- making sure to cut the whole perimeter of the circle.
Once completed, you should have a hole in the front panel. (This can be easily adjusted depending on the size of your cat.)
Step 2: Assemble The Box
Using plenty of wood glue and screws, attach all the panels (except the front panel) together to form a cube.
Step 3: Install Foam Square
Cut a foam square to fit snuggling inside your cat box.
Using whatever fabric you like, cover the foam square. This will ensure that your cat is comfortable.
Step 4: Attach The Front Panel
Make sure that the 45-degree angled panels align together. Then, using a hammer, nail the panel into place.
To finish off, use wood glue to fill up any holes and disguise any nails or imperfections.
Step 5: Finishing Touches
Once all the steps are complete, you should now have a wooden cat house.
You can now customize your cat house – making it as colorful or minimal as you like.
The final thing to do is to introduce your cat to its new home!
Additional Features To Include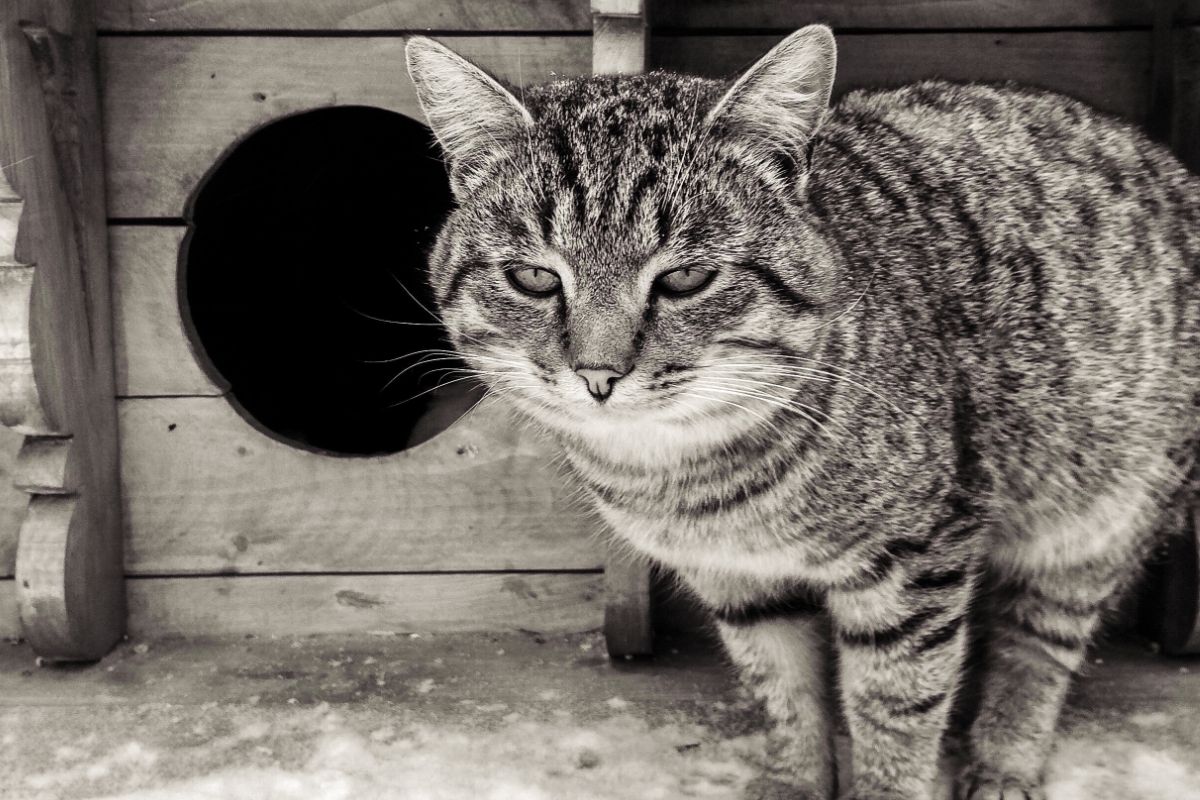 As previously mentioned, building a cat house can be a completely customizable experience.
You can add or remove different components to suit your and your cat's requirements.
Therefore, below is a list of additional features you can build to make your cat house special.
A Cat House With A Sill
It is commonly known that cats are curious and observational creatures, so why not quench their curiosity with a sill – providing them with a space where they can always be on the lookout?
To make this, your sill should be several feet long and only an inch or two in height.
Then, cut out a small hole on one end to create an entryway. (This should be big enough to fit your cat.)
Next, attach the sill to four upright pieces (These should be the same height as the sill). Attach the pieces using a drill and wood glue.
Make sure your posts are straight and sturdy to prevent your cat from toppling them over.
Weatherproof Your Cat House
Typically, cats love being outdoors. If you have a secure yard where your cat won't be harmed or get into mischief, why not take your cat's house outdoors?
This way, your cat can enjoy the protection and comfort of their home while enjoying some fresh air.
To weatherproof your cat house, all you need to do is get scrap wood that is an inch or two high, and place it on top of your cat house.
This will prevent any rain from seeping inside your cat's house. Likewise, you could also use a tarp, plastic sheet, or even tin sheets.
These are all great ways to prevent your wooden cat house from absorbing any moisture that can affect it in the long term.
Instead of nailing or screwing any of these waterproof materials onto your cat house, you can simply place them onto the house to make for easy transportation when inside/ outside.
Keep Your Cat Warm
As we all know, cats enjoy snuggling up and keeping warm.
So why not add extra insulation to your cat house (this is extra important if you want to keep the house outside)?
Some great insulators that are easy to find are hay and straw. However, make sure that your cat doesn't try to eat them!
To help keep it in place, apply a small amount of plaster over the hay or straw to prevent it from moving around.
Then cover with a sheet and your cat's favorite blanket to keep them comfortable.
Likewise, you can add carpet scraps onto your cat house's walls.
Not only does this help keep it insulated and warm, but it also gives your cat a space to scratch and strengthens its claws.
Frequently Asked Questions
Are Cat Houses Safe?
Yes! Cat houses are safe.

Not only do they provide a designated place for your cat where they can feel comfortable and safe, but it also provides them with shelter and protection against the elements.
Final Thoughts
Cat houses are a great way to provide your cat with their own place.
Depending on your experience and crafting expertise, you can make your cat house as simple or as complicated as you like.
Hopefully, this guide has informed you on how to build a cat house out of wood.