Wood is one of the best materials for furniture, whether inside or outside. It not only looks beautiful, but is very practical too. It's very sturdy and can last for hundreds of years if looked after well.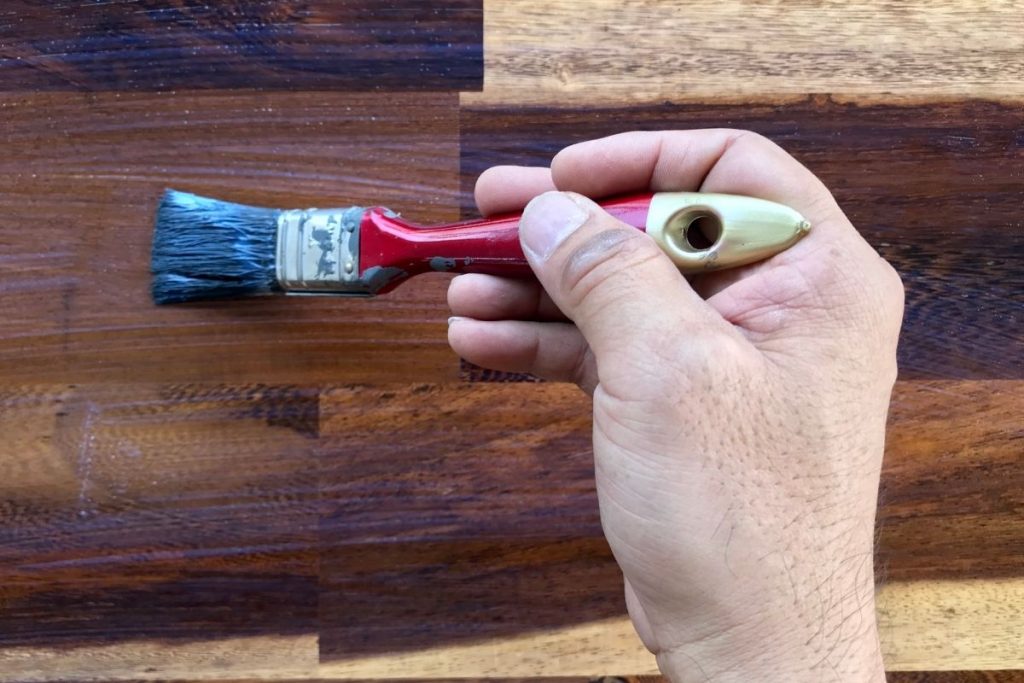 However, even the most durable wood will suffer from the elements if it hasn't been looked after.
If exposed to moisture and humidity, it can even begin to warp, swell and rot. With just a few steps to waterproof the wood, you can avoid any of this happening.
Not only that, but waterproofing products also enhance and bring out the natural beauty of the wood.
In this article, we shall look at easy ways to waterproof wood to make sure it stays protected for years to come –  and looks darn good.
Three Ways To Waterproof
Not surprisingly, there is more than one way to waterproof wood. However, the optimal method depends on whether you keep the furniture inside or outside. In this article, we shall guide you through them all:
Using a stain and sealant
Using oil to give it a hand finish
Using a varnish or polyurethane
Method 1: Using A Stain And Sealant
If you want to get the job done quickly and if you are working with something like an outside deck, then a stain and sealant are the go-to. Not only will it apply a waterproof seal, but it will also add color.
When you use this method, the sealant soaks in, and the rest of it evaporates. Make sure that the wood is clean and dry, and apply it every year or two for optimum benefits.
If you want to use a stain and sealant on indoor furniture, then the best option will be an alkyd-based one.
They don't have any build-up, require no rubbing of excess residue, and leave a lovely coating on the wood.
If you were to use this one outdoors, then there is a chance it will peel over time if you didn't prep the wood first.
Method 2: Hand Finish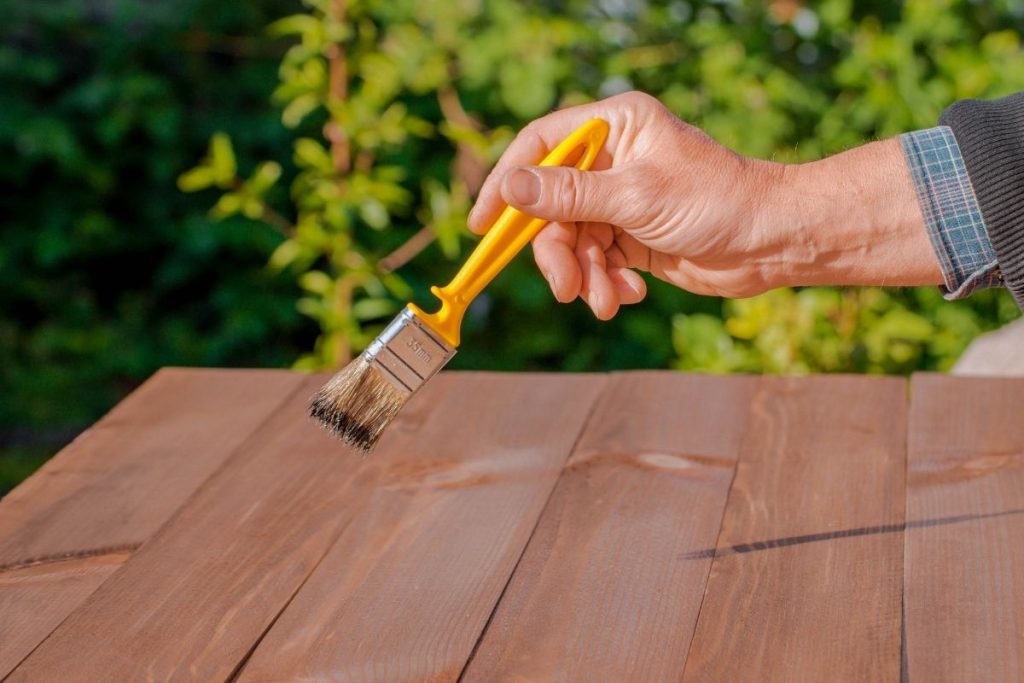 This method is better for darker-grained furniture indoors, and requires you to use a bit of elbow grease.
It is a method that uses either Tung oil or Linseed oil, but you can always shop around to see what pre-mixed oils there are.
On a side note, if the wood is lighter in color, go with one of the other two methods available. 
Here's how to do it:
Step 1: Stir the mixture thoroughly.
Step 2: Sand and clean the wood from dust.
Step 3: Using a brush with natural bristles, apply the oil.
Step 4: Now that you have finished applying the oil, let it soak in. If you notice any spots you have missed, apply them now.
Step 5: Wipe off the excess oil using a clean but old rag. Don't be afraid to press hard, as you are removing any oil that hasn't soaked into the wood.
Step 6: Let it dry. This can take just a couple of hours or a full night. 
Step 7: Using fine-grit sandpaper, lightly sand the wood.
Step 8: Repeat the process to achieve the desired look you are going for. 
Method 3: Using A Varnish Or Polyurethane
One of the most common and trusted methods of waterproofing wood is using a varnish, lacquer, or polyurethane sealant. They are usually applied to sanded wood, and can be sprayed or painted on.
Once dry, you then sand and reapply again, etc. However, with this method, it is best not to agitate the formula; otherwise you risk air bubbles. Also, try and do it as close to room temperature as possible. 
And not surprisingly, many of these sealants contain chemicals, so remember to use them in an environment that gets lots of air. So, let's take a look at them:
Lacquer
Made of alcohol with synthetic resin and tree resin that has been dissolved, lacquer is a good option for furniture.
It isn't a great choice for light-colored furniture, though, as it can develop a yellow color over time. However, it is perfect for darker woods.
It is also scratch resistant, with several different sheen finishes to choose from. 
Apply lacquer in thin coats, but always make sure there is a lot of ventilation. It has strong fumes!
Varnish
Varnish, unsurprisingly, gives a harder finish to the wood. It includes a mixture of resin, drying oil, and solvent to achieve this. In fact, the hard shell means it is resistant to scratches and yellowing.
If you want to varnish outdoor wood, go for a marine version. It helps to absorb UV to stop sun damage.
Spar varnish is the best choice for indoor woods, and can help to stop those cup rings from appearing. 
Polyurethane
There are many different polyurethane sealants because of the different solvents used. This means that you can have a soft sheen to a high gloss finish. 
If you want to find the one with the best durability, then choose an oil-based one.
Though, while great on the wood, the brush will require specialty products to remove the build-up. These can be either mineral spirits or turpentine. 
Otherwise, it is just the usual water and soap!
Final Thoughts
Waterproofing furniture and beams is simple, and you can achieve this through 3 different methods, which we have shown above, depending on whether you are planning to finish the wood inside or outside. 
If you have enjoyed this article, remember to check the rest of the website for simple DIY tips and tricks throughout the home and backyard.