These staircases are mostly custom made, and they would add an incredible sense of homeliness to any house. The custom woodworking is nothing short of wondrous. Check out the detailing on #10, truly masterful stuff.
1. Queen Anne Geometrical Staircase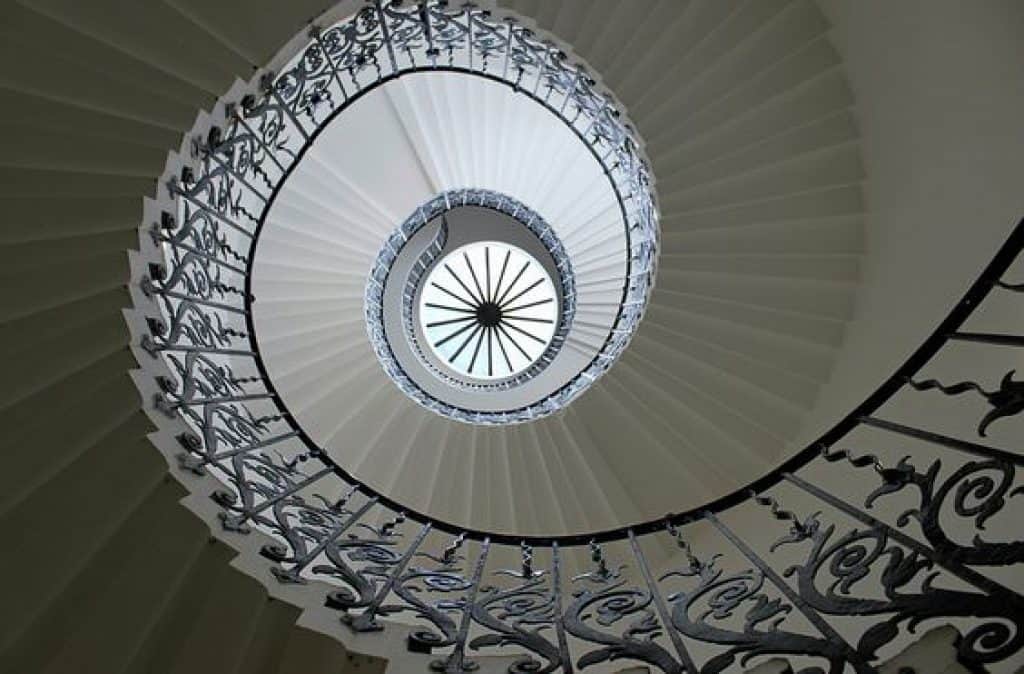 This romantic staircase, made by creative craftsmen from Sussex, was built with the purpose of recreating Queen Anne's staircase from 1704. What's notable is the fact every single detail you can see on the staircase is hand-made from scratch. The result is royal and completely queen-worthy.
2. Tropical Stairs in Maui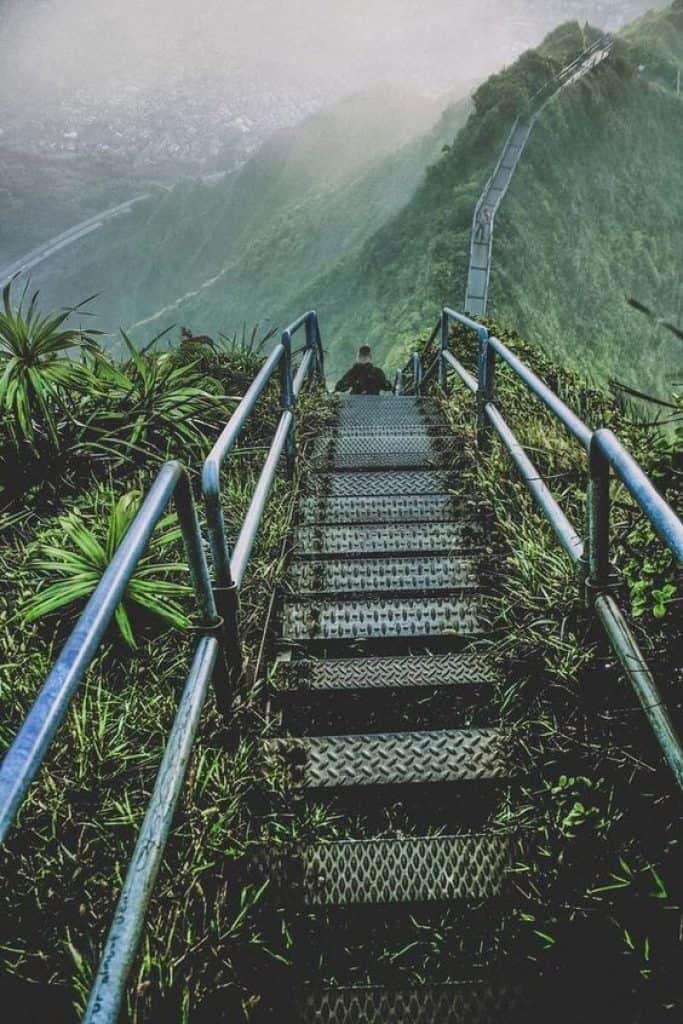 This simple yet elegant flight of stairs is made by an award-winning architecture firm ADC Inc, located in Maui. The summery Maui style reflects in all of their designs, the same with this beautiful staircase that has elegant open risers and detailed railing.
3. By Finesse Custom Floating Stairs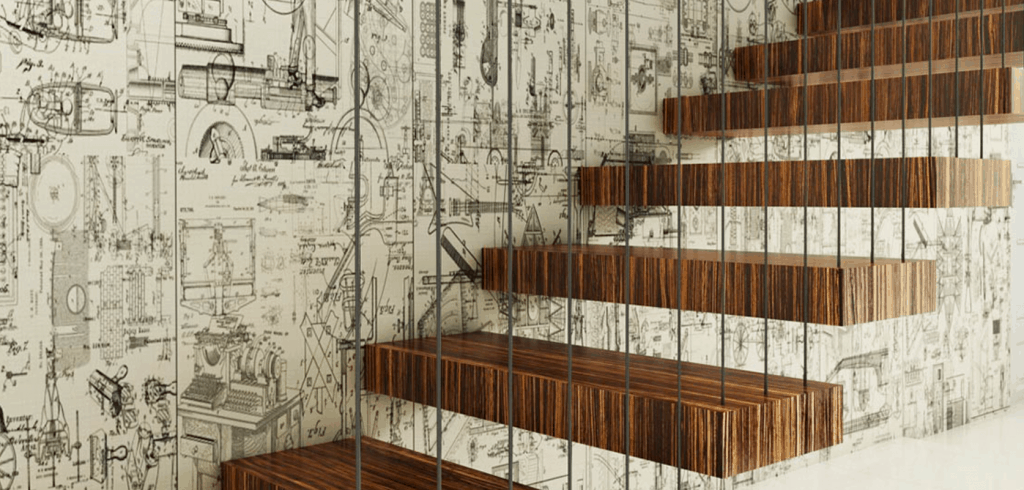 A Perth company By Finesse defies gravity with their innovative certified technology for creating floating stairs. All stairs are made keeping in mind waste reduction – sustainability and innovation are the key aspects in their creations. Staircases are constructed in a way that doesn't require steel to be chased into the wall, stairs are connected to the wall directly.
4. Natural Spiral Stairs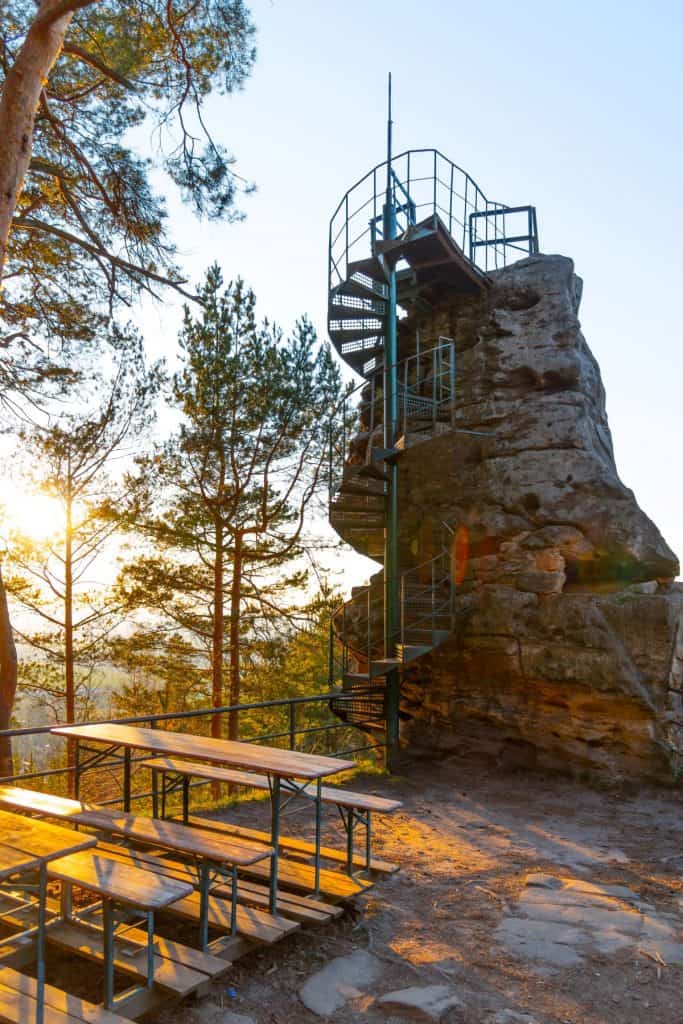 Though the designer of this mesmerizing design is unknown, it's nevertheless breathtaking. What sets this flight of stairs aside from others is the design which resemblances a tree. Curved back and finely balanced stair steps contribute to the spectacular look. This is definitely not a project you would see among beginner wood projects.
5. Eclectic Stairs For a Modern Home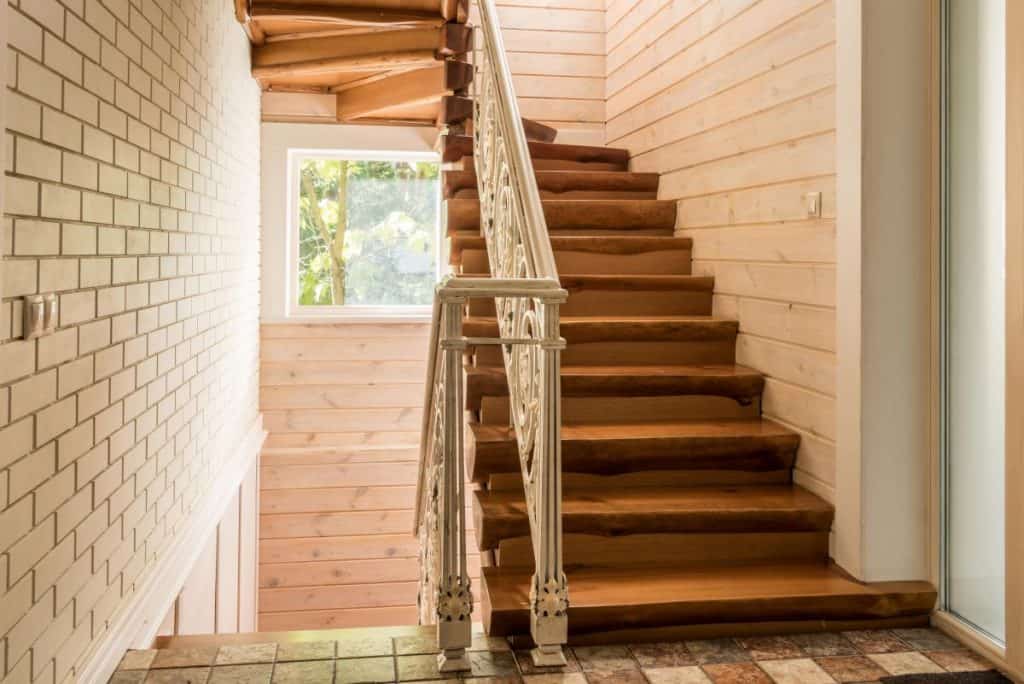 This modern flight of stairs belongs to a Florida home with an overall modern style around the house. The chunky wooden blocks arranged in perfect balance create an interesting look, especially with the combination of dark and light wood.
6. Wooden Stairs with Iron Handrail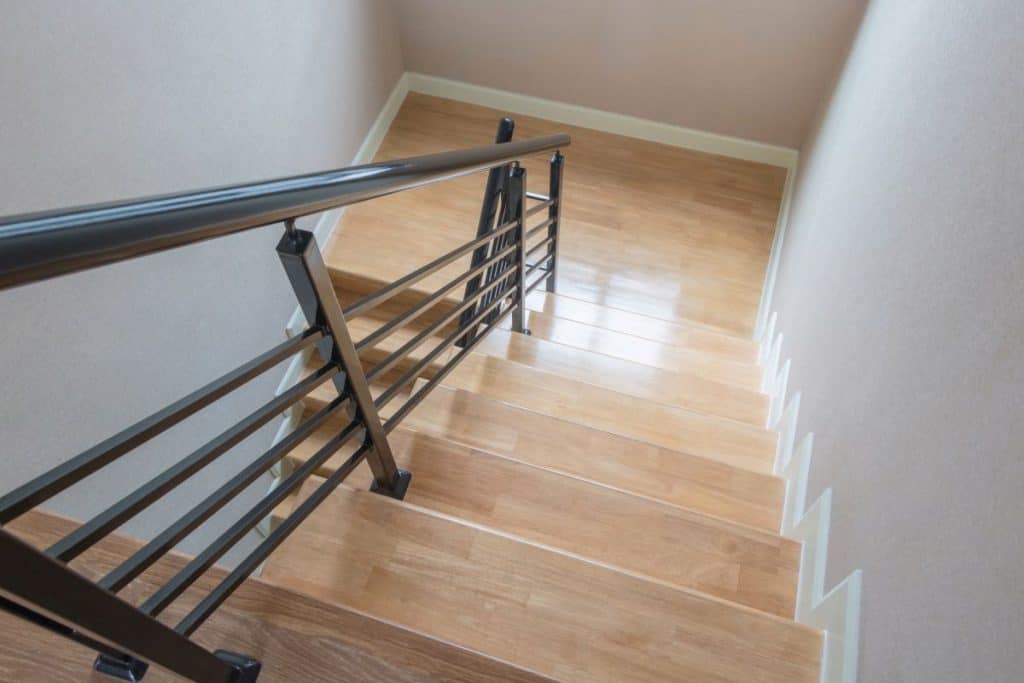 This eye-catching design reminds us that simplicity is the best. The main attraction here is the interesting wooden pattern combined with an iron handrail and white-beige wall right beside it. The clash of materials and colors work perfectly, creating surprising harmony.
7. Classic Spiral Stairs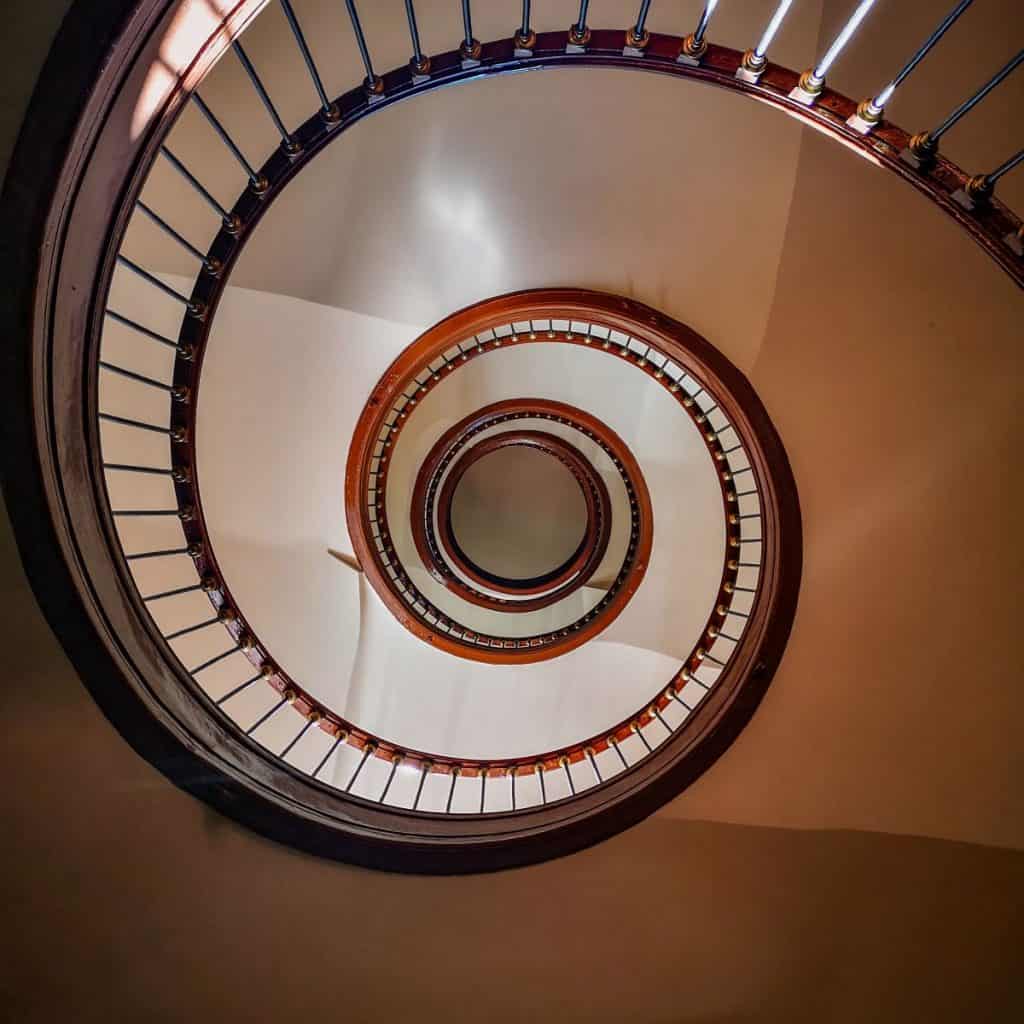 The funky spiral stairs look traditional and elegant thanks to the natural wood coloring and straightforward design. Open rises and chunky supporting railings make it look sturdy. Simple and magnificent in its' finest!
8. Luxurious Mahogany Stairs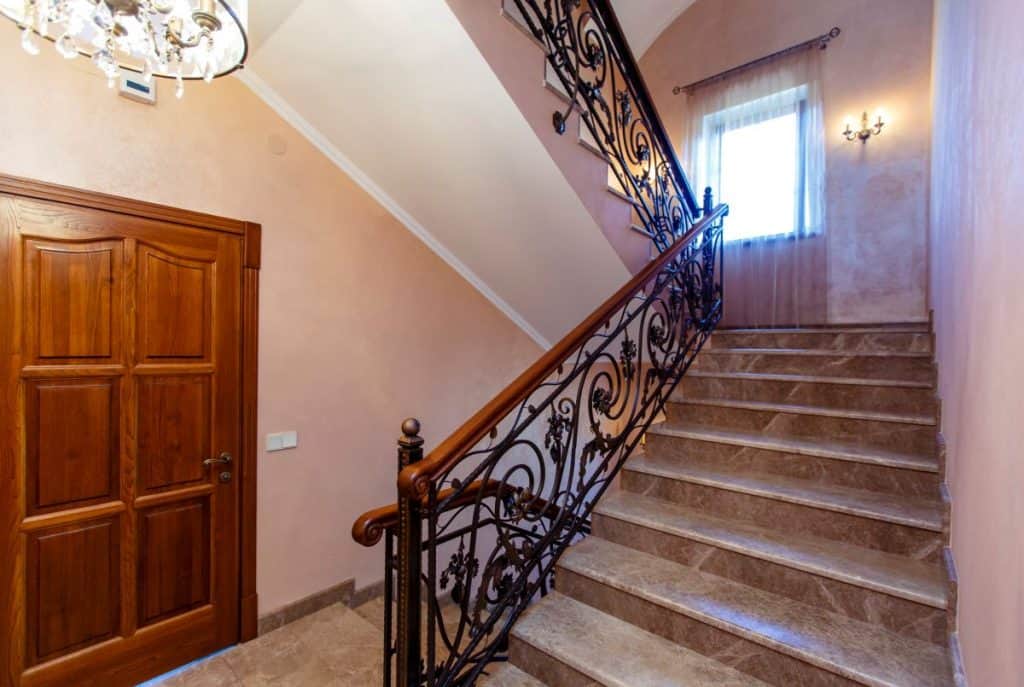 The mahogany stairs is made by a popular Chinese wood products manufacturer Jin Sui Wood. All of their products are custom made, adding an extra special touch to each and every design. Mahogany with bronze-golden details suits perfectly for those valuing high quality, custom-made products and luxurious finishing.
9. Rustic Custom Made Wooden Staircase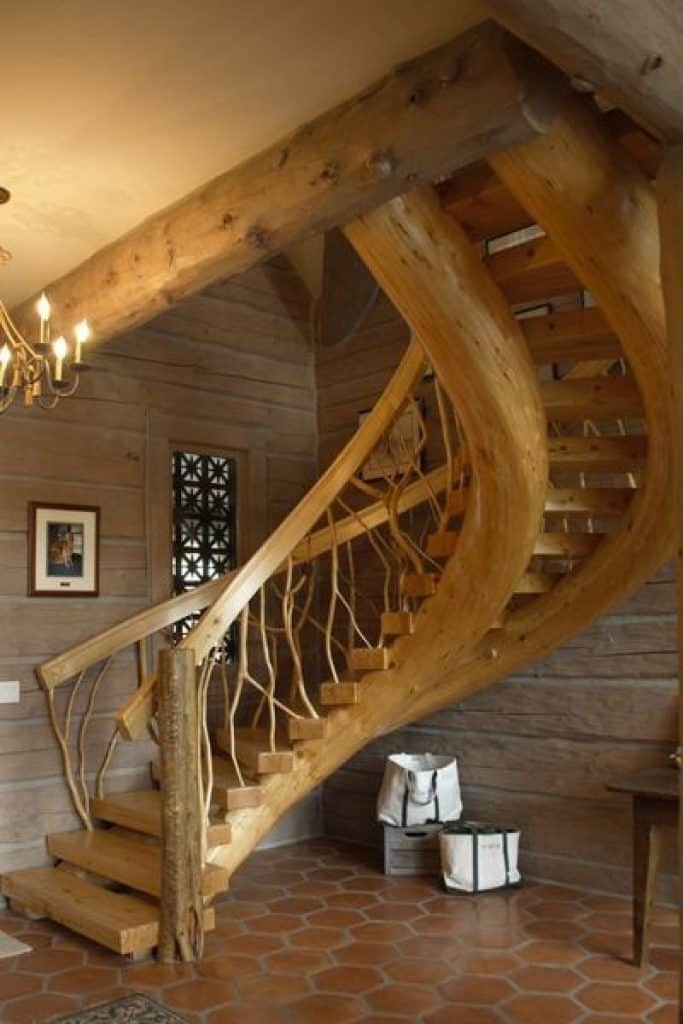 A staircase doesn't always need a rectangular shape. Dallas architecture firm called Stocker Hoesterey Montenegro Architects & Interior proves with their unique design that stairs can have any shape desired. This rustic staircase with wide steps and iron hand rail is custom made and suits perfectly in a rustic interior.
10. Mesmerizing Luxury Stairs in Thousand Islands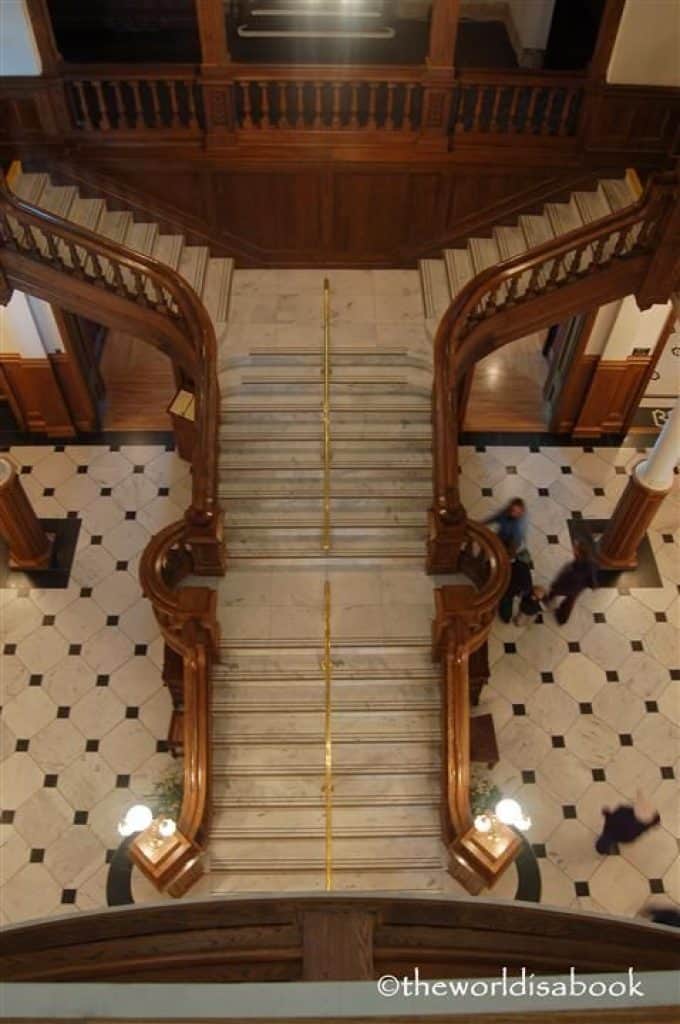 There's nothing ordinary about this staircase. This beautiful creation is located in a Thousand Islands estate that costs over $20 million. The house itself is 13 975 square feet, has 5 rock waterfalls and 8 bedrooms. You can bet an impressive house like that has only the finest interior details, same with this staircase.
11. Quirky Spiral Staircase with Open Rises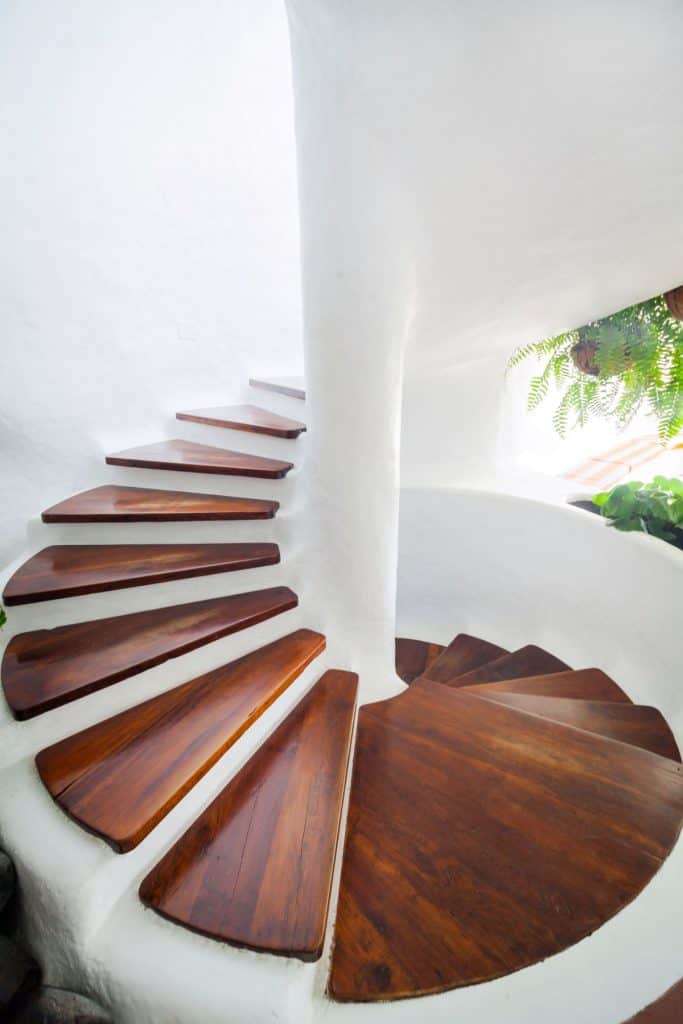 A custom wooden railings manufacturer from Staten Island brings this inspirational spiral stair design. The quirky look is achieved thanks to open rises and curvy railings that are complimented by iron hand rail details. Simple, chic and classic – the greatest combination.
12. "Ocean Side" Staircase by NK Woodworking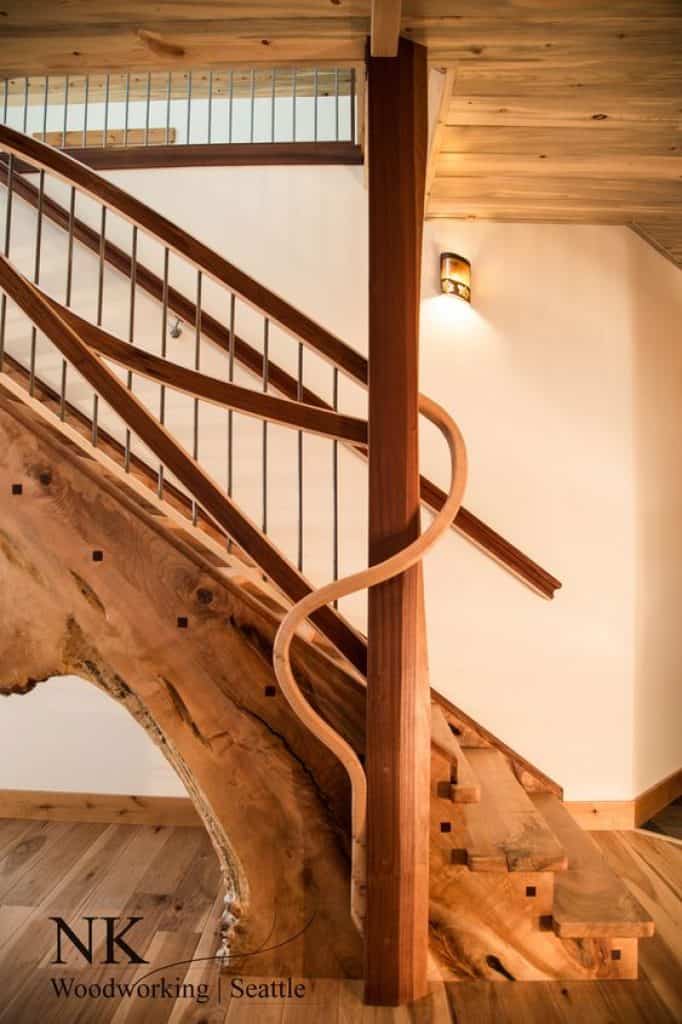 A Seattle furniture and design firm NK Woodworking won 4 awards at the 2014 Stairway Manufacturers convention for this staircase project. The stairs, constructed using the combination of big leaf maple, wild cherry and sapele, is functional yet spectacular thanks to the detailed carvings and wooden elements.
13. Royal Wooden Staircase with Spectacular Carvings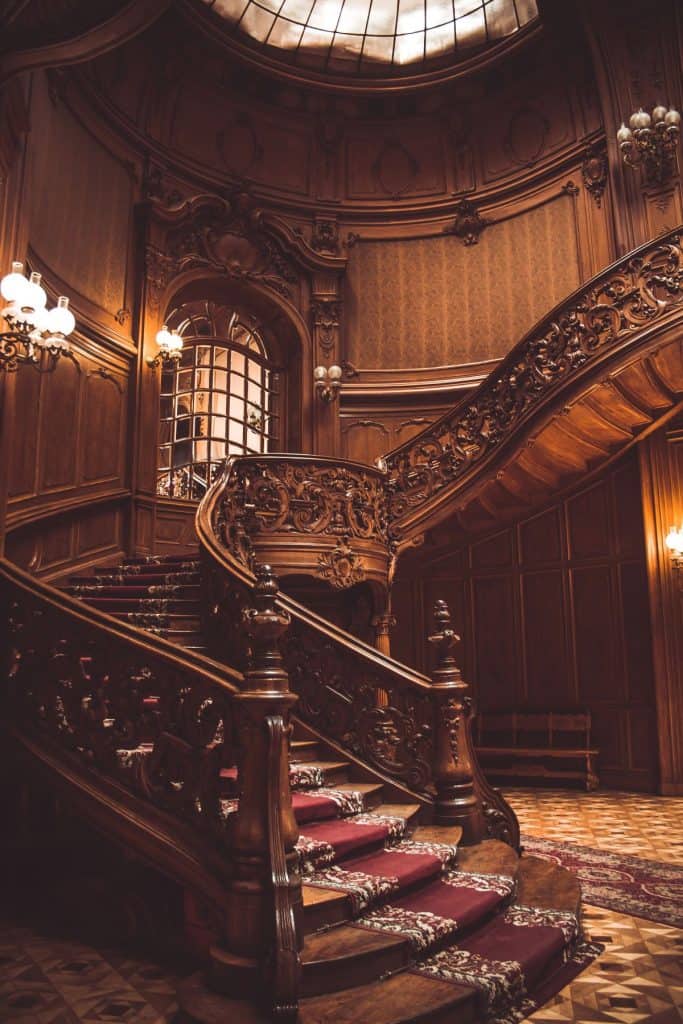 This impressive staircase is located at the Lednice Palace in the Czech Republic which explains the royal look of the carvings. The palace was reconstructed almost 150 years ago – you can tell the staircase is from a rather different era. The timeless look never fades and this staircase looks still exactly as beautiful as it was a hundred years ago.
14. Legendary Horse Staircase by TrapArt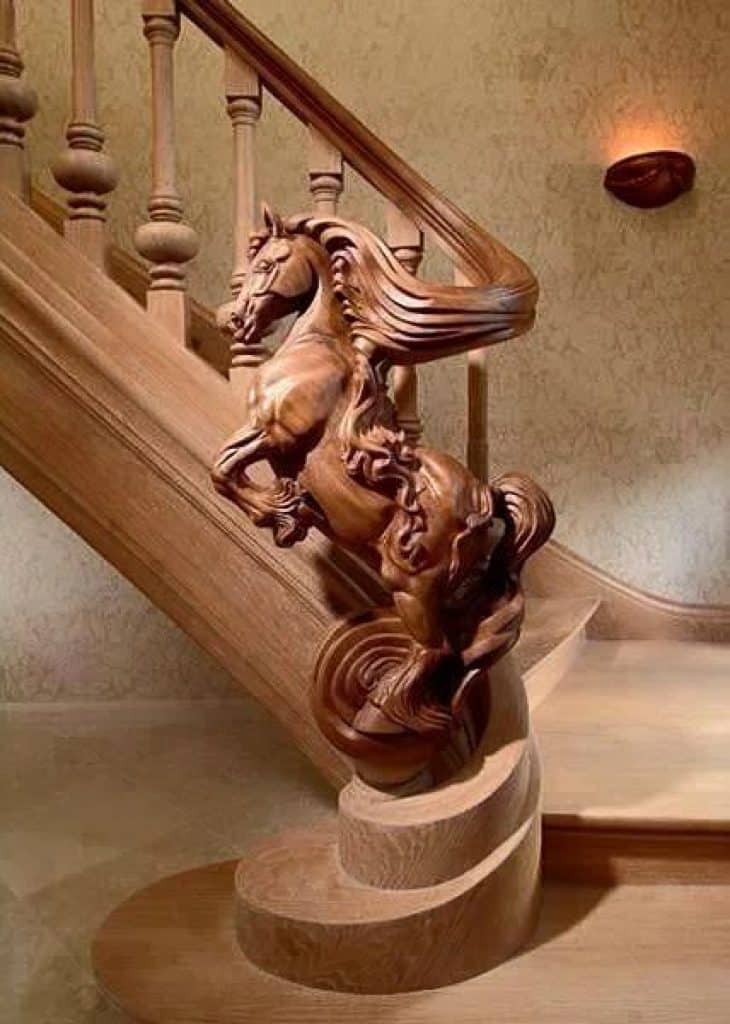 The glorious wooden horse staircase, made by Jop van Driel of TrapArt, is exclusive and one of a kind. The company praises themselves for taking staircase designs to a new level by adding art to the designs. They have definitely succeeded in doing so as the breathtaking carving is nowhere near ordinary.
15. Rural Staircase by Jop van Driel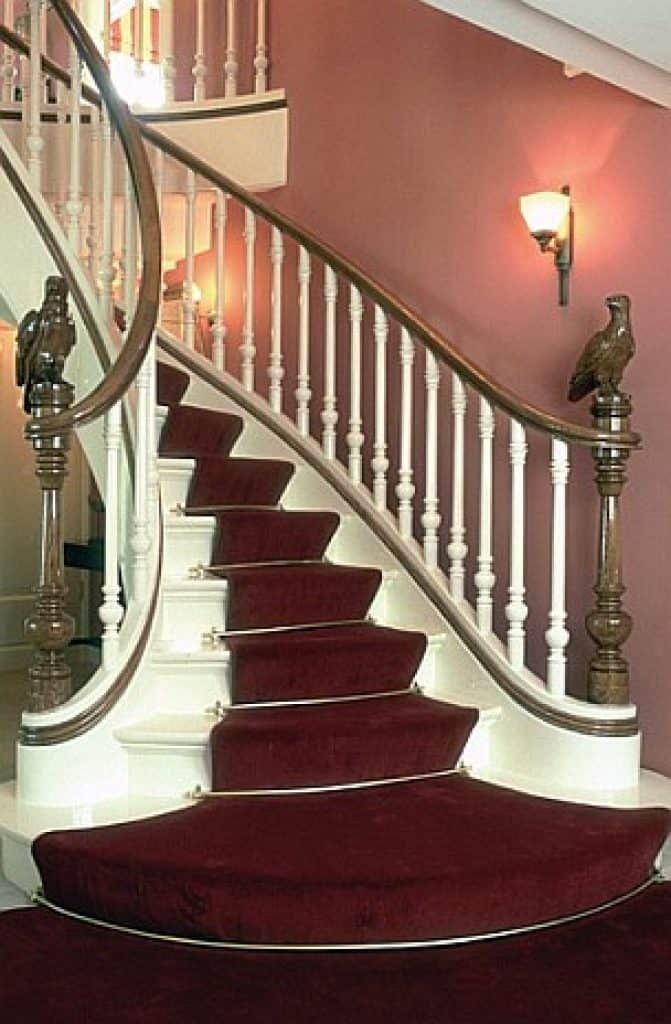 Similarly to the previous entry in our list, this staircase is also designed by the world-renowned artist Jop van Driel. The design features very elegant details and rustic look which suits perfectly to a farmhouse, however with the ounce of creativity brought by van Driel, this staircase is unique and true classic.
16. Modern Flight of Stairs at The Hotel Les Haras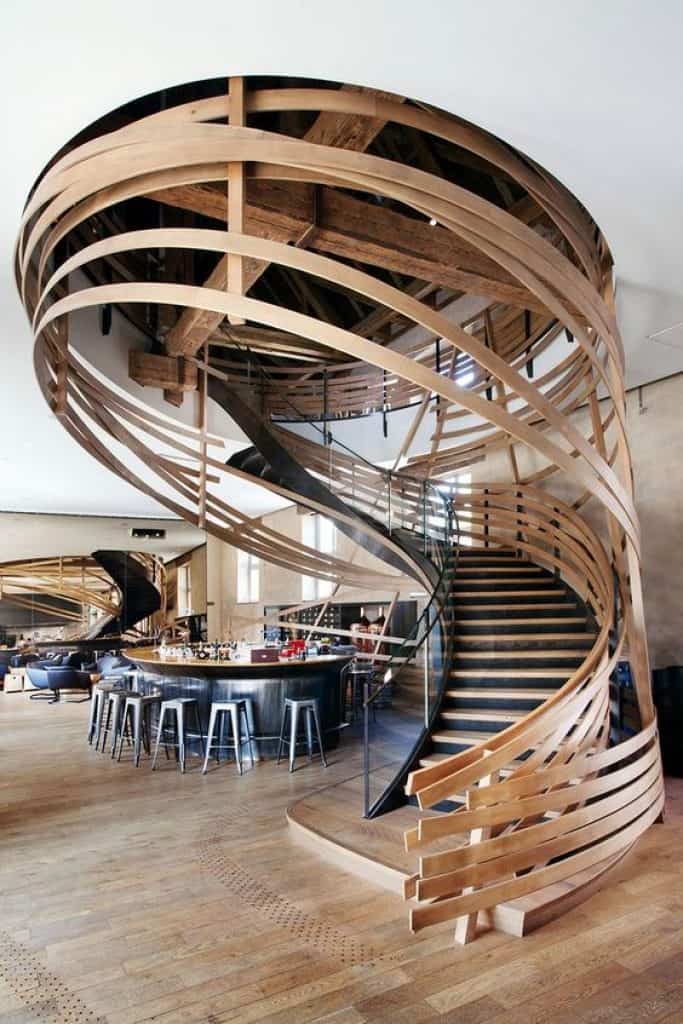 The central piece of a prestigious Strasbourg hotel Les Haras is this modern staircase that turns ordinary wooden boards into a mesmerizing sculpture. The hotel itself was built in the 18th century which only emphasizes what an asset this contemporary stair design is.
17. Traditional Wooden Staircase with Owlet Sculptures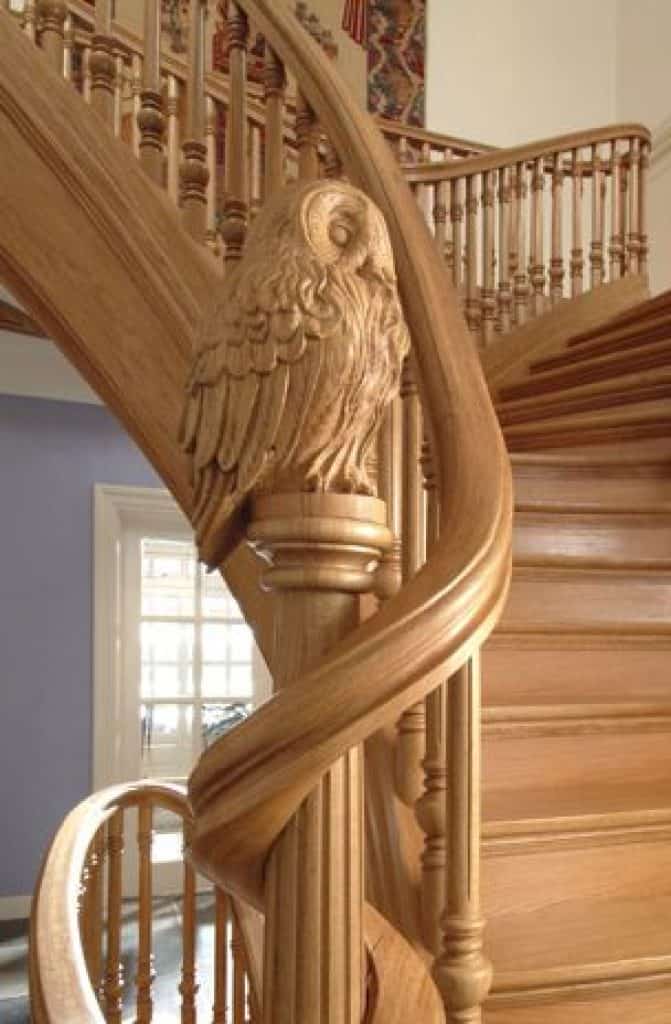 This classic staircase is another creation by the woodworking mastermind Jop van Driel of TrapArt. The handcrafted details like two wooden owls and the delicate hand rails prove what a masterpiece a staircase can be if dedication and creativity is put into the creation.
18. Artistic Staircase by Francesco Librizzi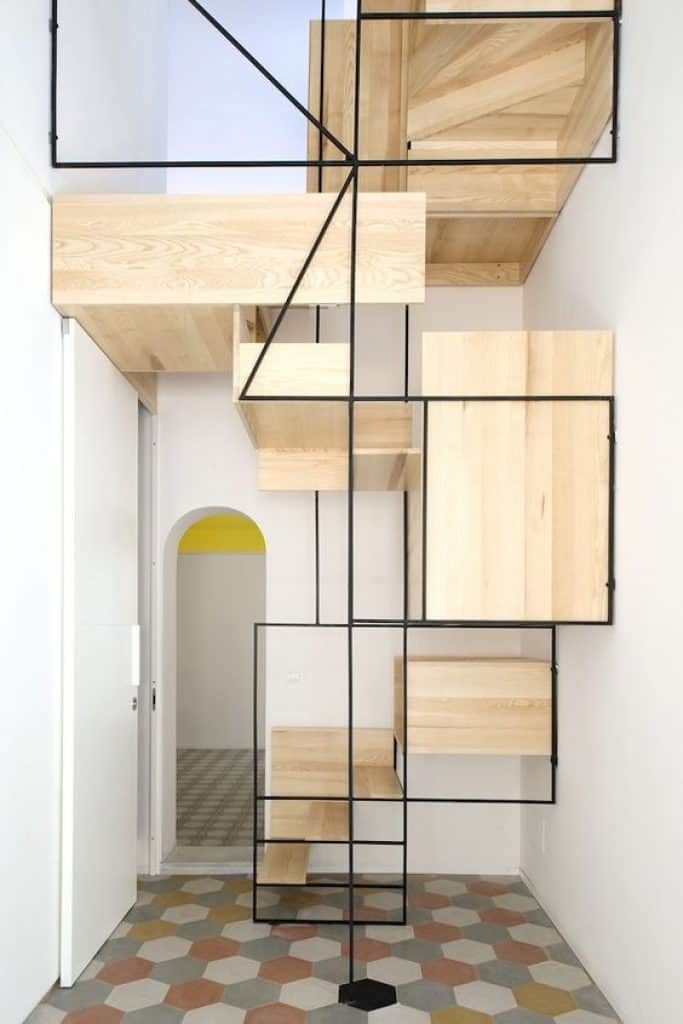 Francesco Librizzi, a talented modern architect is the author of this interesting artistic staircase. The steel rail guards create a fascinating optical illusion while the various wooden boards contribute to the eclectic look.
19. Chunky Staircase by Lucjan Kuc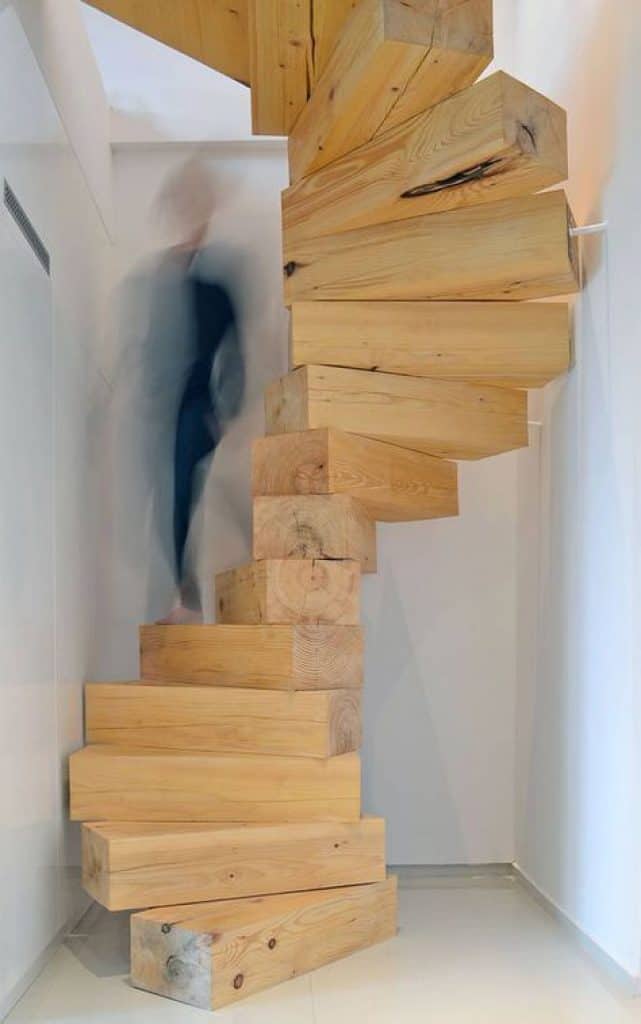 This chunky staircase is made by an innovative architect Lucjan Kuc of the QC Architects. Though it looks as if the blocks are completely defying gravity, they are actually easily assembled with the help of glue and steel rods – the whole construction is meant to be so easy that any handy person can put it together.
20. Wooden Stairs with Wood Inlay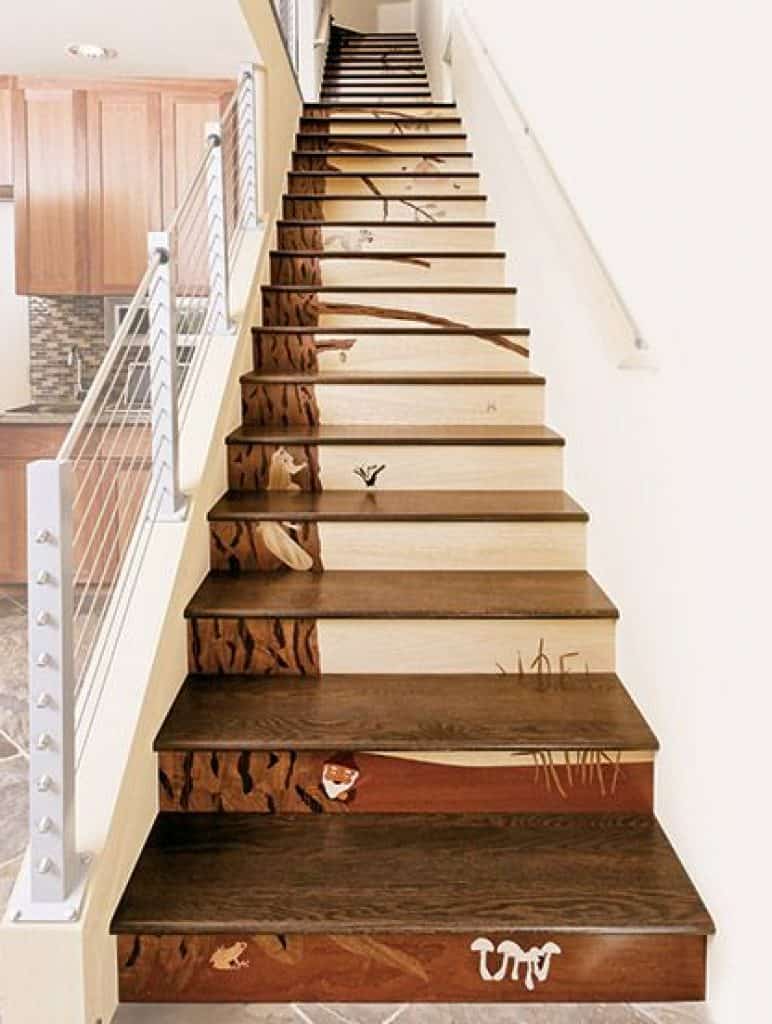 Sometimes all it takes for a breathtaking design is an interesting color or pattern combination. That is the case with this staircase that looks like a runner thanks to the wood inlaid into the construction.
21. Contemporary Staircase in a modern London home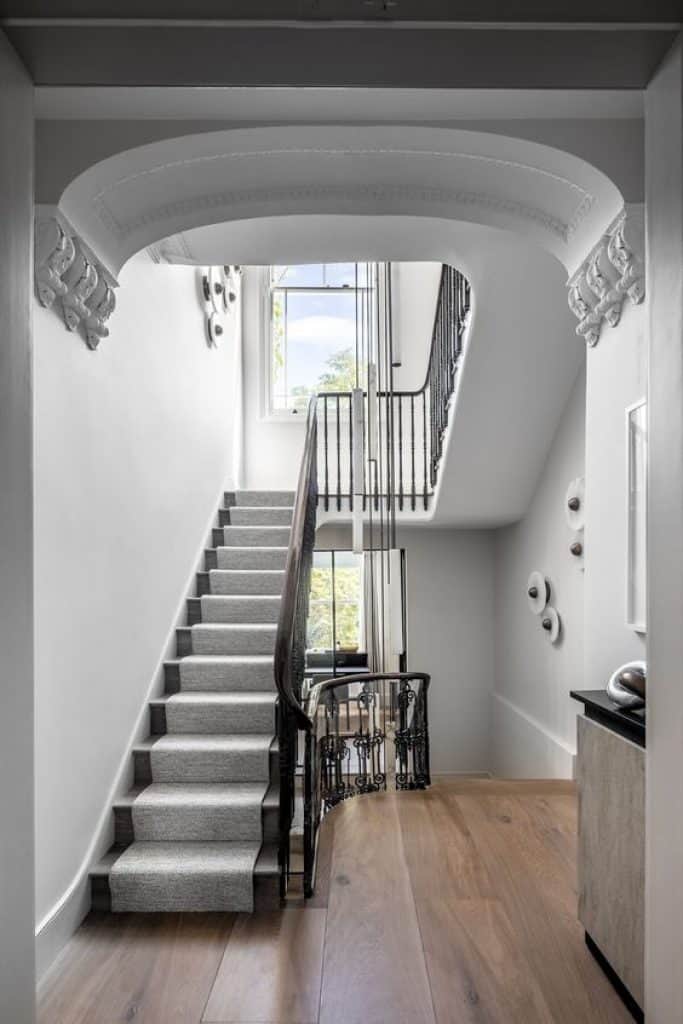 This staircase is a prime example of a contemporary staircase design. The wooden stair steps have open rises and metal hand rail, as well as solid white back which ensures the materials are not clashing but are infused together in perfect harmony.