Step 1. Cut the boards and mark the trenches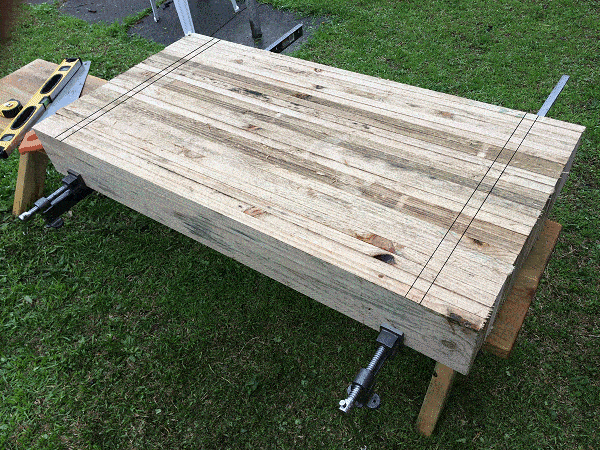 Standard version (ft and inch)
From 1×6 boards, cut 24 @ 4ft long.
Clamp them together with the ends flush, and mark a line across the boards at each end, positioned as follows:
# Make the lines approximately 4″ in from each end.
# Ensure the lines are exactly 40″ apart.
Mark another couple of lines across the boards, one at each end, in 1-1/16″ from the first lines.
The area between the two lines at each end is the slot cut-out area. The width of the cut-out area should be slightly wider than the width of a board, i.e., a board (in this case) is 1″ thick. Therefore make the cut-out area 1-1/16″.

Metric version
Using 150mm x 25mm boards (actual size) cut 24 pieces @ 1200mm long.
Stack them altogether with the ends flush and clamp them from the underside so the top of the boards are clear and free to work on.
Draw two lines square across the top of the clamped boards, 100mm in from each end.
The lines should be exactly 1000mm apart.
Draw another two lines 26mm (or slightly larger that the thickness of a board) in from the first two lines. The area between the lines is the cut-out area.