Step 5. Prepare and mark the opposite side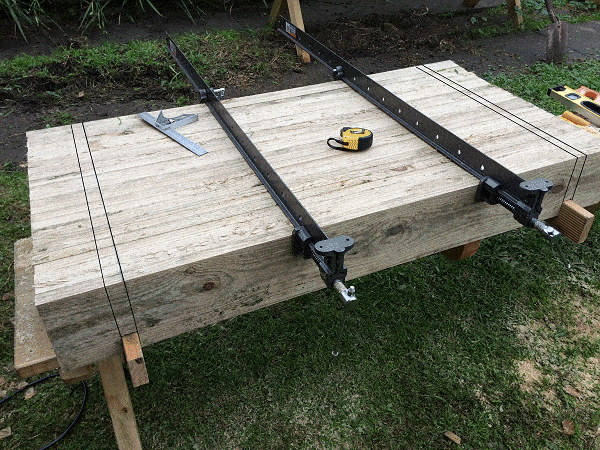 Standard version (ft and inch)
Unclamp the boards.
Get two runners the same thickness as a board and longer than 2ft. Make the eight over 2″.
Turn the boards over and have the trenches sit over the runners i.e., the two runners will be in the tenches.
Clamp the boards together, and when positioning the clamps ensure there will be enough free area to work the power saw when making multiple cuts across the cut-out area (yet to be marked).
On the sides, mark square lines up from the trench below and from there mark the cut-out area across the top.
Metric version
Turn it all over so the boards are sitting on a couple of runners (the same thickness as a board) fitted into the grooves.
This will keep all the boards in line while you take off the clamps from the underside and re clamp on the top side.
Be sure to position the clamps away from the cut-out area to allow working space.
Square up (with a pencil and square) from the grooves each side, and from those (squared up lines) mark the cut-out area across the edge of the boards.
Reader Interactions