A bit of paint and personality
Section 6:
Section 6.1. Make your mark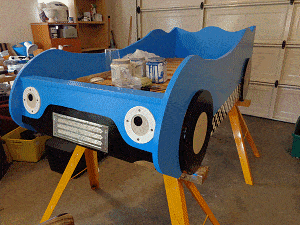 This is where you put your mark on it.
Let your imagination run wild. There are probably many things lying around the house you can use for a grille, headlights, eyes, or whatever.
With a few strokes of the brush and a few knick-knacks, you can make the car bed look happy, sad, coy, angry, or you can give it just about any personality you want. I think this particular car bed has a happy-sad-warm-caring sort of look about it.
Section 6.2. About the mattress
Use a 4″ (100 mm) thick foam rubber mattress.
Sometimes it is cheaper to buy a standard size single mattress and cut it to size.
There always seems to be special or sale somewhere for such items. It is not too hard to cut a standard size single foam rubber mattress. Just take off the cover, cut the foam rubber to size with a long bladed craft knife and re-sew the cover to suit.
The mattress area is 63″ (1575 mm) by 27″ (675 mm).