The Ultimate Chicken Coop
by Les Kenny
Preface

I originally designed 'The Ultimate Chicken Coop' for a monthly magazine called the 'Lifestyle Block' – a practical small farm guide..
The plans and step-by-step instructions were first published in the magazine – issue 13, on June 2005 (subject to me retaining all rights).
Since, there has been a few minor modifications made to the article.
Many people have undertaken this project over time, some being good enough to
send in a photo or photos of their handiwork along with a note or two. We greatly appreciate such input.
Photos and constructive comments are a great help to others contemplating the start of this project.
About the measurements given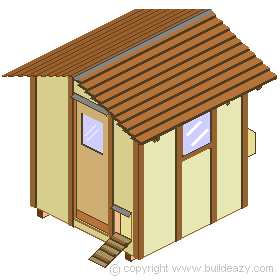 All measurements throughout this project are given in both Standard/Imperial inches and Metric (mm).
The measurements are given first in inches followed by millimetres in brackets (mm).
Example: 2″ x 4″ (100mm x 50mm).
For more information on wood sizes and measurements go to 'Wood sizes and measurement' on page two.
Seek local knowledge
These plans and information are for the most part general. Before using them, it would be advisable to do a bit of your own research. Where necessary you may need to make changes to suit the local environment. The best type of information and knowledge available is local knowledge. Check with your local authority to see what may or may not be required from their point of view, including any animal welfare obligations.
The chickens mansion
A chicken coop is a place of shelter, a safe retreat for chickens and a place where the hens can lay their eggs. A chicken coop is accompanied by a run, which is the chickens' outside area. The scope of the run can vary greatly depending on local conditions, the type of predator (wild or domestic) that might be lurking around seeking a free chicken meal and anything else that could be a threat to the well-being of the chicken. These factors will also determine whether the chicken can be free-ranging or confined to a fenced or fully enclosed type of holding pen.
This chicken coop should comfortably house at least eight chickens and generously allows for:
• 4.5 sq ft (0.4 sq m) of space per chicken
• 3 nests shared between 8 chickens
• 9″ (225mm)of perch length for each chicken
The design also allows for:
A bit of a storage area, chicken hatchway (i.e. entrance hole), ample ventilation, ample light and a door that opens inwards and is big enough to enable easy access and cleaning of the chicken coop.
The floor is designed to take "deep litter" which is at least a 3″ (75mm) covering of wood shavings or similar.
NOTE: There is no design or allowance for any feeder system, water container or supply system. Although some people make their own, most people find it easier to purchase a feeder system /water container from the appropriate store.