Step 2. Make up the front and rear frames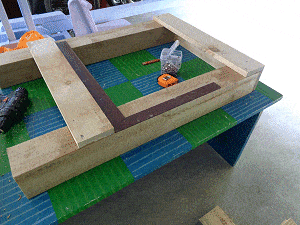 The front and rear frames each consist of two legs [a], two side-rails [b], and an under-rail [c].
Assemble the frames in the following order using glue and initially ONLY ONE SCREW AT EACH MEETING (so the frame can be skewed if required)
FixTo secure with nails or screws. the under-rail [c] flat on top of the legs. The outside of the legs and the ends of the under-rail should be flushBeing even with..
Fix the two side-rails [b] to the legs. Ensure the ends of the rails [b] are flush with the outside of the legs.
Make the top railThe top and bottom frame member of a door or window (not the jamb). Cross member of panel doors or of a sash. Also the upper and lower member of a balustrade or staircase extending from one vertical support, such as a post, to another. The horizontal member of a fence. flush with the top of the under-rail [c] and position the bottom of the bottom rail, up 6″ (150mm) from the bottom of the legs. Refer to the picture and the drawing below.
Check the frame is square and then lock it in place by adding 3 more screws at each meeting.