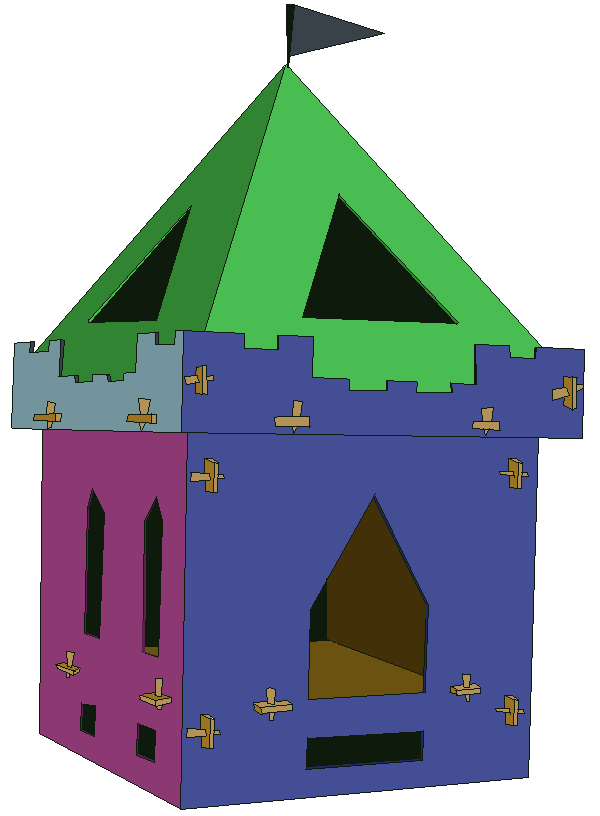 Introduction
This Kid's castle playhouseA small house for children to play in. is designed to be easily assembled and disassembled, allowing it to be put up at will then taken down and stored in a narrow space when the kids have finished playing in it at the day's end.
This Kid's castle playhouse is securely held together using a 'lug and plug system'.
The whole structure is made up of interlocking panels where rectangular projecting tongues (lugs) on some panels fit through corresponding slots (lug holes) in other panels.
Pegs (plugs) are then inserted into holes in the projecting tongues (lugs) wedging and locking the panels firmly together.
There is no need for any nails, screws or glue.
18mm (3/4″) thick plywoodA piece of wood made of three or more layers of wood veneer laminated together with glue. and 18mm (3/4″) diameter woodTimber, lumber. The hard fibrous lignified substance under the bark of trees dowelA round wooden pin that is used to reinforce a wood joint. The round wooden pin fits into corresponding holes in adjacent pieces of wood and helps fastens them securely together. are the only materials required to make the castle.
The whole project can be cut from four and a half sheets of 1200mm x 2400mm (4'X8′) plywood and a 3000mm (10ft) length of 18mm (3/4″) diameter wood dowel.
Construction is simply a matter of cutting all the pieces to plan and just fitting them together. The whole assembly process only takes about 10 minutes.
The castle when fully assembled with roof stands 2300mm (92″) high, however the roof is optional and without the roof the overall height is 1400mm (56″). The castle covers an area of 1200mm (48″) square.
The designer
Karel ( plum house designs) originally designed and built this Kid's Castle Playhouse some years ago for his niece and nephew.
"The idea was to be able to assemble the castle when my niece and nephew visited and then disassemble it again for storage when they left. Hence the 'plug and lug' system. The pieces stacked against a wall in the garageA building or enclosure primarily designed to house motor vehicles. It can be either attached to the main house or detached and surrounded by open space. take up very little space – 1200mm x 1200mm x 300mm (4'x4'x1′)."
Karel designs and sells very affordable unconventional house plans. His website is www.plumdesign.ca/
We give thanks to plum house designs for allowing us to use their design, plans and images in the Buildeazy website.
In this article there are two versions of the plans – imperialStandard. Feet and inch measurements. (ft and ins) and metricMillimeter measurements. (millimeters). They are clearly defined.