Plans and instructions continued, materials list
Instructions: Upper and lower frames 
Make up both the tabletop support upper frame (d, d1, d2) and the seat support lower frame (c, c1, c2), on flat ground using the lumber in the cutting list above.
The center of both frames should be fixed as shown in drawing below, and the end outer points of the frames (8 each frame) should be equal distances apart.
Nail three metal galvanized strap plates to the top side and to the underside of both frames where they meet in the center (12 strap plates in all). See drawing below.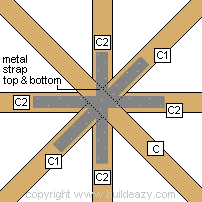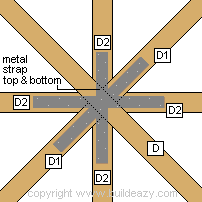 Instructions: Seat and table top boards
Mark out from the center of both frames (measurements shown in diagram below) along every arm of the two frames. These are used as guides for placing the boards. Nail the cut tabletop boards (A's) to the upper frame (D's) beginning with the outer boards (longest boards). Ensure the joins are in the middle of the frame arms and equal distance from the center point of the frame. Continue around the frame with the next longest board and so on, until the table top is complete.
Do the lower (seat) frame (C's) in the same way using the cut seat boards (B's).
Use 100mm (4″) galvanized flathead nails to fix the boards to the frame. Drill nail holes first to keep lumber from splitting.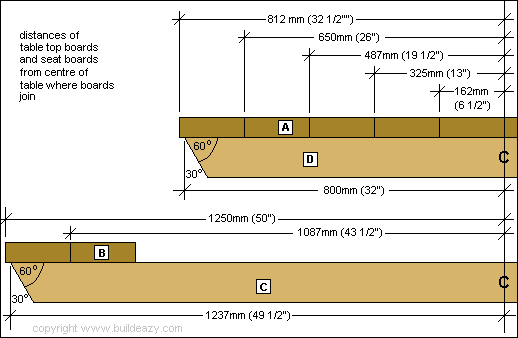 Instructions: The legs
Lay the finished table top upside down on even ground. Position the finished seat frame upside down above the tabletop. Place packers or blocks under the seat frame until the seat frame sits at the appropriate height above the tabletop frame. Position the legs in place as per below drawing. Hold with clamps, drill and bolt.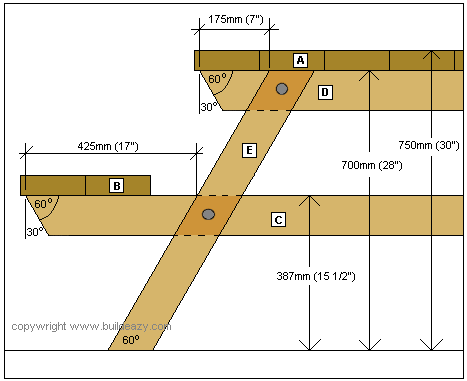 Eazy with a Z!
| | | |
| --- | --- | --- |
| MATERIAL | USED FOR | AMOUNT |
| 150×50 (2×6) stock | tabletop boards and seat boards | 32 meters (110 ft) |
| 100×50 (2×4) stock | frame and legs | 24 meters (80 ft) |
| 10mm x 110mm (3/8″x 4 1/2″) galvanized carriage bolts | bolting legs to frame | 16 |
| 4″ galvanized flathead nails |   | 2kg (4.5lb) |
| 300mm x 25mm (12″ long x 1″ wide ) galvanized strap | Top and underside of frame centers | 12 |