Wire strained and fastened
The fence line wire was pulled taut between all end and/or corner posts using traditional wire strainers and then tied secure to the end/corner posts.
For the home handyman there are other types of wire tightening tools available, such as the ratchet tightener below where the line wire is tied to each end of the tool and then tightened by turning the ratchet with a spanner.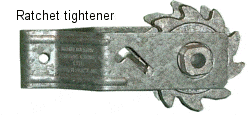 The disadvantage with this type of tool is that it must remain permanently in the fence.
There were two fence line wires: one at the top of the fence about 25m (1″) down from the top of each post and one at the bottom of the fence about 50mm (2″) above the ground.
The line wire was fixed to the intermediate posts with tie wire which was threaded through a pre-drilled hole in each post and then wrapped around the line wire.
Each post had two pre-drilled holes: One for the top line wire and one for the bottom line wire.
One hole was 25mm (1″) down from the top of the post and the second hole was 875mm (35″) below that, approximately 50mm (2″) above ground.