Making the playhouse wall frames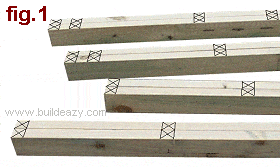 Cut all the 100×50 (2×4) wall frame members, both studs and plates to the lengths given in the 'Frame cutting list'.
The studs are the vertical (upright) members of the wall frame and the plates are the horizontal top and bottom members.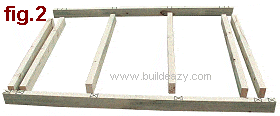 1.) Temporarily nail the top and bottom plates of each frame together and mark the positions of the studs as shown in fig.1. Refer to the 'Plan – Looking down view' and the 'Plan -elevation' for dimensions and stud placement.

2.) On even ground spread the top and bottom plates apart. Lay the studs in between the top and bottom plates as shown in fig.2.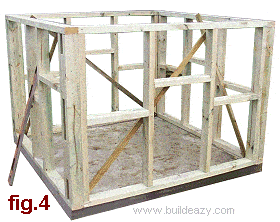 3.) Ensure the studs line up with the stud marks on the top and bottom plates and nail them in place. Measure, cut and fix in place all blocking as shown in fig.3.
4.) When all of the wall frames have been made up on the ground, they can then be stood up on the floor, fixed in place, made vertical and braced. Do this in the following order….
i.) Nail the wall frames. Secure the top plates with nail plates, metal straps or similar fasteners. see fig.4a.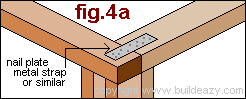 ii.) Ensure the corner of frames are in the right position before securing to the floor then fix the bottom plate to the floor as close as possible to the corner studs. Use nails if the floor is wood and anchor bolts or similar if the floor is concrete.
Note: If the floor is concrete, place a damp-proof membrane between the bottom plate and concrete floor before fixing in place.
iii.) Ensure the bottom plates are straight and then add further fixings along all bottom plates.
iv.) Plumb the frames (make vertical) and add temporary diagonal braces to the insides of the frames to stop movement. See fig.4.