Putting on the playhouse wall cover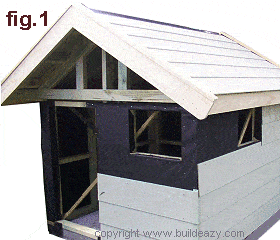 fig.1 Cover the wall frames with building wrap. Fix a continuous strip of treated wood (the same thickness as the cement fibreboard) to the bottom plate (see fig.2) before fixing the first (bottom) board in place. Let the first board hang 50mm (2″) below the bottom plate.
Continue with the subsequent boards working from bottom to top ensuring that each board is overlapping the previous board by 30mm (1 1/4″).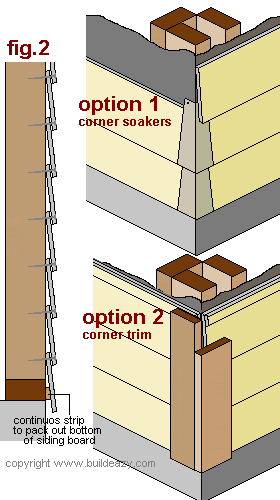 External corners
fig.2 option 1: Corner soakers
Used mainly in Australasia but not so common in North America and parts of Europe.
Corner soakers are purpose-made to be used with a wide variety of weather boards or board siding. They are usually made of thin aluminum or galvanized metal.
Apply the soakers to each row of boards before continuing with the next row. Nail soaker (at the top) into position before fixing the ends of the boards. (See fig.2 option 1.)
fig.2 option 2: Corner trim
Corner trim is a widely used method of finishing external corners on structures with wood or cement fibreboard siding.
When the cement fibreboards are fixed to the walls you can then apply the corner trim.
The top of the trim will need to be cut at an angle the same as the rake of the roof.
By using one piece of 100×25 (1×4) wood and one piece of 75×25 (1×3) wood at each corner you will achieve a balanced look. (See fig.2 option 2.)
Caulk between the cement fibreboards and the trim.