Putting on the

playhouse

A small house for children to play in.

wall cover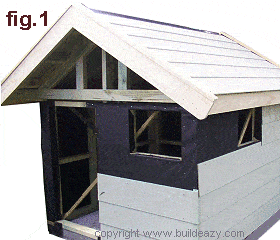 fig.1 Cover the wall frames with building wrapA building paper that envelops the exterior walls or roof frame prior to the cladding being fixed. Reduces air movement and helps avoid the risk of water ingress.. FixTo secure with nails or screws. a continuous strip of treatedPressure treated. Refers to lumber that is treated in such a way that the sealer is forced into the pores of the wood. Refers to lumber pressure sprayed with chemicals to lengthen its life expectancy for outside use or inground applications. woodTimber, lumber. The hard fibrous lignified substance under the bark of trees (the same thickness as the cementA powdery type substance made from a mixture of earths materials such as limestone and shale, which is sintered (cause to become solid mass by heating without melting), ground, and mixed with small amounts of calcium sulphate and calcium carbonate. Cement is activated by water and when mixed with gravel and sand, forms concrete. fibreboard) to the bottom plateThe bottom horizontal framing member of the wall. (see fig.2) before fixing the first (bottom) boardA piece of sawn, or dressed lumber of greater width than thickness. Usually 19mm (3/4") to 38mm (1 1/2") thick and 75mm (3") or more wide. in place. Let the first board hang 50mm (2″) below the bottom plateThe top or bottom horizontal framing member of the wall..
Continue with the subsequent boards working from bottom to top ensuring that each board is overlapping the previous board by 30mm (1 1/4″).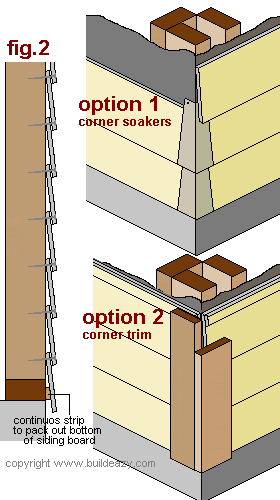 External corners
fig.2 option 1: Corner soakers
Used mainly in Australasia but not so common in North America and parts of Europe.
Corner soakers are purpose-made to be used with a wide variety of weather boards or board sidingThe outer covering of a building meant to shed water and protect from the effects of weather.. They are usually made of thin aluminum or galvanizedCovered with a protective coating of zinc. metal.
Apply the soakers to each row of boards before continuing with the next row. NailA short nail with a large flat head used for securing roofing felt, plasterboard, sheet metal to wood etc. soaker (at the top) into position before fixing the ends of the boards. (See fig.2 option 1.)
fig.2 option 2: Corner trimThe finish materials in a building, such as narrow boards applied around openings (window trim, door trim) and vertical corner battens.
Corner trim is a widely used method of finishing external corners on structures with wood or cement fibreboard siding.
When the cement fibreboards are fixed to the walls you can then apply the corner trim.
The top of the trim will need to be cut at an angle the same as the rakeAngle of roof. of the roof.
By using one piece of 100×25 (1×4) wood and one piece of 75×25 (1×3) wood at each corner you will achieve a balanced look. (See fig.2 option 2.)
CaulkTo make watertight or airtight by filling or sealing. To apply caulking (example: he caulked all around the door frame). between the cement fibreboards and the trim.