Playhouse Gable and Soffit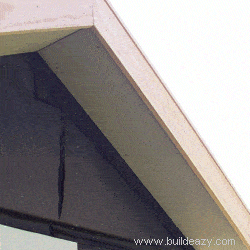 The soffit is the material that covers the underside of an overhang on a roof.
The soffit board is already in place under the eaves (the horizontal overhang along the side of the structure, see Instructions – The roof frame page 14) so there is only the soffit under the gable overhang to put up.
This is simply a matter of nailing a length of soffit board, which in this case is 240mm (9 1/4″) wide cement fibreboard, to the underside of the gable overhang. There will be four lengths altogether: two at the front of the structure with one on each plane, and the same at the back of the structure.
Cut the length of the boards so that they fit neatly against the inside of the fascia board at the lower end and fit to the top of the rake at the other end.

By now the exterior is all but finished. There is just the gable (the triangular portion of the front and rear walls directly under the sloping roof) to cover.
Measure and cut a piece of 12mm (1/2″) plywood in a triangular shape fitting under the gable soffit so that the bottom is in line with the bottom of the fascia board each side.
Fix 50×25 (1×2) battens hard against the top of the plywood and the soffit board, following the rake of the roof and also add a couple of vertical battens (as in the picture above) solely for decorative purposes.
Weatherproofing doors and windows
It is common for galvanized sheet metal or plastic Z-shaped strip (flashing) to be attached to the outside of the top horizontal trim on doors and windows, and tucked under the siding to prevent water getting in.
However…..
In this case that is not necessary as the gable frame is off-set from the wall frame below it and the plywood siding on the gable covers the top horizontal door and window trim.