Plans – Rear and Side Elevation
Rear elevation
This is the rear elevation plan which gives a perspective of the frame viewed from the rear. This plan also gives the width and height of the playhouse front wall frame, the shape of the roof and an idea of construction from the ground to the apex.
The skids (which are what the structure sits on) are of 100×100 (4×4) stock and the joists are of 100×50 (2×4) stock. Both skids and floor joists need to be of lumber suitable for outside use. The floor, 18mm (3/4″) plywood is fixed to the floor joists and then the rest of the frame is built on that. The playhouse frame (wall and roof) is all of 100×50 (2×4).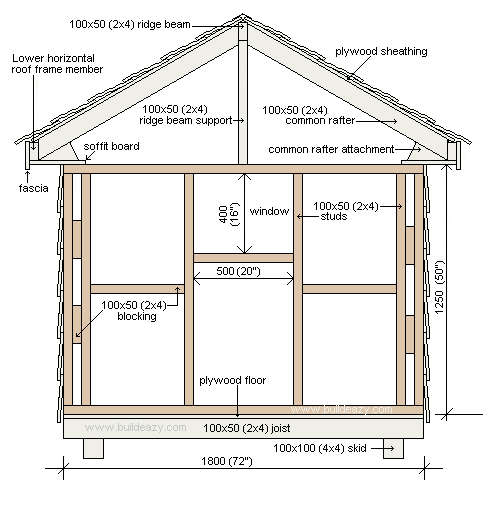 Side elevation
This is the side elevation plan – both sides of the structure are the same. This plan shows a perspective of the frame viewed from the side, dimensions of the side frame, placement of the studs and roof rafters.