Making a

wood

Timber, lumber. The hard fibrous lignified substance under the bark of trees

floor
1800mm x 1800mm (6ft x 6ft) floor on skids Instructions below the drawings.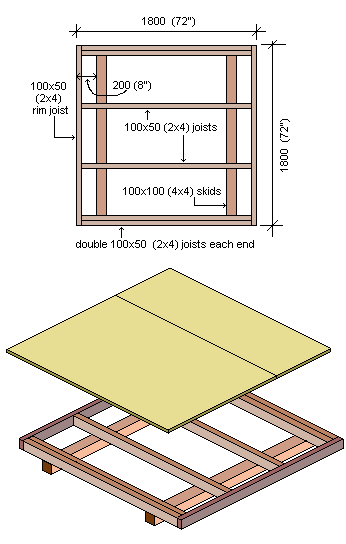 Place the 100×100 (4×4) skids level and parallelBeing of equal distance from each other at all points. on firm ground free of any vegetation.
Space the skids apart so that the overall measurement is 1400mm (56″).
On level ground, make up the Floor Frame comprising of two 100×50 (2×4) joists nailed together at each end, two 100×50 (2×4) intermediate joists evenly spaced and two 100×50 (2×4) rim (boundary) joists. The end result should be a square 1800×1800 (72″ x 72″).
Place the square floor frame on top of the skids, ensure the floor frame is square and then fasten in place. ToenailJoin two pieces of wood by driving nails at an angle to the surface of one piece and into the second piece. A nail driven at an angle to fasten one member to another. (angle nailToenail. A nail driven at an angle to the member.) through the joists into the skids.
Cover the floor with 18mm (3/4″) plywoodA piece of wood made of three or more layers of wood veneer laminated together with glue., nailing a maximum of 200mm (8″) apart on all joists. Any join should be over a joistOne of a series of parallel members used to support the floor. Part of the framing that provides the structure for a floor..
All the wood used in the floor structure should be suitable for exterior use.