Putting in the seat posts
Step two
Putting in the seat posts
Cut all the 90mm x 90m (3 1/2″ x 3 1/2″) seat posts 500mm (20″) long. The number of posts will depend on the overall length of the seat.
Place the posts into the holes that have been cut in the decking (as explained above) so that the posts are 350mm (14″) above the top of the decking and 150mm (6″) below. Use clamps to hold the posts in place, check they are vertical, then drill and bolt the posts to the joists, as shown in the drawing below.
Use two 12mm (1/2″) galvanized bolts per post.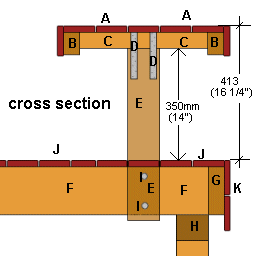 The Parts
A Hardwood decking. 90mm x 18mm (3/4″ x 3 1/2″)
B Seat frame sides. Treated 65m x 45mm (1 1/2″ x 2 1/2″) on edge
C Seat frame cross members. Treated 65mm x 45mm (1 1/2″ x 2 1/2″) on flat. Approx 400mm (16″) apart
D Galvanized metal brace strap to fix the seat frame to the posts.
E Seat post. Treated 90mm x 90mm (3 1/2″ x 3 1/2″). Goes through the holes cut in the deck and bolted to the joists.
F Existing joists
G Existing deck boundary joist.
H Existing bearer. Not necessarily in that position
I Galvanized 12mm (1/2″) bolts to fix the seat posts to the joists
J Existing decking.
K Existing side decking. Decorative only, and not on all decks.