Putting in the seat posts
Step two
Putting in the seat posts
Cut all the 90mm x 90m (3 1/2″ x 3 1/2″) seat posts 500mm (20″) long. The number of posts will depend on the overall length of the seat.
Place the posts into the holes that have been cut in the decking (as explained above) so that the posts are 350mm (14″) above the top of the decking and 150mm (6″) below. Use clamps to hold the posts in place, check they are verticalPlumb, upright., then drill and boltA metal rod that has a head on one end and threads on the other and is used to fasten together lumber. The most common bolts used or referred to in projects within this website are coach/carriage bolts and hex bolts. the posts to the joists, as shown in the drawing below.
Use two 12mm (1/2″) galvanizedCovered with a protective coating of zinc. bolts per postsee PILE.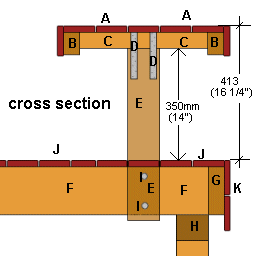 The Parts
A Hardwood decking. 90mm x 18mm (3/4″ x 3 1/2″)
B Seat frame sides. TreatedPressure treated. Refers to lumber that is treated in such a way that the sealer is forced into the pores of the wood. Refers to lumber pressure sprayed with chemicals to lengthen its life expectancy for outside use or inground applications. 65m x 45mm (1 1/2″ x 2 1/2″) on edge
C Seat frame cross members. Treated 65mm x 45mm (1 1/2″ x 2 1/2″) on flat. Approx 400mm (16″) apart
D Galvanized metal braceTo make rigid. strap to fixTo secure with nails or screws. the seat frame to the posts.
E Seat post. Treated 90mm x 90mm (3 1/2″ x 3 1/2″). Goes through the holes cut in the deckA flat floored roofless area adjoining a house. Timber deck: An outside floor structure comprising of posts, bearers, joists and decking boards. and bolted to the joists.
F Existing joists
G Existing deck boundary joistOne of a series of parallel members used to support the floor. Part of the framing that provides the structure for a floor..
H Existing bearerA sub-floor wood supporting the floor joists.. Not necessarily in that position
I Galvanized 12mm (1/2″) bolts to fix the seat posts to the joists
J Existing decking.
K Existing side decking. Decorative only, and not on all decks.