Introduction
For a larger version of this picnic table with detailed plans and instructions click on the bow below.
To see an assortment of picnic tables click here. Pay online by credit card, debit card, or Paypal using Secure Server Paypal. You do not need a Paypal account if paying by credit or …
Ft and inch version: 
This four seater picnic table with attached seating is made solely our of 2×4 dressed treated lumber. It is one of the most basic of picnic tables but is very sturdy and will last for years.

Total materials required for this project are 75 ft of 2×4 dressed treated lumber (or other lumber suitable for outside use), eight 3/8″x 4″ galvanized carriage bolts and about fifty 3 1/2″ galvanized flat head nails.

Note that dressed (surfaced, planed) 2×4 lumber finishes at approximately 1 1/2″ x 3 1/2″, so the 'actual size' is smaller than the 'nominal size'. The sizes used in this project are the 'actual sizes'.

Below are the picnic table plans followed by some brief instructions.
Picnic table plans: End profile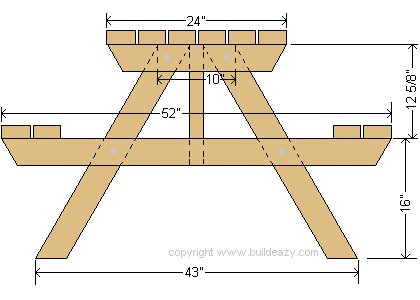 Picnic table plans: Front profile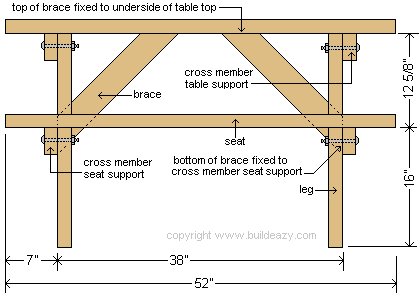 Picnic table plans: individual pieces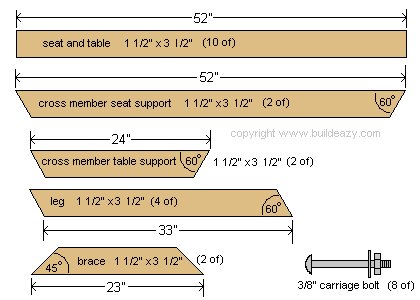 Instructions
Cut all the members for the picnic table out of 1 1/2″ x 3 1/2″ stock. Refer to the plan above for lengths and angle cuts. Cut the longest pieces first to minimize wastage.
On flat surface make up the two end frames comprising of the cross members and the legs. Use above plans for reference.
Stand the two end frames upright and fix the seat members and the table members to the appropriate cross members.
Turn the picnic table upside down and fix the braces in place insuring that the end frames are square (at right angles) to the table and seat members.
Done! Pop it into the garden and enjoy.
Metric version:
Plans – Material list
Below are the detailed plans and material list for every piece of timber needed to construct a bbq picnic table. There are no instructions for this one, as everything is pretty much self explanatory. Have fun.
Picnic table plans: End profile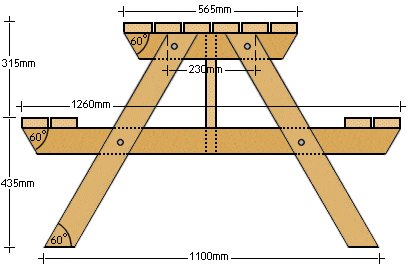 Picnic table plans: Front profile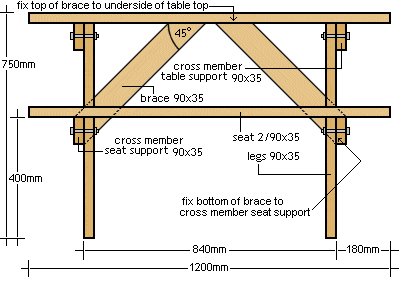 Picnic table plans: individual pieces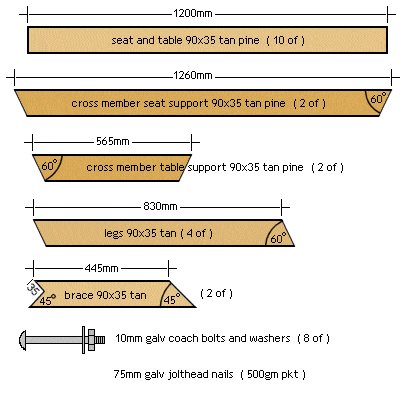 Materials required
90×35 treated pine. 22 meters required allowing for 10% waist. Cut the longer lengths first and the shorter lengths from the off cuts
8 only 10mm galvanized coach bolts 90mm long with nuts and washers
500gm (1/2 a kilo) bag of 75mm galvanized nails