Introduction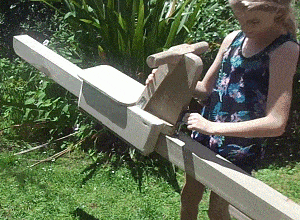 This seesaw has adjustable seats that are able to slide along the seesaw beamA supporting member. making it possible to balance a couple of riders of different weights.
The seats can be moved and locked in place at points along the beam simply with a standard pad boltA metal rod that has a head on one end and threads on the other and is used to fasten together lumber. The most common bolts used or referred to in projects within this website are coach/carriage bolts and hex bolts..
This allows even a parent to have a balanced ride with their child.