Step 5. Attach the

beam

A supporting member.

to the Stand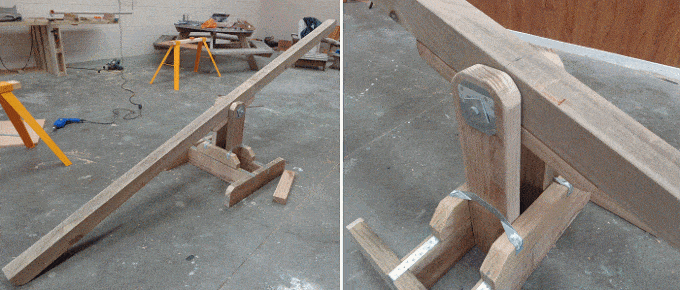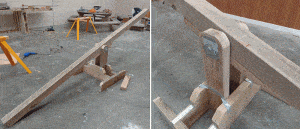 Drill a 1/2″ (12mm) hole through the uprights [a], 2-1/2″ (64mm) down from the top.
Cover the holes with a galvanizedCovered with a protective coating of zinc. tie plateThe top or bottom horizontal framing member of the wall. each side and drill through them.
Align the holes in the beam [d] with the holes in the uprights [a] and commence to thread the boltA metal rod that has a head on one end and threads on the other and is used to fasten together lumber. The most common bolts used or referred to in projects within this website are coach/carriage bolts and hex bolts..
Apply washers in the following order as the bolt is being inserted:
Washer,   upright [a],   washer,   beam [d],   washer,   upright [a],   washer,   nut.