Introduction and plans
This step stool is a very practical, multi-purpose unit which would find a place in just about any house. It serves as a setHow much the teeth are angled out on a circular saw blade. of steps, a seat and a stand, all in one.


The step stool stands 400mm (16″) high, 400mm (16″) wide and 235mm (9 1/4″) deep when the step is turned in. It is constructed out of 250mm x 25mm (1″ x 10″) and 100mm x 25mm (1″ x 4″) boards.
About the woodTimber, lumber. The hard fibrous lignified substance under the bark of trees dimensionsAny of the three linear measurements, length, breadth and depth.. All dimensions are given in both MetricMillimeter measurements. (mmAbbreviation for millimeter which is a metric unit of length equal to one thousandth of a meter. 25.4 mm equals one inch.) and ImperialStandard. Feet and inch measurements. (inches). The size (width and thickness) of the wood referred to throughout this project is the 'actual size' or 'true size', that is, the size of the lumberAny of the framing wood. when it has been finished/planed. Before the lumber has been finished/planed it is called the 'nominal size'. For example: 250mm x 25mm (1″ x 10″) when planed may become 235mm x 19mm (3/4″x 9 1/4″) actual sizeThe finished (dressed) size as opposed to the nominal size of a piece of wood..
Below are the plan drawings.
Under the drawings is a cutting list with descriptions of all the pieces.
The instructions, with pictures included, are on successive pages.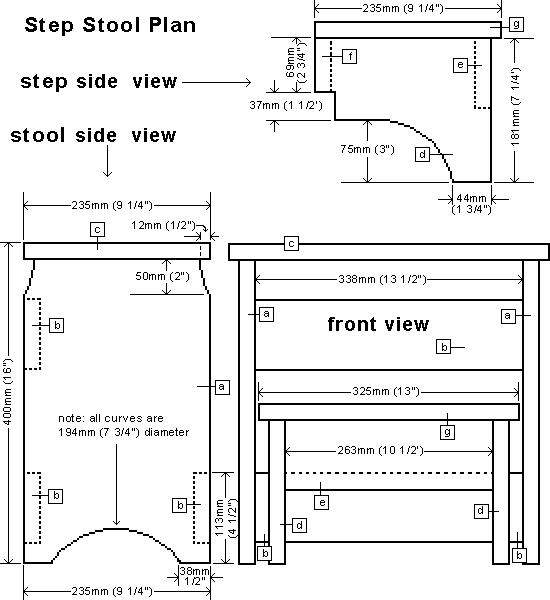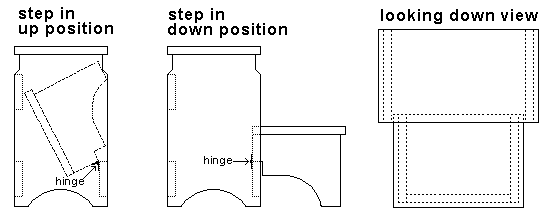 Below is a cutting list and description of all the pieces of wood.
PART ID
DESCRIPTION

WOOD SIZE
USA (inches)

LENGTH
USA (inches)

WOOD SIZE
Australasia (mm)

LENGTH
Australasia (mm)

HOW MANY
PIECES

[a]
Stool sides

3/4″ x 9 1/4″

15 1/4″

235mm x 19mm

381mm

2

[b]
Stool rails

3/4″ x 3 1/2″

13 1/2″

90mm x 19mm

338mm

3

[c]
Stool top

3/4″ x 9 1/4″

16″

235mm x 19mm

400mm

1

[d]
Step sides

3/4″ x 9 1/4″

7 1/4″

235mm x 19mm

181mm

2

[e]
Step front

rail

The top and bottom frame member of a door or window (not the jamb). Cross member of panel doors or of a sash. Also the upper and lower member of a balustrade or staircase extending from one vertical support, such as a post, to another. The horizontal member of a fence.

3/4″ x 3 1/2″

10 1/2″

90mm x 19mm

263mm

1

[f]
Step rear rail

3/4″ x 2 3/4″

(Cut from 3/4″ x 3 1/4″ stock)

10 1/2″

69mm x 19mm

(cut from 90mm x 19mm stock)

263mm

1

[g]
Step tread

3/4″ x 9 1/4″

13″

235mm x 19mm

325mm

1
You will also need a bit of wood glue and about thirty-eight 50mm (2″) long wood screws and a couple of hinges.