The vertical boards and battens
13. Building wrap / Builders felt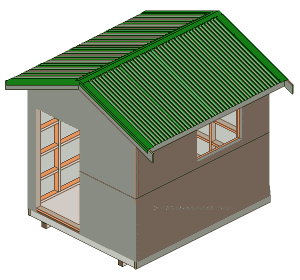 A building wrap / builders felt should envelop the exterior walls prior to the cladding being fixed.
14. Exterior Vertical Boards
Commence fixing the boards vertically to the wall frames, beginning from one corner. Cut the boards long enough so that they will touch the underside of the Rafter at the top and run at least 50mm (2″) below the floor.
Nail all vertical boards to the horizontal blocking with nails spaced approximately 75mm (3″) apart including the nail that will be going through the batten.
Leave a gap about the width of a nail shank between each board. The vertical boards on the front and rear walls will tuck under the rake board.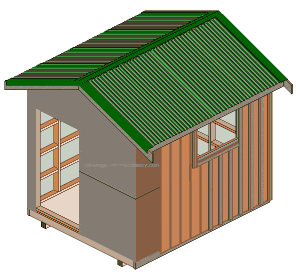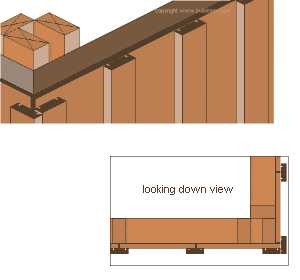 15. The Battens
Fix the Battens 75mm x 25mm (1″ x 3″) over each join. Preferably, the battens should have a groove each side of the join to stop water being drawn in by capillary action.
Nail on the center line of the batten, through the gap between the boards and into the blocking.
Overlap battens at corners using 75m x 25mm (1″ x 3″) batten on one side of each corner and 100mm x 25mm (1″ x 4″) batten on the other side.
Using one length of 100mm x 25mm (1″ x 4″) batten and one length of 75mm x 25mm (1″ x 3″) batten at each corner will give a balanced look.
Reader Interactions