Introduction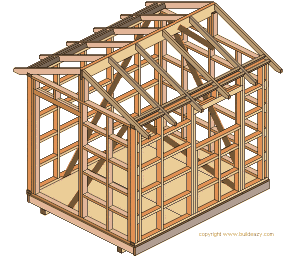 This detailed shed plan-set is in both Standard and metricMillimeter measurements. dimensionsAny of the three linear measurements, length, breadth and depth.. There is more detail about the measurements on the next page.
The shed is built on skids, meaning that there are no footings or foundations and that the finished shed is able to be moved.
The wall claddingThe exterior surface of a wall. (sidingThe outer covering of a building meant to shed water and protect from the effects of weather.) is boardA piece of sawn, or dressed lumber of greater width than thickness. Usually 19mm (3/4") to 38mm (1 1/2") thick and 75mm (3") or more wide. and battenNarrow board used to cover cladding joins. and the roof cover is corrugatedHaving alternating ridges and grooves. roofing ironCorrugated metal sheet used to clad roof. over plywoodA piece of wood made of three or more layers of wood veneer laminated together with glue. sheathingA protective covering of boards or plywood applied to the studs or rafters of a building to strengthen it and serve as a foundation for a weatherproof exterior..
DoorA horizontal framing member above the door/window opening. plans, materials list, instructions, nailing information and a glossary of terms is also included.