Introduction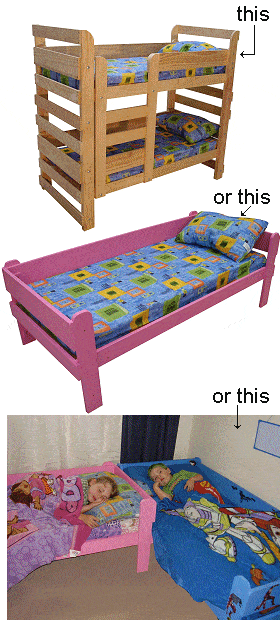 Why have a kid sleep in a full-size bed when a kid's-sized bed will do the trick ever so comfortably and free up much needed bedroom space?
These beds are for kids. They are not full size and will not accommodate adults. They are ideal for places unable to fit a full size set of bunks. They can be used as bunks (one on top of the other) or as two single beds that can be tucked neatly into a corner.
The bunk set comprises of two single kids beds, two bunk ends, and a ladder.
Once made, The beds, the bunk ends, and ladder can be easily assembled to make the complete bunk set (one bed on top of the other).
The bunks and bed frames can just as easily be disassembled, should you wish to revert back to two single beds or even one.
With these plans and instructions you can make as little as one bed or make the complete bunk set which can be assembled and disassembled at will.
There are only three different stock sizes required for this project. They are 3/4″ x 3 1/2″ (90mm x 19mm), 3/4″ x 5 1/2″ (140mm x 19mm), and 3/4″ x 1 1/2″ (40mm x 19mm).
Those wood sizes are common stock and should be available in most areas.
Important safety notes
Bunks are a real space-saver but there are a lot of safety concerns when it comes to bunk beds, brought about by the number of accidents which do happen with them.
Read 'a few bunk bed safety guidelines' on pages 14 and 15 and then ponder if bunk beds are the best option for you.
It is recommended that only kids six years or over use the top bunk, that firm rules be dished out by the parents or guardians, and that bunk beds be built to a strict criteria.