The

Door

A horizontal framing member above the door/window opening.
15. Making the door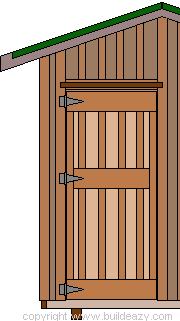 Note: Use these dimensionsAny of the three linear measurements, length, breadth and depth. as a guide only. The exact door measurements should be taken when the jambs are fixed in place.
To obtain the door width, measure between the two side jambs and deduct 12mm (1/2″). This allows for a 6mm (1/4″) gap each side.
You will need: Five 200mm x 25mm (1″ x 8″) boards 2075mm (83″) long for the verticalPlumb, upright. door slats; Three 200mm x 25mm (1″ x 8″) boards 900mm (36″) long for the horizontalParallel to the horizon, flat, level. door rails; 10 meters (33ft) of 75mm x 25mm (1″ x 3″) battenNarrow board used to cover cladding joins.; 130 galvanizedCovered with a protective coating of zinc. woodTimber, lumber. The hard fibrous lignified substance under the bark of trees screws 45mm (1 3/4″) long, and some exterior type wood glue.
Instructions: Lay the five 200mm x 25mm x2075mm (1″ x 8″ x 83″) vertical door slats next to each other on a flat surface forming a rectangular panelA sheet that forms a distinct flat and rectangular section or component. A transparent panel used to fill a framed section of a window.. See fig.1. Cut down the two side slats (lengthwise) as necessary to achieve a door width of 900mm (36″).
Glue and screw two 200mm x 25mm (1″ x 8″) horizontal boards (rails) to the vertical door slats, one at the top and one at the bottom. See fig.2.
The length of the screws should be slightly less than the thickness of the door. Refer to fig.2 for screw placement.